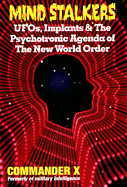 Mind Stalkers
UFOs, Implants & The Psychotronic Agenda of the New World Order
By Commander X
Here is an "insiders" findings on the sinister practice of Mind Control utilized to control the Earth's population. The CIA and the KGB have long practiced behavior modification with drugs, hypnosis, ELF waves and more recently with computer chips placed in the brains of "dissidents." The Russians make no secret of the fact that they can subliminally implant thoughts in people's minds to control their actions, even using telephones by impressing a coded message while negotiating with an individual. Many UFO abductees maintain that they too have become part of a program designed to infiltrate our society by using monitoring devices or implants. Maybe those who claim to hear voices in their heads aren't so crazy afterall!

Conspiracy Summit
Shocking Revelations from a dozen experts. Hundreds gathered at the Alien Agenda and Cosmic Conspiracies Conference to hear the testimony of a dozen of the world's leading theorists discussing various cutting edge topics. Panel members at the Summit included: Retired Air Force pilot Mel Noel, Jordan Maxwell, Wendy Wallace, Vladimar Terziski, Alexander Collier, Carol Stopper, Al Bielek, Gary Schultz, Sean David Morton. This amazing book is available for the first time in printed "transcript form" so you get to read for yourself, the shocking information that "They" don't want revealed.
Only $25.00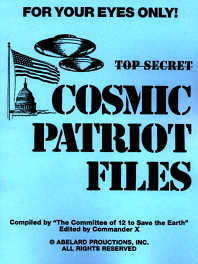 Cosmic Patriot Files (Two Volume Set)
The Cosmic Patriot Files represent years of dedicated research into some of the most thought provoking and certainly scariest topics you are likely ever to be confronted with. And while its contents may be difficult for some to accept at face value, those who carefully scrutinize this written text will realize its true significance as being the most important such document of our age. It is the conclusion of those who complied this book that the human race has long been led astray by a secret government, best known to outsiders as the "Illuminati."
Only $39.95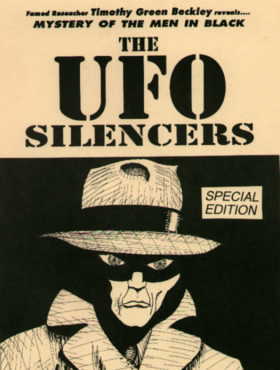 The UFO Silencers
By Timothy Green Beckley
You've seen the movie - Now discover the truth behind the Men-In-Black! This number one best seller has shocked readers with its amazing disclosures about the UFO Silence Group. This is not fiction - This is the disturbing Truth about those who got too close to the secrets of UFOs, and were silenced by the Men-In-Black! This book also includes a rare photograph of an alleged Man-In-Black spotted while stalking a New Jersey UFO investigator.
Only $19.95

Evil Agenda Of The Secret Government
By Tim Swartz
Because of the foreseeable threat of communism's spread after WWII, secret alliances were formed between certain elements of U.S. intelligence with German agents who slowly infiltrated the U.S. military, government and large corporations. What is the connection between the New World Order and the Fourth Reich? Did the Nazi Government perish at the end of WWII, or simply go underground? The author reveals that the real power behind the New World Order could be located in underground bases in Antarctic, which has been dubbed the "Last Nazi Battalion." Only $15.00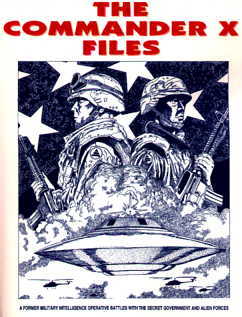 Commander X Files
By Commander X
Never before released military documents involving bizarre experiments on humans by ETs and the New World Order. Huge two pound volume of material.
Only $39.95

Black Helicopters Over America
& Black Helicopters II: The Endgame Strategy
By Jim Keith
What is the meaning of thousands of black helicopter sightings? This question and more are answered by veteran researcher Jim Keith in two explosive books!.
Only $12.95 apiece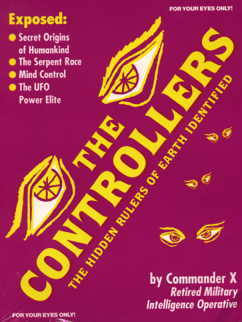 The Controllers
By Commander X
We are the property of an alien intelligence! Our planet is a cosmic laboratory and we are but guinea pigs to those who have kept us prisoners on Earth. Humankind continues to face an all-out battle with those who have kept us as their slaves for centuries. Down through history, they have been known by different names: The Soulless Ones, The Elders, The Dero, The Greys, The Illuminati and the Counterfeit Race. Yet, very few know the real identity and purpose of The Controllers, a strange, parallel race that is metaphysically programmed to do evil and, according to authorities, has complete control of our education process, major philanthropic foundations, the banking system, the media, as well as dominant influence over all worldly governments.
Only $15.00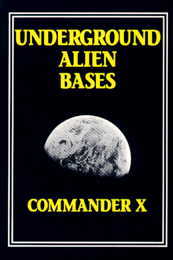 Underground Alien Bases
By Commander X
Aliens have established bases around the planet. An ancient tunnel system has existed on Earth since the time of Atlantis. Entrance ways can be found in many major cities. Some government and military officials have taken the side of the aliens. Here are bizarre stories about underground bases at Dulce, New Mexico; Groom Lake, Nevada; The South and North Pole; Mt. Shasta, California, as well as in the Andes. Here also are the first-hand reports of individuals who have been abducted, and have survived genetic experiments in these locations.
Only $20.00

Incredible Technologies of the New World Order: UFOs-Tesla-Area 51
By Commander X
Incredible array of electromagnetic transmitters currently in operation by the New World Order for purposes of global mind control. Tesla, HAARP, ultrasound, time travel, dimensional manipulations. One of Commander X's most popular books!
Only $17.50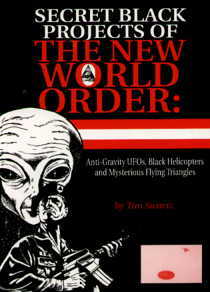 Secret Black Projects of the New World Order
By Tim Swartz
Is the United States flying secret aircraft developed from extraterrestrial technology? Thousands of people all over the world have reported sighting strange aircraft that appears to use antigravity. Are these aircraft manmade? Or are they gifts from friendly ETs? Also examines the rumors that Stealth aircraft uses technology acquired from crashed UFOs discovered in the late 1940's
Only $15.00

Credit Card Customers can also call our toll-free number:

1-800-793-1836.
If paying by Check or Money Order, mail to:
Global Communications
P.O. Box 753
New Brunswick, NJ 08903