UFOS, PROPHECY AND THE END OF TIME
By Sean Casteel
IS THIS MANKIND'S FINAL WAKE UP CALL?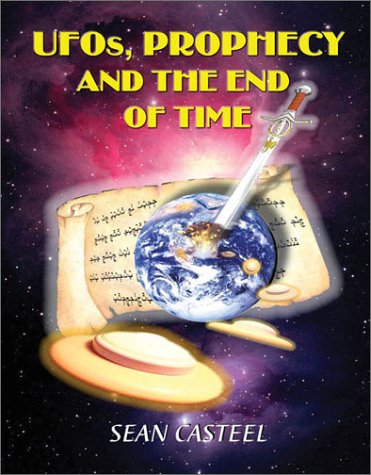 Terrorism in America! Violence Overseas! Natural Disasters Worldwide! Man Vs. Nature! Religious Jihad and Unholy Perversion in the Church! But perhaps most important and also most ignored is the widespread appearance of UFOs, and the abduction of humans by what may be the "Gods of Old!"
As chaos and confusion surround us and the human race looks for a "quick fix" to its mounting problems, many turn either to organized religion or to "fringe beliefs" for moral comfort and spiritual support. Yet the author, biblical scholar and UFO researcher, Sean Casteel, says that we should seek solutions in both areas, "as both the bible and the UFO phenomenon are inseparably related and represent a form of divine revelation from the Heavenly Ones on High who themselves determine the moment they make the truth of their existence and presence known to the world in general."
Drawing from Biblical prophecy and reliable UFOlogical sources, this book will have you glued to your seat as the author takes you past today's headlines into the immediate future -- which is sure to affect us all!
You can have this book today for the special low price of only
$18.95
, plus
$5.00
for shipping.
May we also suggest two incredible videos:
PROPHECY IN THE NEXT 1,000 YEARS,
and,
UFOS: FROM SPACE TRAVELERS TO DEMONIC BEINGS,
with the book,
the price is only
$59.95
, plus
$8.00
for shipping.
You can order online via our secure order page:
CLICK HERE
---
BEST SELLER FROM COMMANDER X
Invisibility and Levitation: How to Keys to Personal Performance
A former military operative and author of over a dozen best sellers says not only has the intelligence community been able to perfect invisibility through projects such as the Philadelphia Experiment and the use of Stealth technology, but that such techniques were actually derived from psychic abilities that are a part of psychic occult and religious lore.
This book offers various techniques that really work, providing the reader with dozens of examples and how-to training courses which takes the subject out of its mystical surroundings and places it in a scientific framework.
Only $15.95 plus $5.00 shipping
Invisibility and Levitation
is a must-have book for any bookshelf!
So be the first kid on your
block to get the inside scoop on this fascinating new book.
SEE OTHER ITEMS BY COMMANDER X
---
Candle Burning Magic With the Psalms
By William Oribello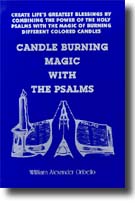 This is the first book to combine both the ancient art of burning candles for good luck and prosperity with reading the Psalms of the Bible. Spells to win a lawsuit; obtain a new, better paying job; attract love; gain knowledge and wisdom.
ONLY
$10.00
Plus
$5.00
Shipping
SEE OTHER BOOKS BY WILLIAM ORIBELLO
---
New Magick Handbook: Simple Spells for a Complex World
by Dragonstar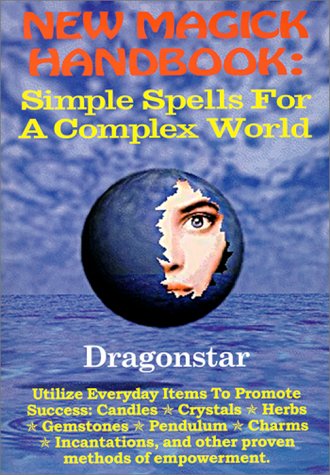 The author - a mystic and occult adept, initiated under the name of Dragonstar - learned the science ofAlchemy and other universal laws from a teacher of wisdom who was about to make his transition. Here are principles that can be put to everyday use. Utilizing a variety of occult tools, the reader will be able in minutes to perform spells and rituals to: Encourage love, affection and rommance. Increase income. Rid yourself of unwanted relationships. Become highly successful in business. Win in legal matters. Promote Clairvoyance,
and inspiration. Take your rightful place in the cosmos NOW!
Only $17.95 Plus $5.00 Shipping


SEE OTHER BOOKS BY DRAGONSTAR

---
SECRET SOCIETIES AND THE FOUNDING OF AMERICA
By K.C. Wills and Commander X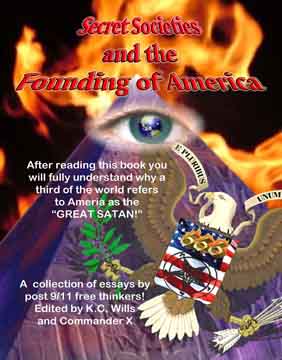 WHAT IS THE SECRET DESTINY OF AMERICA
AND WHO WILL BE ITS ULTIMATE 'ONE WORLD' RULER?
This book answers the shocking question: What did our nation's founders really have in mind for the future of America? Did they really picture this country as the Land of the Free -- or did they have a "secret agenda" in mind that would establish a New World Order for l,000 years to come?
Unknown to most Americans, there is a secret symbolism behind the Great Seal on the back of our dollar bill, as well as the true meaning of the eagle, the winged serpent, and the olive branch. The New World Order did not begin with George Bush Sr. but has its roots thousands of years ago in the secret societies of Egypt and the Middle East, having been implemented by those "Illuminated Ones" who felt they were born with a God-given right to rule and control the masses for the "good of the world."
This book is for every conspiracy buff who sees a HIDDEN MEANING to world events, and understands the true nature of the beast, the New World Order and the Secret Government. After reading this
book you will understand why a third of the world refers to America as the
"GREAT SATAN."
You can have this book today for the special low price of only
$17.95
plus
$5.00
for shipping.
You can order online via our secure order page:
CLICK HERE
---