Take An Altered State of Consciousness Journey With Spiritual Alchemist

BRAD STEIGER

Shining the Healing Light For Mental and Physical Perfection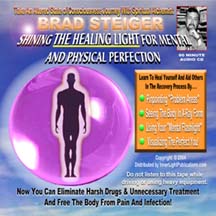 Learn To Heal Yourself And Aid Others In
The

Recovery Process By:

Pinpointing "Problem Areas" - Seeing The Body In X-Ray Form. - Using Your "Mental Flashlight" - Visualizing The Perfect You!

Now You Can Eliminate Harsh Drugs & Unnecessary Treatment
And Free The Body From Pain And Infection.
60 Minute Audio CD

Only $15.00 Plus $5.00 Shipping




Good Health Through Color Therapy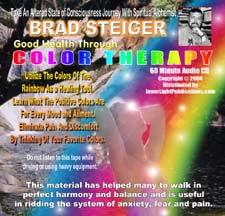 Utilize The Colors Of The Rainbow As a Healing Tool.



Learn What The Positive Colors Are For Every Mood and Ailment.

Eliminate Pain And Discomfort By Thinking Of Your Favorite Colors.

This material has helped many to walk in perfect harmony and balance and is useful in riding the system of anxiety, fear and pain.
60 Minute Audio CD

Only $15.00 Plus $5.00 Shipping




CLICK HERE TO ORDER

---
Creating A Close Encounter and ET Experience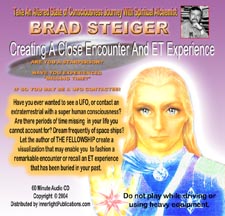 ARE YOU A STARPERSON?
HAVE YOU EXPERIENCED "MISSING TIME?"
IF SO YOU MAY BE A UFO CONTACTEE!

Let Brad Steiger create a visualization that may enable you to fashion
a remarkable encounter or recall an ET experience that has been
buried in your past.
60 Minute Audio CD


Only $15.00 Plus $5.00 Shipping



CLICK HERE TO ORDER
---
Learn To Become A Spiritual Alchemist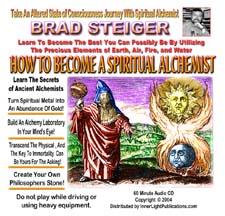 Learn to become the best you can possibly be by using the
precious elements of Earth, Air, Fire, and Water!
Turn Spiritual Metal into an Abundance of Gold.
Build an Alchemy Lab in Your Minds Eye.
Transcend the Physical and Immortality Can Be
Yours For the Asking.
Create Your Own Philosophers Stone.

60 Minute Audio CD


Only $15.00 Plus $5.00 Shipping