New From Conspiracy Journal!



SIGNS AND SYMBOLS OF THE SECOND COMING
MILLIONS AWAITING HIS ARRIVAL!

Biblical Student And Paranormal Researcher Sean Casteel reveals...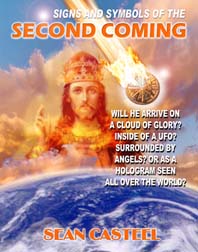 SIGNS AND SYMBOLS OF THE SECOND COMING




Special Project Contains:

* Book

* 50 Minute Audio CD

* Special Report & Update


Now you can read and hear the evidence that we are in the Last Days of Biblical Revelations and learn the part UFOs may play in the important end times.



Will Jesus Arrive On A Cloud Of Glory?

Will He Land Inside Of A UFO?

Will the Lord Be Surrounded by a Fleet of Angels?

Or As A Hologram Seen All Over The World?


Exposed at last is a subject surrounded in mystery and controversy. Are we living in the time of Biblical Prophecy? The Reign of the Anti-Christ? And the Battle of Armageddon?

A regular contributor to

Fate

,

Mysteries Magazine

and

UFO Magazine

, Sean Casteel reveals how the SECOND COMING may be much like a true life "Star Wars" with both Angelic and Satan's evil, Demonic forces fighting it out in the skies over the Middle-East.

Sean interviewed such outspoken "experts" as Rev. Barry Downing, Dr. Frank E. Stranges, Brad and Sherry Hansen Steiger, and wants to share his findings with our readers.

This is not just "another book" but a multi-media package of book, CD and an update on "The Visitation".

This package can be yours from only $20.00 plus $5.00 shipping.

A GREAT PRICE!



Go to our secure order form and ask for THE SECOND COMING Multi-Media Package.


CLICK HERE TO ORDER

Remember, all items can also be ordered with a credit card by phone on our 24-hour hotline:
732 602-3407

Please state clearly what item(s) you want with your full name, address, phone number, credit card number and exp. date.
You can also order through the mail with a check or money order from:
Global Communications
Box 753
New Brunswick, NJ 08903