NEW SPECIAL OFFER FROM CONSPIRACY JOURNAL!
WHAT IS THE SECRET DESTINY OF AMERICA
AND WHO WILL BE ITS ULTIMATE 'ONE WORLD' RULER?


SECRET SOCIETIES AND THE FOUNDING OF AMERICA
By K.C. Wills and Commander X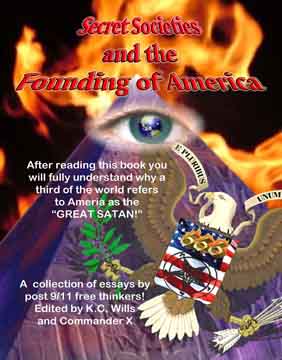 This book answers the shocking question: What did our nation's founders really have in mind for the future of America? Did they really picture this country as the Land of the Free -- or did they have a "secret agenda" in mind that would establish a New World Order for l,000 years to come?

Unknown to most Americans, there is a secret symbolism behind the Great Seal on the back of our dollar bill, as well as the true meaning of the eagle, the winged serpent, and the olive branch. The New World Order did not begin with George Bush Sr. but has its roots thousands of years ago in the secret societies of Egypt and the Middle East, having been implemented by those "Illuminated Ones" who felt they were born with a God-given right to rule and control the masses for the "good of the world."

This book is for every conspiracy buff who sees a HIDDEN MEANING to world events, and understands the true nature
of the beast, the New World Order and the Secret Government.

After reading this book you will understand why a third of the world refers to America as the
"GREAT SATAN."
You can have this book today for the special low price of only
$15.00
plus $5.00 for shipping.
Secret Societies and the Founding of America is
HOT
off the presses, so be the first kid on your block to get the inside scoop on this fascinating new book. You can order online via our secure order page:
https://www.anadynesystems.com/client/fhtml20050304164122187002.htm

You can also phone in your credit card orders to Global Communications 24 hour hotline: 732-602-3407

And as always you can send a check or money order to:
Global Communications
P.O. Box 753
New Brunswick, NJ 08903

Back to Conspiracy Journal