NEW FROM CONSPIRACY JOURNAL!

SECRETS OF THE SKULL AND BONES REVEALED

WHISTLEBLOWING EXPOSE
FIRST TIME EVER A MEMBER OF SKULL AND BONES REVEALS
THE INNER WORKINGS OF THIS NOTORIOUS SECRET SOCIETY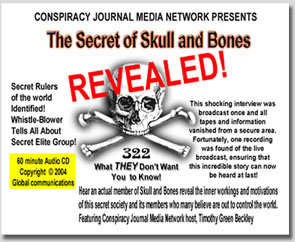 On this amazing 60 minute CD or audio cassette, hear an actual member of Skull and Bones reveal the inner workings and motivations of this secret society and its members who many believe are out to control the world.

Recently, the Conspiracy Journal Media Network conducted an interview with an individual who has been a member of this secretive fraternity since the early 1970's

Hear Timothy Beckley ask to the point questions about:



O History of the Society of Skull and Bones




O Their Connection to the Illuminati and German Secret Societies




O The Skulls Long-Range Goals For World Conquest




O How the Skulls Use Religion For Ultimate Control




O President Bush and His Shocking Allegiance to the Skulls




O How American Elections Are Stolen and Who is Really in Charge




O Is The U.S. the New Nazi Fourth Reich?



This 60 minute interview is available either on cassette or audio CD (preferred format) for

$12.00, plus $5.00 shipping.

And if you order now we will include a special report on secret societies published by the Conspiracy Journal.

Just type in SKULL AND BONES Audio on our secure order form. Please specify CD or cassette.



CLICK HERE TO ORDER





Remember, all items can also be ordered with a credit card by phone on our 24-hour hotline:

732 602-3407


Please state clearly what item(s) you want with your name, address, phone number, credit card number and exp. date.



You can also order through the mail with a check or money order from:
Global Communications
Box 753
New Brunswick, NJ 08903