NEW
SPECIAL OFFER FROM CONSPIRACY JOURNAL!

THE THREE FACES OF UFOLOGY
Brad Steiger, Diane Tessman, and Timothy Green Beckley
NEW on DVD or VHS videotape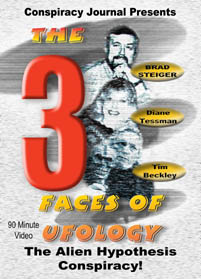 The truth is so perplexing and frustrating that many researchers
have given up in disgust!
In a rare moment in UFO history, Brad Steiger, Diane Tessman, and Timothy Green Beckley, three of the most noted experts on UFOs, conspiracies, and the paranormal, were together in Iowa to discuss their favorite subjects. Conspiracy Journal is fortunate to now have available this fascinating video that captured some of the private thoughts and theories of these famous experts.
Never before have these writers and researchers been together in one place, or video, as they discuss their inner most feelings and earth shaking conclusions on a variety of offbeat topics from alien abductions, to secret societies, to existence of the serpent race, Men-In-Black, and the secret government.
Here is information not presented elsewhere in a relaxed atmosphere. You will also join the group as they sing Christmas carols and search for the site of the plane crash that took the life of Rock and Roll singer Buddy Holly.
This is a once-in-a-lifetime opportunity to experience a "personal moment" with three of your favorite authors who have touched the hearts and minds of thousands. This 90-minute feature is only
$15.00, plus $5.00
for shipping -
A GREAT PRICE!!!
Please specify what format you want:
VHS
or
DVD
.
You can order online via our secure order page:
CLICK HERE TO ORDER
(https://miami.anyservers.com/~manatee/safepage/mrufo)
You can also phone in your credit card orders to Global Communications
24 hour hotline:
732-602-3407
And as always you can send a check or money order to:

Global Communications
P.O. Box 753
New Brunswick, NJ 08903