NEW BOOK FROM CONSPIRACY JOURNAL!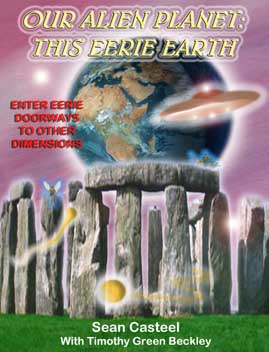 OUR ALIEN PLANET: THIS EERIE EARTH
By Sean Casteel
With Timothy Beckley
Our world is a spooky place, find out for yourself!
Think you know everything there is to know about the composition of the planet? Think this globe is just a giant lump of clay that takes 365 days to revolve around the sun? Well Guess again, as there is now evidence that we live on a world that is, itself, alive, and trying to communicate with us through some of the weirdest manifestations possible.
GHOST LIGHTS & GLOWING ORBS - ENERGY FIELDS - INTERDIMENSIONAL LIFE FORMS - TIME WARPS - CROP CIRCLES - LEY LINES - INVISIBLE PHANTOMS -
And a whole lot more in this incredible book from two of the best writers in the field of paranormal research today!


Discover precise locations in the U.S. and around the world where the laws of physics and time no longer apply. Learn about the "guaranteed spots" where you can go to have a paranormal experience of your very own. Cultivate the mysterious global grid system that circles the planet to enhance spiritual awareness.
When you order this book, you will also receive a
60-minute audio CD
(or cassette) containing interviews with the experts consulted on this project which includes: Joshua Warren, Phil Imbrigno, Diane Tessman and Tim Beckley.
So don't delay, order your copy of this incredible book and CD (or cassette) today for only
$20.00, plus $5.00
for shipping -
A GREAT PRICE!!!
You can order online via our secure order page:
CLICK HERE TO ORDER
(https://www.elbowspace.com/servlets/cfdC?xr4=&formts=2005-03-04%2016:41:22.187002 )
You can also phone in your credit card orders to Global Communications
24-hour hotline:
732-602-3407
And as always you can send a check or money order to: