New From
Conspiracy Journal
The New Best-Seller From Global Communications
Who Was William Cooper? UFO Expert? Militia Leader? Patriot? Fanatic?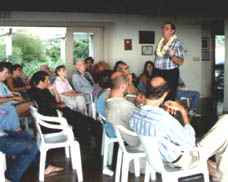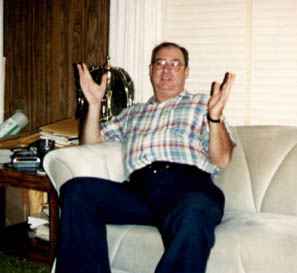 NEWS FLASH - EAGER, ARIZONA
On November 5, 2001, William Cooper was shot to death by sheriff deputies in an exchange of gunfire, fulfilling his often-stated wish to go out in a blaze of glory. News of Coopers death spread quickly via the Internet as friend and foe alike posted letters and tributes describing their past, often confrontational, encounters with an individual many consider to be the most controversial man in modern American history.
But who was William Milton Cooper? UFO expert? Conspiracy theorist? Navy Intelligence Operative? Controversial radio personality? Survivalist? Patriot? Fanatic? And the person the President once called "the most dangerous man on American airwaves?"
Here is the INSIDE STORY as told by a fellow patriot and author of such best-sellers as: Cosmic Patriot Files - The Ultimate Deception - Mind Stalkers - and Incredible Technologies of the New World Order.
Here...collected together for the first time...are William Cooper's thoughts and findings on such subjects as: The Illuminati - The New World Order - Terrorism and the WTC - UFOs and MJ12 - Gun Control - The JFK assassination - The Constitution.
ORDER YOUR COPY TODAY! This is a limited run book, and once these copies are sold out, THAT'S IT!
ONLY $20.00 plus $5.00 shipping
ORDER HERE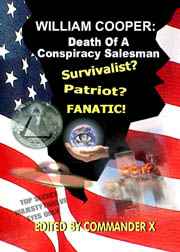 William Cooper:
Death Of A
Conspiracy Salesman

Edited By Commander X