- ...FOR FEAR OF LITTLE MEN DEPARTMENT -
The Elusive Little People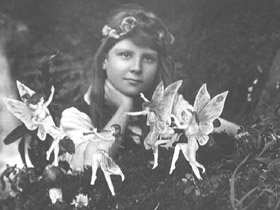 Leprechauns... elves... fairies... they're all just characters of folklore, figments of the imagination... right? Amazingly, there are eyewitnesses who claim they are very real!
Of all paranormal phenomena, the existence of "little people" - whether they be fairies, elves or leprechauns - is among beliefs that receive little serious attention. These myths are ancient and reside deep within the folklore of many cultures. But no one today really believes in these tiny, magical beings...
... Or do they?
Steve K. relates this story of "frolicking fairies" at Paranormal Confessions:
After my buddies on a camping trip had turned in for the night, one friend and I stayed up talking for awhile. Late in the night, after my friend had gone to sleep, I was looking out the screen when I noticed a strange blue light flitting through the woods. I continued to look at this light and soon it was joined by other blue lights. This lasted for some 10 minutes and the lights were playfully chasing each other. I know it sounds crazy, but I swear I saw little outlines of people in those lights. Then I moved and accidentally scrapped my sleeping bags zipper against the tent and the lights flew away blazingly fast. Back home, I read a book on fairies and after flipping through it, I think it was a troupe of fairies that I saw in the woods that night.
Was this the product of a tired mind and an active imagination? Quite possibly. But, like stories of ghost encounters, these tales are related by serious people who will usually swear that they were not under the influence of alcohol or drugs, and that their experiences seemed entirely real.
In Jerome Clark's book, Unexplained!, he retells the story of 13-year-old Harry Anderson who had a strange encounter on a summer night in 1919. Anderson claimed to have seen a column of 20 little men marching in single file toward him. The bright moonlight made them clearly visible, and Anderson could see that they were dressed in leather knee pants with suspenders. The men were shirtless, bald and had pale white skin. They paid no attention to Anderson as they passed and seemed to be mumbling something unintelligible all the while.
In Stowmarket, England in 1842, a man claimed this encounter with "faries" when walking through a meadow on his journey home:
There might be a dozen of them, the biggest about three feet high, and small ones like dolls. They were moving around hand in hand in a ring; no noise came from them. They seemed light and shadowy, not like solid bodies. I... could see them as plain as I do you. I ran home and called three women to come back with me and see them. But when we got to the place, they were all gone. I was quite sober at the time.
The legends of these wee creatures are told all over the world. While the Irish have their gold-rich and clever leprechauns, the Scandinavians have their trolls, and in Central America the small dwarflike beings are known as ikals and wendis. The ikals were described by the Tzeltal Indians as being about three feet tall, quite hairy and living in caves like bats.
Iceland also has its elves who are said to be very protective of their habitations. Those who attempt to disturb them are in for trouble. One story is told of the construction of a new harbor at Akureyri in 1962. Repeated attempts to blast away rocks continually failed. Equipment malfunctioned and workers were regularly being injured or falling ill. Then a man named Olafur Baldursson claimed that the reason for the trouble was that the site of the blast was the home of some "little people." He told the city authorities that he would work out a deal with the little people. When he came back and reported that the little folks were satisfied, the work proceeded with no problems.
Icelanders - citizens of one of the most literate nations in the world - take their elves quite seriously. Even today, Iceland's most well-known "elf-spotter," Erla Stefansdottur, has helped Reykjavik's planning department and tourist authorities create maps that chart the haunts of hidden folk. The public roads authority quite often routes roads around hallowed boulders and other spots believed to be inhabited by the elves.
Sightings today
Sightings of the little people continue right up to the present day. In fact, there have been several postings on the Paranormal Phenomenon Forum from readers who have either heard stories of such encounters or have experienced them first-hand. Here are some examples:
"I learned that a bored young boy playing along a creek near Bend, Oregon, saw two little people who crossed the creek and stood looking at him. He said they were no more than 15 to 18 inches high and very dark complected. They wore skins as garments, and after a period of 10 to 15 seconds, walked back across the creek and into the forest. The boy showed their footprints to his parents, who had contracted to a logging company to clean up slash piles. The prints were obvious and his parents were flabbergasted, but chose not to follow the little beings into the woods. He believes now that the little men weren't happy about the logging and destruction in the forest."
"The last time I saw little people was around 1957 in Fort Worth, Texas. I had been sleeping and something made me open my eyes. I saw two small people looking back at me. I was too tired and sleepy at the time to pursue further investigation of these two little guys who had very little hair and wore shabby strange clothes. They sort of smiled at me and I fell back to sleep. I know what I saw and they were real."
"I don't know if what I saw was a "little person," but when I was younger, around seven or eight, these little shadows or elves, maybe the size of a pinky, would come out in my room. I can't remember the feelings I had. I wouldn't go to bed with the lights out and I insisted that my parents stay with me in my room until I fell asleep. I think they thought I was crazy or something! But I know what I saw. Most of the time, they walked on my window, but then when I turned the other direction, they would jump in front of me as if they wanted me to see them. I don't think I was all that scared, but I can still remember clearly what they looked like. Over a period of time, they disappeared. I think it lasted a year. Also, I remember that when I wanted them to go away, I would ask them to leave. If they didn't, then I would try to smack them with my hand, but they would disappear before I could. I don't recall them talking. It was strange, but I know it happened."
"Last year when my daughter and friends were four- wheeling in the woods in Washington state, they were stuck and having problems getting out. When working at getting out, an elf- like person came out and looked at them. The elf had a bow and arrow, pointed hat and pointed ears. Six people saw it."
At a site called Unknown History, Paul Wilson has written an article called The Little People in which he says, in part:
In March 1967, as a 16 year old boy... I was hunting rabbits in a secluded area along the Purgatory River in a place called Nine Mile Bottoms south of Higbee, Colorado. The area was and still is very sparsely populated. The closest farm or house was approximately seven miles away, so I was surprised to come across the bare foot prints of a small child. I immediately became concerned, believing that I had come upon the tracks of a small child that had somehow gotten lost in the area. The tracks were approximately 4 1/2 to 5 inches long, bare foot and headed away from the river into a side canyon.
As soon as it became apparent that I had lost the tracks and could not find the child, I headed back as fast as I could to the nearest house where we reported the incident to the sheriff. When the sheriff and his deputy arrived, they called in a local man who had tracking dogs by radio to help with the search. When the dogs arrived, to everyone's bewilderment, they refused to track the child. Whining and whimpering with there tails between their legs around their owners feet. After first smelling the tracks, no matter how much coaxing or begging anyone did, no one could get the dogs to participate.
With great disgust the Sheriff and the men started out with out them on what turned out to be a two-day fruitless search. Several months later, as the whole affair continued to bother me, I mentioned the incident to an old Indian fellow who lived in Lamar that I knew. He only smiled at my concern and said that I should never be worried about the little people. That they were earth spirits and very elusive. He said that since I had been the one to come across the tracks first, I should take it as a sign that they wanted me to know about them and learn everything that I could from them. So 30 years later, I am still tracking them. I have had many experiences with them since and have learned a great deal about them. But he was right for sure about one thing. They are elusive indeed.
Source: Paranormal.about.com
http://paranormal.about.com/library/weekly/aa031300a.htm
---
Timothy Green Beckley (Mr. UFO) on Out There TV
Watch our good friend Timothy Green Beckley on
Out There TV
where he talks about the
mysteries and possibilities of the hollow Earth and other strange and weird mysteries.
This is a show not to be missed! You can now see it online at:
http://www.lvitv.com/OutThereTV/playflash.php?v_id=245&state=flash