- FROM OUT OF THE BLUE DEPARTMENT -
Hail of Stones from Nowhere
They rain down on houses and people with no earthly explanation.
The catalog of unexplained events includes many strange instances of stones falling from the sky - or somewhere. Showers of stones, often from clear skies and in areas where rockslides from mountains cannot be blamed. Hails of stones pummeling rooftops and people, often causing damage and injury. Investigations of these events usually end with unnerved victims and with officials scratching their heads in puzzlement or, out of desperation, inventing "explanations" that are sometimes as outlandish as the events themselves.
Reports of this particular type of mystery go back centuries and come from all over the world. One of the earliest written accounts was by Robert Kirk in 1690, who attributed the throwing of "great stons" to subterranean inhabitants that he called the "invisible wights." And an unexplained stone-throwing incident that took place in New Hampshire was recorded in a pamphlet entitled "Lithobolia, or the Stone-throwing Devil," published in London in 1698.
In some of these bizarre cases, the rain of stones occurs in connection with other paranormal phenomena, such as a haunting or poltergeist activity.
In the famous Bell Witch haunting of 1817, which included a host of strange goings-on, neighbors of the beleaguered Bells were pelted with stones thrown by an unseen entity.
The phenomenon is defined by the inability of investigators to identify any assailants or vandals, and usually by the lack of any motive for such an assault. So the questions arise: Where do these phantom stones come from? Who or what is responsible for throwing or dropping them? Are there natural explanations for the phenomenon? Consider these remarkable cases and draw your own conclusions:
• Harrisonville, Ohio, 1901 - The stone attack on this small village began on the Sunday afternoon of October 13 when, as the Buffalo Express reported, "a small boulder came crashing through the window of Zach Dye's house." No culprit could be found around the isolated house... and this was just the beginning. The next day, dozens of stones rained down in the heart of the village, breaking windows and striking citizens. Were mischievous kids to blame? The next day, all of the male children of the village were gathered together (how could girls do such a thing?), and stones fell for a third day. None of the villagers could detect where the stones were coming from.
• Sumatra, 1903 - W. G. Grottendieck wrote about how small black stones, hot to the touch, came raining down in his bedroom as 1 a.m. The most bizarre aspect of this case is that the stones seemed to come through the roof without making holes in it, and they fell, he said, in a motion that was slower than would be normal.
• Marcinelle, Belgium, 1913 - For four days in January one house was besieged by an invisible stone thrower with remarkable accuracy. Police officers began to watch the house in an attempt to catch the vandal, but one wrote in his report: "I have seen a stone arriving in the middle of a large window-pane and then came others in spiral round the first point of impact.... I even saw, in another window, a projectile caught in the fragments of the glass of the first hole it made, and subsequently ejected by another passing through the same point." No stone-thrower was ever seen, although an estimated 300 stones struck the house.
• Ardeche, France, 1921 - Most of these events are short-lived, lasting only a few days at most. But beginning in September, a farmhouse in France was victimized for four months. The stones dropped at all hours of the day, sometimes striking the family's children and a clergyman who was called in to investigate. In this case, apples were also thrown and, again, with inhuman accuracy: apples came speeding in through small holes in the shudders made by previous apples.
• Sumatra, 1928 - One of the most astonishing cases was experienced and reported by the renowned paranormal investigator Ivan T. Sanderson. While sitting on the veranda of an estate house as a guest one evening, a shiny black pebble dropped onto the veranda out of nowhere. Dozens more followed. Sanderson, who was familiar with the phenomenon, tried an experiment. He ordered the stones gathered up and marked with chalk, paint or whatever else could be used. They then threw the stones back out randomly into the garden and shrubbery. "We must have thrown over a dozen such marked stones," Sanderson wrote. "Within a minute they were all back! Nobody, with a powerful flashlight or super-eyesight, could have found those little stones in that tangled mess... and thrown them back on to the veranda.
Yet, they came back, all duly marked by us!"
• Oakland, California, 1943 - In August of that year, Mrs. Irene Fellows finally called the police after two weeks of stones pelting her house at various times of the day. At first skeptical, the police inquiry became serious when their investigation clearly identified the pockmarks of the falling stones on Mrs. Fellows' roof and walls, and by the litter of stones on her lawn. Mrs. Fellows and members of her family were frequently hit by the stones, although to no serious injury. The thorough police investigation could offer no explanation for the stones, which seemed to materialize out of nothingness.
• Brooklyn, Wellington, New Zealand, 1963 - Stones and apples are one thing, but what about money? Why would a vandal throw money? On March 24, a guest house was inexplicably battered by a hail of stones and a few coins. Police were called and unsuccessfully searched for the perpetrator of the assault, which lasted for seven hours. Windows were smashed and people were struck, but none injured. The coins included New Zealand pennies and a large copper coin. The mysterious attack occurred again for two more nights, then stopped.
• Skaneateles, New York, 1973 - Most often, a particular house is the target for this phenomenon, but in this highly unusual case, two fisherman became the victims of the falling stones - a paranormal storm that followed wherever they went! The rain of pebbles began as they were finishing their fishing expedition and followed them as they made their way to their car. The shower ceased for a while, then resumed when they stopped briefly on their way home. Deciding they needed a drink, they went to a bar, and when they came out some time later, the rain of pebbles began again. As they were about to go their separate ways in their hometown of Liverpool (about 25 miles northeast of Skaneateles), the little stones dropped on them one last time.
• Arizona, 1983 - The attack on the Berkbigler family began in September, just as they moved into their new home. Large rocks crashed down on the house every night, usually between the hours of 5:30 and 7:00 p.m. The local sheriff's department could determine no assailant, even with helicopter surveillance. The authorities became reluctant to visit the Berkbigler home when they too were struck by the falling rocks. This went on for weeks, culminating on December 4 while two newspaper reporters were interviewing the family. Rocks slammed into the side door of the house for two hours. What's most mysterious here is that to strike this door, the rocks had to pass through the garage where a van was parked, through a narrow two-foot space.
This is just a small sampling of the hundreds of such cases that have taken place over the last century. There is no easy explanation for these rains of rocks and stones. Something supernatural is most definitely taking place, and most researchers theorize that it is a form of poltergeist phenomena - a physical manifestation caused most likely by the minds (or powerful electromagnetic brain activity) of the victims themselves. But this meager explanation poses more questions than it answers, especially in the cases in which the very physical stones seem to materialize out of thin air.
Source: paranormal.about.com
http://paranormal.about.com/cs/earthmysteries/a/aa042604.htm
---
- SEARCHING FOR A DREAM DEPARTMENT -
Archaeologist Sparks Hunt for Holy Grail
An archaeologist has sparked a Da Vinci Code-style hunt for the Holy Grail after claiming ancient records show it is buried under a 6th century church in Rome.
The cup - said to have been used by Christ at the Last Supper - is the focus of countless legends and has been sought for centuries.
Alfredo Barbagallo, an Italian archaeologist, claims that it is buried in a chapel-like room underneath the Basilica of San Lorenzo Fuori le Mura, one of the seven churches which Christian pilgrims used to visit when they came to Rome.
advertisement
Mr Barbagallo based his claim on two years spent studying mediaeval iconography inside the basilica and a description of a particular chamber, in a guide to the catacombs written in 1938 by a Capuchin friar named Giuseppe Da Bra.
The friar describes a room of about 20 square metres with a vaulted roof ceiling. "In the corner of a wall-seat there can be seen a terracotta funnel whose lower part opens out over the face of a skeleton," he wrote.
Da Bra then explains that giving liquid refreshment (refrigerium) to the dead was part of ancient funeral rites.
According to Mr Barbagallo, who heads an association called Arte e Mistero [Art and Mystery], this funnel is the Grail.
He also points out to several beautiful mosaics and frescos in the basilica which feature images of the sacred cup.
Mr Barbagallo added that its presence in the church fits the sketchy accounts of its early guardians.
In 258 AD, during a phase of Christian persecution, Pope Sixtus V reportedly entrusted the treasures of the early Church to a deacon called Lawrence, Lorenzo in Italian. This deacon was martyred four days later and since then no one has ever seen the Grail.
Various legends have it that the cup, given the name Holy Grail in the Middle Ages, was taken to different countries - including Britain.
Dan Brown's work of fiction, The Da Vinci Code, said the cup had been buried at Rossyln Chapel in Scotland, and sparked off a stampede to the isolated location as thousands flocked to see it for themselves.
Mr Barbagallo said he believed it never went anywhere, and stayed with St Lawrence in his tomb.
Emperor Constantine built a shrine on the site of Lawrence's martyrdom in the 4th Century and the main part of the Basilica of San Lorenzo Fuori le Mura was built in AD580 on the same spot.
The catacombs where Mr Barbagallo believes the cup to buried come under the authority of the Vatican's Pontifical Commission for Sacred Archaeology.
A spokesman said: "We are aware of the reports and a few weeks ago made an initial investigation of the area with the possibility of opening the catacombs up but as yet no decision has been made."
Source: The Telegraph (UK)
http://www.telegraph.co.uk/news/main.jhtml?xml=/news/2007/06/20/wgrail120.xml
---
- IT'S WEIRD IN THEM THAR HILLS DEPARTMENT -
Mysterious Brown Mountain Lights Respond to Bad Moods and Murders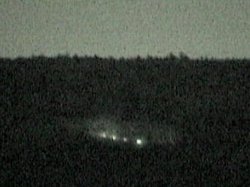 LINVILLE FALLS — Occult tales often come into being to explain mysterious phenomena. But it sometimes works in reverse, with storytellers attaching vital pieces of lore to marvels in order to give their assertions permanence.
The ancient Greeks did it with constellations. Locals do it with the Brown Mountain lights, the colored orbs that on rare occasions bob and pulse in midair eight miles east of Linville Gorge.
Eerier than a ghost is the need for one. The Brown Mountain lights suggest a search party's lanterns, which in turn conjures up memories of lost loved ones, people who had slipped beyond one's grasp and met all-too-imaginable fates.
Randy Russell and Janet Barnett's book, "Mountain Ghost Stories," revives the tale of a woman named Belinda, who, in the first half of the 18th century, conceived a child by a fellow named Jim and apparently had enough family to require that Jim marry her. Belinda's folks let her go.
Jim beat Belinda, whose presence had ruined his prospects with Susie, his true love. When Belinda gave birth, the crisis came to a head. Perhaps Belinda fled. She and her child disappeared, prompting a search party, whose progress was halted by a forest fire. Some time later, local women followed the Brown Mountain lights to the site of two skeletons, mother and child.
Russell tells how interrogators held the victims' skulls above Jim's head in a folk practice meant to elicit the truth. Jim remained silent.
"Burke County husbands have continued to escape penalty for murdering their wives," Daniel Patterson writes about the 1830s in his book, "A Tree Accurst: Bobby McMillon and Stories of Frankie Silver."
The same week in 1832 that Frankie Silver was convicted of killing her husband, Charlie, with an ax, Reuben Southard, a Burke County resident, was found not guilty of killing his wife with a metal rod. Three years later, a jury found a local blacksmith not guilty of the murder of his wife, Charity Norwood, found beaten, cut, and burned in his shop.
Christopher Blake, author of "River of Cliffs: A Linville Gorge Reader," delves into Scots-Irish traditions in his paper on the Brown Mountain lights and quotes 17th-century Scots minister, Robert Kirk. Dead souls, Kirk wrote in "The Secret Commonwealth," travel in bodies of air "through a vehement Desire of revealing a Murther or notable Injurie done or received, or a Treasure that was forgot in their Liftyme on Earth."
Though Josh Warren, local unexplained phenomenon investigator, has connected the Brown Mountain Lights with geologically stored charges and produced plasmas, folklore seeks a paranormal counterpoint to a psychological evil: bad temper.
The Brown Mountain Lights have of old represented the torches of Cherokee women searching for their husbands in a tragic battle against the Catawba. Cherokee violence had not so much to do with territorialism as with "corporate responsibility," says Barbara Duncan, Museum of the Cherokee education head and author of "Cherokee Heritage Trails Guidebook." The murder of a clan member called for a compensatory death.
Bad temper can trigger chain reactions and create historical episodes. Why was there a rash of domestic abuse and murder in the 1830s? Why has dark science fiction become popular recently, with "The X-Files" imagining supernatural causes for a world gone haywire. On May 8, 1999, in an episode titled, "Field Trip," the show blamed the Brown Mountain Lights and a giant psychotropic fungus for our current mood.
Source: Citizen-Times
http://citizen-times.com/apps/pbcs.dll/article?AID=/20070621/COLUMNISTS19/
70620098/1007/COLUMNISTS