- A GLIMPSE BEHIND THE VEIL DEPARTMENT -
How to Become Sensitive to Psychic Energy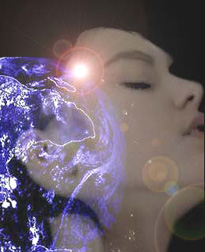 Why is it that some people can sense danger or a problem before it happens? Or they can hold an object belonging to a stranger and know accurate details about that person?
Others can feel or sense right away the presence of a spirit or invisible creatures in a place, while their companions may not feel anything at all.
These people have somehow, developed a sensitivity to subtle or psychic forces and energy. They are called by various names: sensitives, psychics or people with multi-sensory faculties.
They are able to combine all senses at once and form conclusions faster than ordinary individuals. They can "read" thoughts, "feel" colors or "see" invisible things.
People with such heightened sensitivity to subtle or psychic forces represent the next phase of human evolution, according to some thinkers. They have developed an extra sense, or what is commonly known as the "Sixth Sense."
But everybody possesses a so-called Sixth Sense or psychic perception to a lesser or greater degree. It is not a monopoly of a few highly gifted individuals.
Given some training and mental discipline, anyone can develop his/her sensitivity to psychic forces or energy. Psychic functioning is a natural ability of every human being.
How can ordinary individuals, with no extraordinary psychic powers or perception develop or heighten his sensitivity to psychic or subtle forces? Simply by becoming aware of his thoughts and feelings at any given moment of time.
Awareness is therefore the key to this faculty. But awareness to what? Isn't it that when we are awake we are aware of things around us? Not necessarily.
Consider this: Why is it that when two persons are looking at the same room, one will see or sense the presence of a spirit, but the other will not? The person who senses the spirit can even describe it while it is completely invisible to his/her companion.
This is because one has developed sensitivity to the spirits, the other has not.
Another example. If two persons hold a quartz crystal, one will feel a very strong energy emanating from the crystal, but the other person may feel nothing at all. Why is this so?
One person has developed a sensitivity to the subtle energy of the crystal, while the other has not.
There are very simple methods or techniques for developing one's sensitivity to psychic or subtle energy. The following are only a few examples of what anyone can do without any cost to him/her:
Be aware of the energy emanating from a place or room you enter. How does the room feel when no one is around? How does it feel when another person enters the room without you looking at the person? Does the energy in the room change? Does your feeling change? What is the change?
Can you tell the difference when a room contains a living plant and when the plant is not there?
When you meet a person for the first time, can you tell the type of energy radiating out of him/her? Is it positive, negative or neutral? Can you sense feelings of affection, envy, hatred, jealousy or suspicion in a person without talking to him/her? Can you read the body language?
When holding natural rock quartz crystals, can you tell the type of energy emitted by the crystal and can you distinguish the difference in the energy of each crystal? At first you may not feel any difference at all, but by practice this will soon be clear to you.
Each living creature, from the lowest to the highest form of life, radiates certain colors called the aura. Can you sense light coming out of a person's body? From a plant or animal? Try sensing the aura of plants, animals and people around you.
Once you begin to focus on or be aware of the subtle energy emanating from objects, animals, plants and people, you will become more and more sensitive to the subtle forces that normally escape the average person. Later you can use this ability to read the soul of things.
Source: Asian Journal Online
http://www.asianjournal.com/?c=53&a=21446
---
- NATIONAL DON'T GET OUT OF BED DAY DEPARTMENT -
Friday the 13th Phobia Rooted in Ancient History
On Friday the 13th some people are be so paralyzed with fear they simply won't get out of bed. Others will steadfastly refuse to fly on an airplane, buy a house, or act on a hot stock tip. It's Friday the 13th, and they're freaked out.
"It's been estimated that [U.S] $800 or $900 million is lost in business on this day because people will not fly or do business they would normally do," said Donald Dossey, founder of the Stress Management Center and Phobia Institute in Asheville, North Carolina.
Among other services, Dossey's organization counsels clients on how to overcome fear of Friday the 13th, a phobia that he estimates afflicts 17 to 21 million people in the United States.
Symptoms range from mild anxiety to full-blown panic attacks. The latter may cause people to reshuffle schedules or miss an entire day's work.
When it comes to bad luck of any kind, Richard Wiseman—a psychologist at the University of Hertfordshire in Hatfield, England—found that people who consider themselves unlucky are more likely to believe in superstitions associated with bad luck.
"Their beliefs and behavior are likely to be part of a much bigger worldview," he said. "They will believe that luck is a magical force and that it can ruin their lives."
Wiseman found that one quarter of the 2,068 people questioned in a 2003 survey associate the number 13 with bad luck. People with such feelings, he found, are more likely to be anxious on days like Friday the 13th and thus more prone to have accidents. In other words, being afraid of Friday the 13th could be their undoing.
So how did Friday the 13th become such an unlucky day?
Dossey, also a folklore historian and author of Holiday Folklore, Phobias and Fun, said fear of Friday the 13th (known as paraskavedekatriaphobia) is rooted in ancient, separate bad-luck associations with the number 13 and the day Friday. The two unlucky entities ultimately combined to make one super unlucky day.
Dossey traces the fear of 13 to a Norse myth about 12 gods having a dinner party at Valhalla, their heaven. In walked the uninvited 13th guest, the mischievous Loki. Once there, Loki arranged for Hoder, the blind god of darkness, to shoot Balder the Beautiful, the god of joy and gladness, with a mistletoe-tipped arrow.
"Balder died and the whole Earth got dark. The whole Earth mourned. It was a bad, unlucky day," said Dossey. From that moment on, the number 13 has been considered ominous and foreboding.
There is also a biblical reference to the unlucky number 13. Judas, the apostle who betrayed Jesus, was the 13th guest to the Last Supper.
Meanwhile, in ancient Rome, witches reportedly gathered in groups of 12. The 13th was believed to be the devil.
Thomas Fernsler, an associate policy scientist in the Mathematics and Science Education Resource Center at the University of Delaware in Newark, said the number 13 suffers because of its position after 12.
According to Fernsler, numerologists consider 12 a "complete" number. There are 12 months in a year, 12 signs of the zodiac, 12 gods of Olympus, 12 labors of Hercules, 12 tribes of Israel, and 12 apostles of Jesus.
In exceeding 12 by 1, Fernsler said 13's association with bad luck "has to do with just being a little beyond completeness. The number becomes restless or squirmy."
This fear of 13 is strong in today's world. According to Dossey, more than 80 percent of high-rises lack a 13th floor. Many airports skip the 13th gate. Hospitals and hotels regularly have no room number 13.
On streets in Florence, Italy, the house between number 12 and 14 is addressed as 12 and a half. In France socialites known as the quatorziens (fourteeners) once made themselves available as 14th guests to keep a dinner party from an unlucky fate.
Many triskaidekaphobes, as those who fear the unlucky integer are known, point to the ill-fated mission to the moon, Apollo 13.
As for Friday, it is well known among Christians as the day Jesus was crucified. Some biblical scholars believe Eve tempted Adam with the forbidden fruit on Friday. Perhaps most significant is a belief that Abel was slain by Cain on Friday the 13th.
So, what are triskaidekaphobes to do?
Dossey said "practical" cures are as simple as learning to refocus one's thoughts from negative feelings to positive. His mantra: "What you think about, you begin to feel. What you feel generates what you do. And what you do creates how you will become."
In other words, those stricken with negative thoughts about Friday the 13th need to learn how to focus on pleasant thoughts. Those, in turn, will create pleasant feelings that make one's fears less overwhelming, according to Dossey.
"They haven't lost their mind. They've lost control of their mind," Dossey said of triskaidekaphobes. "They are focused in the wrong direction. In their mind they have a big, large, looming picture of something horrible that could happen."
Wiseman, the University of Hertfordshire psychologist, offers similar advice to those stricken with the fear of Friday the 13th.
"They need to realize that they have the ability to create much of their own good and bad luck," he said. "And they should concentrate on being lucky by, for example, looking on the bright side of events in their lives, remembering the good things that have happened, and, most of all, be[ing] prepared to take control of their future."
Folklore offers other remedies, however. One recommendation is to climb to the top of a mountain or skyscraper and burn all the socks you own that have holes in them. Another is to stand on your head and eat a piece of gristle.
So if you fear the 13th, take your pick of remedies and let the day bring its luck—good or bad.
Source: National Geographic
http://news.nationalgeographic.com/news/2004/02/0212_040212_friday13.html
---
- LET'S DO IT ALL AGAIN DEPARTMENT -
Girl Says She is Reincarnated Shuttle Astronaut
A four-year-old girl who claims her name is Kalpana Chawla and that she died up in the skies four years ago is drawing huge crowds in a village in Uttar Pradesh, India.
Residents of Nar Mohammadpur village, where little Upasana is visiting her relatives, think she might be the reincarnation of the India born astronaut Kalpana Chawla, who died when U.S. space shuttle Columbia broke apart upon reentry four years ago.
The news of the girl's claim spread quickly in the area after she spoke to some villagers.
"I am Kalpana Chawla," says Upasana, who reportedly fears the sight of an aircraft. She has been telling her illiterate parents that she died in a "crash" up in the skies.
"Upasana has been telling us ever since she started speaking that her name was Kalpana Chawla and that her father's name was Banarsi Das Chawla but we could not figure out anything as we had never heard of Kalpana," Upasana's father Raj Kumar told reporters.
Raj Kumar who works as a labourer in Pata village of Etawah district, from where the family had come to Bulandshahr to visit relatives, has no clue about space research or spacecraft.
"Yet Upasana's proclamation led us all to believe that she was actually talking about her previous birth," he said. "She claims that the spacecraft was hit by a huge ball of ice that sent it crashing and ended her life."
Upasana was born barely two months after the astronaut's death in 2003.
The news of her reincarnation spread like wild fire after her interaction with some local persons in Khurja. Meanwhile, TV reports said that Kalpana's father has refused to buy the rebirth story.
Source: SIFY News
http://sify.com/news/fullstory.php?id=14488118&cid=2485&name=Don't