---
- BEYOND THE VEIL DEPARTMENT -

Christian Mystics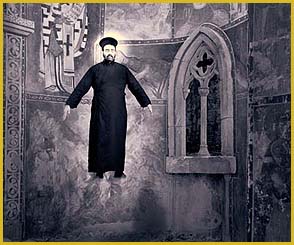 Mysticism is usually associated with the occult or eastern religions today, but Christianity had a number of mystics. Indeed, the monastic system was ideally designed to allow such mystics to exist.

SAINT BENEDICT

The father of western monasticism was St Benedict. Born about 480, he was sent to Rome for an education but was horrified by its decadence. At age 14 he fled to a village called Subiaco where he met a monk who took him to a cave.

Over the next three years he lived as a hermit and developed miraculous powers from deep meditation. Going on to gain many followers, he organised 12 monasteries of 12 monks, each under a prior. In 525 he went to Monte Casino where he destroyed the pagan temple there and began to build the famous monastery.

Going about the country curing the sick, he also wrote 'The Rule,' laying down the guidelines for monastic life, including a probationary year, obedience to an abbot, asceticism and a life of work and prayer.

He described his mystical experiences as a taste of heavenly food following a flood of shining light. Seeing the whole world before his eyes, he could look down from above and see how small everything was.

ST HILDEGARD OF BINGEN

Another early mystic was St Hildegard of Bingen, born to a noble German family near Bingen in 1098. Influenced by local Celtic traditions, she had visions from an early age before being educated by Benedictines from age eight. A prioress by 38, she was often ill and became an early feminist, believing in gender equality and even downplaying Eve's role in the Fall. From her early 40s she began having illuminations about God, the soul and the interconnectedness of the universe.

Advising, in her 'Scivias', that all living things are sparks of radiance from God, she records 26 'illuminations'. With an interest in science and love of music, she travelled throughout Europe denouncing corruption and criticising monotheistic faiths as dried up, even celebrating human sexuality. She died in 1179 in her eighties.

JULIAN OF NORWICH

Julian of Norwich was an English mystic born about 1342. In her work, 'The Revelation of Divine Love', we read that in her youth she asked God for a severe illness to purge herself of worldly desires, as well as a vision of the Passion of Christ.

When she was 31 she fell gravely ill, prompting a number of visions. She described in one how she saw God in a twinkling of an eye. Propped up so she could gaze on a crucifix, she saw the crucified Christ. Then her chamber filled with blood before being grasped by the throat by the Devil, the damned all about her. Then she saw a cathedral on a mountaintop with Christ on a throne.

For the next 20 years she became a hermit within a convent to contemplate her visions, deciding that faith consisted of God's love for his elect, and the soul's need to return that love. Her revelation drew people to her, and she gained a reputation as a healer. When she died is unknown.

ST TERESA OF AVILA

A further Christian mystic worthy of mention is St Teresa of Avila, born in 1515 to a noble family near Avila in Castille. Her mother died when she was 15 and shortly after she became ill, beginning a series of illnesses that would plague her throughout her life.

At 20 she left home against her father's wishes and became a nun. Due to improper care she experienced a coma for three days and upon recovery began intense daily meditations. In 1555 she began having visions. Many more were to follow. She called them a 'delectable death' and included terrifying visions of hell. St Teresa classed the visions as the soul lifted out of the body and becoming awake to God. Writing a number of books about her visions, she claimed to experience a spiritual marriage with Christ. Going on to found some 17 convents, she died in 1582.

IN CONCLUSION

It was natural that the monastic system would create such mystics, and in their visions we can see many classic elements of the mystical experience, from symbolism of the Divine, to a feeling of Oneness with everything.

The Church itself was often suspicious of such mystics. After all, Christianity was based on the idea that 'oneness' with God could not come until death. In this way, Christianity demanded good Christian obedience in life so as to deserve heaven rather than hell.

Of course, it would have been inappropriate to take action against such obviously 'good' Christians, so they were given a special category by being blessed. But it is important to note, had such experiences been admitted by 'normal' people, the Inquisition and death would be the result, for they would have been possessed by the Devil.

Source: Beyond the Blog
http://beyondtheblog.wordpress.com/2007/08/29/christian-mystics/
---
- THE BEGINNING OF A COVER-UP DEPARTMENT -
The Robertson Panel: The CIA Considers UFOs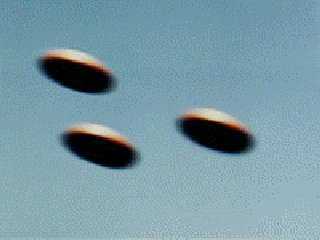 1918-1939 is sometimes called "the golden age of aviation" because of the much technological advancement made in aircraft. With World War II came better, faster airplanes and more experienced pilots. By the time the war was over, air travel was becoming firmly established across the world. The skies became the highways of the future. People started looking up in curiosity. What they saw in the skies was sometimes mundane, but sometimes astonishing. The UFO age had begun.
The early 1950s saw a surge of civilian UFO reports. So serious had the problem become, that normal intelligence duties in the CIA were being seriously impacted. Authorities were worried that if the Soviet Union or another adversary attempted to invade the US, the lines would be clogged and the government would be unable to act, so serious had UFO hysteria become. Clearly, something had to be done.
The CIA responded by forming a committee to investigate the thousands of UFO reports and choose a course of action. The committee, headed by Howard Percy Robertson came to be known as The Robertson Panel. Robertson was a distinguished physicist, a CIA employee, and a director of the Defense Department Weapons Evaluation Group. He drew upon six friends and colleagues of scientific importance to fill the panel. Some of the more famous scientists on the board were Luis Alvarez, who won the Nobel Prize for physics in 1968; and Samuel A. Goudsmit, who was a head of one division of the Manhattan Project and jointly proposed the theory of the electronic spin. Other members were Frederick C. Durant, missile expert; Thornton Page, astrophysicist; Lloyd Berkner, physicist; and Allen Hynek, astronomer.
From the beginning, the panel was biased against the idea of UFOs. In their first briefing, Robertson explained that their purpose was to "debunk" UFOs. At least one committee member, Thornton Page, was reprimanded for his "excessive levity." There has also been some criticism that, while the scientists on the panel were leaders in their respective fields, these scientists specialized in outer space. No scientists were consulted who had expertise in atmospheric conditions—which is where UFOs are seen.
The panel met in secret for four consecutive days. During this time they viewed two amateur motion pictures: The 1950 Montana and the 1952 Utah UFO Films, which had already undergone 1,000 man hours of detailed analysis by Navy officers who had concluded that the depicted objects were not any known aircraft, creature, or weather phenomenon. Air Force Captain Edward J. Ruppelt and Major Dewey J. Fournet then addressed the panel, summarizing the extensive work they had been involved with in UFO affairs over the preceding years. Ultimately, the panel spent twelve hours considering reports and investigations that Project Blue Book and other committees had spent years investigating. They speedily found "explanations" for the reports. When there was no answer to be found, they swept the case under the table.
The Robertson Panel wasted no time in formulating their official report. They concluded that 90% of UFO sightings could be readily identified with meteorological, astronomical, or natural phenomenon, and that the remaining 10% could be explained with detailed study. They furthermore stated that such study would be a waste of time. Their final recommendation stated "That the national security agencies take immediate steps to strip the Unidentified Flying Objects of the special status they have been given and the aura of mystery they have unfortunately acquired."
Based on their recommendations, a public relations committee was assembled to reduce public interest in UFOs. Believers subscribing to such notions were painted as foolish and irrational. This effort drew upon the resources of renowned scientists as well as celebrities and mass media. Even the influential Disney Corporation was involved in the debunking effort. From this point forward UFology has been seen in disrepute among scholarly circles, and UFOs have become a subject of the fringe communities.
Finally, due to the suggestions of the committee, groups studying UFOs were monitored by government agents and spies in order to keep them from influencing mass thinking. As late as 1976 a CIA memo was discovered telling how the agency was still having to report on the activities of UFO groups.
In the years following the Robertson Panel at least two members expressed disappointment with its proceedings. Because of the panel's conclusions, the attention needed to acquire the data to even decide the nature of the UFO phenomenon has not been given the subject. Thornton Page and J. Allen Hynek both lamented that the subject had not been treated with more seriousness. While Page expressed passing interest, Hynek went on to become a scientifically respected voice in UFology.
There can be no doubt that the Robertson Panel opened the era of government cover-up regarding the UFO phenomenon. And yet, stripped of credibility and respect, there are still those who insist on sharing their experiences. For no matter the cost, there are still those who look up into the sky with curiosity.
Source: Articles Base
http://www.articlesbase.com/hobbies-articles/the-robertson-panel-the
-cia-considers-ufos-211953.html
---
- OBITUARIES DEPARTMENT -
Alex, The Brainy Parrot Dies
He knew his colors and shapes, he learned more than 100 English words, and with his own brand of one-liners he established himself in television shows, scientific reports and news articles as perhaps the world's most famous talking bird.
But last week Alex, an African gray parrot, died, apparently of natural causes, said Dr. Irene Pepperberg, a comparative psychologist at Brandeis University and Harvard who studied and worked with the parrot for most of his life and published reports of his progress in scientific journals. The parrot was 31.
Scientists have long debated whether any other species can develop the ability to learn human language. Alex's language facility was, in some ways, more surprising than the feats of primates that have been taught American Sign Language, like Koko the gorilla, trained by Penny Patterson at the Gorilla Foundation/Koko.org in Woodside, Calif., or Washoe the chimpanzee, studied by R. Allen and Beatrice Gardner at the University of Nevada in the 1960s and 1970s.
In 1977, when Dr. Pepperberg, then a doctoral student in chemistry at Harvard, bought Alex from a pet store, scientists had little expectation that any bird could learn to communicate with humans, as opposed to just mimicking words and sounds. Research in other birds had been not promising.
But by using novel methods of teaching, Dr. Pepperberg prompted Alex to learn scores of words, which he could put into categories, and to count small numbers of items, as well as recognize colors and shapes.
"The work revolutionized the way we think of bird brains," said Diana Reiss, a psychologist at Hunter College who works with dolphins and elephants. "That used to be a pejorative, but now we look at those brains — at least Alex's — with some awe."
Other scientists, while praising the research, cautioned against characterizing Alex's abilities as human. The parrot learned to communicate in basic expressions — but he did not show the sort of logic and ability to generalize that children acquire at an early age, they said.
"There's no evidence of recursive logic, and without that you can't work with digital numbers or more complex human grammar," said David Premack, emeritus professor of psychology at the University of Pennsylvania.
Dr. Pepperberg used an innovative approach to teach Alex. African grays are social birds, and quickly pick up some group dynamics. In experiments, Dr. Pepperberg would employ one trainer to, in effect, compete with Alex for a small reward, like a grape. Alex learned to ask for the grape by observing what the trainer was doing to get it; the researchers then worked with the bird to help shape the pronunciation of the words.
Alex showed surprising facility. For example, when shown a blue paper triangle, he could tell an experimenter what color the paper was, what shape it was, and — after touching it — what it was made of. He demonstrated some of his skills on nature shows, including programs on PBS and the BBC. He shared scenes with the actor Alan Alda on the PBS series "Look Who's Talking."
As parrots can, he also picked up one-liners from hanging around the lab, like "calm down" and "good morning." He could express frustration, or apparent boredom, and his cognitive and language skills appeared to be about as competent as those in trained primates. His accomplishments have also inspired further work with African gray parrots; two others, named Griffin and Arthur, are a part of Dr. Pepperberg's continuing research program.
Even up through last week, Alex was working with Dr. Pepperberg on compound words and hard-to-pronounce words. As she put him into his cage for the night last Thursday, she recalled, Alex looked at her and said: "You be good, see you tomorrow. I love you."
He was found dead in his cage the next morning, Dr. Pepperberg said.
Source: NY Times
http://www.nytimes.com/2007/09/11/science/11parrot.html?_r=2&oref=slogin&oref=slogin