---
- DEATH FROM ABOVE DEPARTMENT -

Scientists Say Object From Space Caused Ice Age Extinctions

What caused the extinction of mammoths and the decline of Stone Age people about 13,000 years ago remains hotly debated. Overhunting by Paleoindians, climate change and disease lead the list of probable causes. But an idea once considered a little out there is now hitting closer to home.

A team of international researchers, including two Northern Arizona University geologists, reports evidence that a comet or low-density object barreling toward Earth exploded in the upper atmosphere and triggered a devastating swath of destruction that wiped out most of the large animals, their habitat and humans of that period.

"The detonation either fried them or compressed them because of the shock wave," said Ted Bunch, NAU adjunct professor of geology and former NASA researcher who specializes in impact craters. "It was a mini nuclear winter."

Bunch and Jim Wittke, a geologic materials analyst at NAU, are co-authors of the paper, which fingers an extraterrestrial impact 12,900 years ago for the mass extinctions at the end of the Ice Age. The paper was just released online in the Proceedings of the National Academy of Sciences. The research team includes several members of the U.S. National Academy of Sciences and researchers from Hungary and the Netherlands.

No one has found a giant crater in the Earth that could attest to such a cataclysmic impact 13,000 years ago, but the research team offers evidence of a comet, two and a half to three miles in diameter, that detonated 30 to 60 miles above the earth, triggering a massive shockwave, firestorms and a subsequent drastic cooling effect across most of North America and northern Europe.

"The comet may have broken up into smaller pieces as it neared the Earth and then these pieces detonated in various places above two continents," Bunch said.

The evidence for multiple detonations comes from a four-inch-thick "black mat" of carbon-rich material that appears as far north as Canada, Greenland and Europe to as far south as the Channel Islands off the coast of California and eastward to the Carolinas. Two sites exist in Arizona at Murray Springs and Lehner Ranch, both near Sierra Vista.

Evidence of mammoths and other megafauna and early human hunters, known as the Clovis culture, are found beneath the black mat but are missing entirely within or above it. This led the research team to conclude an extraterrestrial impact wiped out many of the inhabitants of the Late Pleistocene. Bunch notes that some animals may have survived in protected niches.

The black mat was formed by ponding of water and algal blooms and contains carbon, soot and glassy carbon—remnants of burned materials. Some of these remnants are extraterrestrial in nature. For example, the research team has identified fullerenes, spherical carbon cages resembling a soccer ball, which are formed in shock events outside the Earth's atmosphere. Trapped inside the fullerenes is a concentration of helium 3 that is many times greater than what is found in the Earth's atmosphere.

The black mat also has turned up nanodiamonds, which are formed in the interstellar medium outside the solar system, by or by a high-explosive detonation.

"Either these things came in with the impactor or they were made during impact detonation. We have no other explanation for their presence," Bunch said.

The magnitude of the detonations would have been huge.

"A hydrogen bomb is the equivalent of about 100 to 1,000 megatons," Bunch said. "The detonations we're talking about would be about 10 million megatons. That's larger than the simultaneous detonation of all the world's nuclear bombs past and present."

The research team believes the detonations destabilized a vast ice sheet, known as the Laurentide Ice Sheet, that covered most of what was then Canada and the northern United States. Heat from the detonation and firestorms would have melted much of the ice sheet, releasing water vapor into the atmosphere.

"The result was rapid cooling of about eight degrees over the next 100 years," Bunch said. The melting of the ice sheet and subsequent climate change would explain the water-based nature of the black mat.

Catastrophic extraterrestrial impacts are not new. Scientists theorize a much larger asteroid impact annihilated the dinosaurs and about 85 percent of the Earth's biomass about 65 million years ago. The most recent incident, known as the Tunguska event, occurred in 1908 in Russia. The Tunguska explosion was an airburst of a comet or meteorite estimated at 10-15-megatons that destroyed tens of millions of trees across more than 800 square miles.

Bunch says impact airbursts may be more common than previously thought with possibly two or three such events having occurred over the last 100,000 years. And more are sure to follow.

Source: Eureka Alert
http://www.eurekalert.org/pub_releases/2007-09/nau-rts092407.php
---
- MULTIPLES UPON MULTIPLES DEPARTMENT -
Study Reveals The Truth About Parallel Universes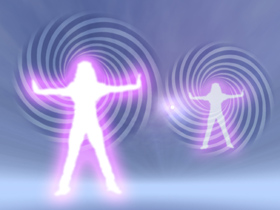 Parallel universes really do exist, according to a mathematical discovery by Oxford scientists described by one expert as "one of the most important developments in the history of science".
The parallel universe theory, first proposed in 1950 by the US physicist Hugh Everett, helps explain mysteries of quantum mechanics that have baffled scientists for decades, it is claimed.
In Everett's "many worlds" universe, every time a new physical possibility is explored, the universe splits. Given a number of possible alternative outcomes, each one is played out - in its own universe.
A motorist who has a near miss, for instance, might feel relieved at his lucky escape. But in a parallel universe, another version of the same driver will have been killed. Yet another universe will see the motorist recover after treatment in hospital. The number of alternative scenarios is endless.
It is a bizarre idea which has been dismissed as fanciful by many experts. But the new research from Oxford shows that it offers a mathematical answer to quantum conundrums that cannot be dismissed lightly - and suggests that Dr Everett, who was a Phd student at Princeton University when he came up with the theory, was on the right track.
Commenting in New Scientist magazine, Dr Andy Albrecht, a physicist at the University of California at Davis, said: "This work will go down as one of the most important developments in the history of science."
According to quantum mechanics, nothing at the subatomic scale can really be said to exist until it is observed. Until then, particles occupy nebulous "superposition" states, in which they can have simultaneous "up" and "down" spins, or appear to be in different places at the same time.
Observation appears to "nail down" a particular state of reality, in the same way as a spinning coin can only be said to be in a "heads" or "tails" state once it is caught.
According to quantum mechanics, unobserved particles are described by "wave functions" representing a set of multiple "probable" states. When an observer makes a measurement, the particle then settles down into one of these multiple options.
The Oxford team, led by Dr David Deutsch, showed mathematically that the bush-like branching structure created by the universe splitting into parallel versions of itself can explain the probabilistic nature of quantum outcomes.
Source: Channel 4 (UK)
http://www.channel4.com/news/articles/science_technology/
parallel+universes+exist++study/838052
---
- STRANGE TIMES, STRANGE PLACES DEPARTMENT -
Steve Fossett's Disappearance Adds to Nevada's Mysteries
Alien towns. Lost 19th-century cannons. Lake monsters. Frozen bodies swimming at the bottom of Lake Tahoe. Nevada is a vortex for the unexplained.
And it appears at this writing that we have another whopper of a puzzle to add to the list.
The case of missing aviator Steve Fossett who disappeared from the Flying M Ranch near Yerington Sept. 3 has techno-sleuths, psychics and concerned folks around the world focused on our region.
The attention is natural, and for the same reason we see grown men in suits scribbling out sudoku puzzles in airports -- our race is obsessed with solving problems.
We want to know what happened to this most incredible man who has broken world records and triumphed over fear time and again only to be taken down during a simple day trip.
Fossett's tale inflates exponentially as the weeks pass without any signs of the famed pilot or his blue and white plane, building upon his already legendary life.
"We like to think that anything is findable with enough resources. But it could turn into another Amelia Earhart situation," Ric Gillespie told the Associated Press this week.
Government aircraft have searched more than 20,000 square miles around Northern Nevada, followed every lead by air and foot and have found nothing. Family and friends of the famous adventurer have also used state-of-the-art technology and aircraft to scour the land and have come up empty-handed.
And for the first time, Internet users have joined the effort. Tips and satellite coordinates have poured in from all corners of the globe by well-intended people who want answers.
One reader sent me an unusual e-mail message this week. The reader's psychic friend had a vision of Fossett landing in Walker Lake (her best guess for the water she envisioned). The reader wrote: "She said his plane had a cracked block and he was trying to get back to the ranch when he crashed."
Like Earhart, Fossett has fans the world over. Many wonder how much the search has cost our government agencies as the constant drone continued overhead for two solid weeks until the Civil Air Patrol ceased air operations on Monday.
Final numbers aren't in, but it surely pales in comparison to Earhart's search.
In 1937, when Earhart disappeared, the U.S. government spent $4 million looking for her, making the search the most costly and intensive air and sea operation of its kind in history.
Coincidently, Fossett's plane could have landed close to the area of another mystery Nevadans have been trying to solve for more than a century -- Union General John C. Fremont's lost cannon.
Snow was deep over the Carson Pass in January 1844 as Fremont's group, which included Kit Carson, tried to cross. The 1835-model mountain howitzer they carried proved too cumbersome and they left it behind somewhere near the state line and Bridgeport, Calif.
"They were in the vicinity west of the Walker River," said Nevada state archivist Guy Rocha. "They just walked away from it."
The group headed to California and never returned to find it. Along the way, Fremont is believed to be the first white man to view Lake Tahoe. Treasure hunters have looked for the prized cannon without success, using Fremont's journals as a guide.
"Like buried treasure, people will look for that cannon 'til kingdom come," Rocha said.
Other enigma that may never be solved includes Tahoe Tessie, the lake-faring monster that believers say lurks in the icy waters of Lake Tahoe (no matter how much science is thrown at them to disprove this notion).
Another stumper is the business about frozen bodies at the bottom of that same lake in the Sierra. Oceanographer Jacques Cousteau was supposedly frightened right out of his wetsuit during a dive in a sub in the mid-1970s. "The world isn't ready for what was down there," he was quoted as saying.
Cousteau did not release photographs from the deep-water trip, adding to the mystery. Many divers have since requested to duplicate the dive.
And, of course, the mother of all mysteries: Area 51. Scientist Bob Lazar who first spilled the beans about working with alien spacecraft at the site in 1989 is now living in New Mexico with his wife, Joy, their dogs and a rescue horse, and reportedly no longer talks about the little green fellows.
I hope by the time this is published, Fossett has been found and this mystery can be put to rest. If not, Nevada will keep his memory alive in its treasure trove of unsolved mysteries.
Source: Douglas Times
http://news.rgj.com/apps/pbcs.dll/article?AID=/20070921/DOUGLAS
07/709210317/1144/NEWS