---
- STRANGE CREATURES FROM TIME AND SPACE DEPARTMENT -

Florida Town Puzzled By Mysterious Ape Sightings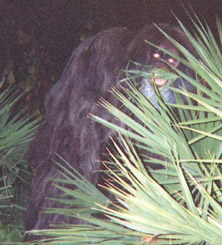 Near the northern border of Florida, one county over from the east coast of the state, is the small community of Glen St. Mary. It is a town in Baker County, Florida, with a population of 473 in the 2000 census, and 489, as of 2004. The people in Glen St. Mary live in 181 households in 131 families. Ninety-eight percent of the people in town identify themselves as Caucasian Americans.

The little town of Glen St. Mary is in the middle of a bit of uproar. A cryptid is the talk of the town. A mystery ape seems to be about.

Folks who live in Glen St. Mary say nothing much happens there. But some excitement came to the little North Florida town -- in the form of an escaped ape. Or did it?

Downtown Glen St. Mary has all you'd expect from a small North Florida town: one traffic signal, one gas station and one big mystery. Screeches in the night. A creature in the trees.

Needless to say, Florida is the land of accounts of the Skunk Ape, the Myakka unknown, and boogers. There are over a hundred years of reports of this kind coming from this part of America's subtropical South.

Stories of sightings in Glen St. Mary echo on every corner. The local newspaper even ran a story about it. Eric Lawson's heard the tales.

"There is kinda that 'I've seen a bigfoot' type of feel to it," he said. "They said it made a nest in that tree, so it's probably somewhere here in the area."

What's got Glen St. Mary howling? It's a monkey. Well, actually -- an ape. Specifically, an orangutan. A handful of folks say they've heard the call of an escaped ape.

One family even found the grand prize: what looked to be an orange ape, nesting high in a tree.We talked on the phone with the Florida Fish and Wildlife Commission investigator who actually answered the original complaint call.

He said there was definitely something up in the top of the tree, but he really couldn't be sure what it was. So, he took a pack of jelly donuts and left it right at the bottom of the tree, hoping to lure the creature to the ground.

He hasn't heard anything since.

Well, orangutans really love fruit. So, hungry for answers, we went to "Ed" -- a neighbor who hears all the gossip from his produce stand.

But Ed had boarded up his stand and beat it out of town. Why did he decide to split? It's not clear, but the sign he left behind prominently features a bunch of bananas as one of his top-selling products.

Ed took off, and so did the mystery creature.

"The next morning, the people came out and it was -- it was gone," Lawson remembered from the story he'd heard from his father.

If it is an ape, where did it come from? The state says no one in Baker County is even licensed to own an orangutan. It seems like that's part of the mystery.

In the end, the evidence of any, umm, monkey business -- is still up in the air.

Glen St. Mary should not feel alone, other Florida locations have experienced strange ape sightings. A Santa Rosa resident called on sheriff's department investigators in November 2006 to help identify a mysterious intruder that looked remarkably like a chimpanzee.

The resident spotted what appeared to be some type of monkey in a nearby field on Thursday. She was able to take a photograph of the animal prior to it leaving the area.

She took the photograph to the Gulf Breeze Zoo, where officials verified that the animal was a chimpanzee. Zoo officials took a count of their chimpanzees and all were accounted for.

Zoo officials, as well as the sheriff's office, warned the public to be aware of the dangers if they encountered the animal. Chimpanzees can be very aggressive and vicious, causing great bodily harm to humans. The public was urged to not approach the animal and instead call local law enforcement so that the appropriate agencies can be contacted to apprehend the animal.

However, as far as anyone knows, the Santa Rosa chimp was never seen again. Maybe it moved on to the quieter surrounding of Glen St. Mary's.

Source: Cryptomundo
http://www.cryptomundo.com/cryptozoo-news/glen-fl-ape/
---
- STRANGE THINGS IN HEAVEN AND EARTH DEPARTMENT -
Sleep Deprivation - Or a Glimpse into Another Dimension?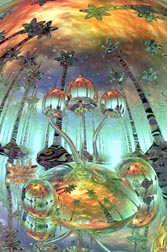 A cool October breeze brushed Len Berroth as he stood at his front door in 2006. Len, of DeLand, Fla., thought he was at the end of three mostly sleepless nights and a seven-hour drive.
But something wasn't right at Len's house.
"Sleep depravation lifted the veil between parallel plains that coexist at different vibration levels would be my guess," Len said. "What showed itself was not of this world yet interacted with dwellings, objects, landscape surroundings as if it were theirs."
The world around Len rippled, sending streaks of light dancing past him, as his perception of reality changed. For the next nine and a half hours, he watched his neighborhood team with life that shouldn't be.
Like the giants.
"Three giant beings were visible, human-like … except in height. They ducked their heads to go under the wires on the telephone poles," Len said. "The tops of their heads were even with the roof tops."
The giants gently groomed bushes and trees as they made their way down the neighborhood.
"It looked like they were twining rope from the leaves and branches," Len said.
His neighbors across the street were on vacation, but as Len stood at his door, two SUVs pulled in the neighbor's drive and six "average-looking people" got out of the SUVs and spent several hours talking, never approaching the house.
"Positioning myself for a better look across the street I heard the sound of grass being ripped up behind me," Len said. "Turning, I saw my two 15-foot high, elephant yard adornments grazing the front lawn. Their trunks yanked the grass up, feeding to their mouths while slowly walking around the yard."
Tires sliding across pavement drew Len's eyes back to the SUVs which, like the giants and the lawn ornaments, were alive.
"The two SUVs were acting like a pair of grazing buffalo," Len said. "Their tires scraped at the driveway as their front ends dipped down till the bumpers touched the ground as if eating. I did go over the next day and have pictures showing erratic black rubber markings on the concrete consistent with what I saw."
The "average-looking people" didn't seem to notice the activity because they were interested in something else.
"I saw one person in their group holding what I'll describe as box-like, four inches high, 14 inches deep, 18 inches wide, a series of different colored lights forming several rows," he said.
The others circled around the man with the box as a sequence of colored lights turned on and off in a pattern. Len said the box was a signal light.
"The group now looked up to the night sky, then I saw hovering about 2,000 feet above us was a saucer-shaped craft completely silent, then it's underbelly lit up as rows of colored lights flashed the same sequence toward the ground," Len said. "Just then six beings appeared on the sidewalk in front of that house, they were in mid stride when they popped out of nowhere."
The beings were eight-feet tall, slender and dressed in black, hooded robes.
"They seemed relevant to the space craft as the colored light exchange stopped," Len said. Then the beings dressed in black disappeared as did the craft. "The craft shot from sight directly after the black robed beings disappeared."
That wasn't the end. Len later saw what he described as Neanderthals milling for hours in his yard until a friend of his pulled up to his house.
"Ten of them were in my front yard, taking no notice as a friend pulled up next to them," he said. "These beings acted like we weren't there as I met my friend at the curb, she couldn't see them.
"Tell me you don't see these people," Len demanded of his friend. "'Nobody's there,' was her response. The commotion from my raised voice caused the people that signaled the UFO to walk toward us."
The people crossed the road and stopped several feet from Len and his friend.
"You know I can see you," Len thought, and a voice in his head said "yes."
Len grabbed his friend's arm and ran into his house. A year later, Len is convinced his experience was not caused by sleep deprivation, but by our dimension merging with dimensions we don't normally see.
"That night, trees and plants took active roles, exposing their living spirits as being more in tune to surroundings, quite capable of telepathic exchange," he said. "But that's another story in itself."
Source: Jason Offutt-From the Shadows
http://from-the-shadows.blogspot.com/
---
- STRANGEST OF ALL DEPARTMENT -
The 10 Most Intriguing Mysteries of Lost Civilizations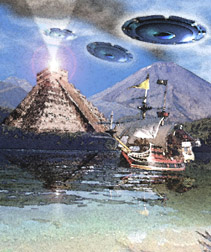 Tantalizing clues to the possible true history of our distant past.
How can we know who we are if we don't know where we come from? It is clear from many fragments of evidence, traditions and lore that we have an incomplete picture of the earliest days of human civilization. It's possible that whole civilizations, some with advanced technology, have come and gone. At the very least, human culture reaches much further back in time than conventional history admits. There are many mysteries in our ancient past, but there may be clues to that past around the world in the form of sunken cities, ancient structures, cryptic hieroglyphics, artwork and more.
Here are ten of the most intriguing pieces of the puzzle that is our past. They are shrouded in mystery and varying degrees of doubt, but all are nonetheless fascinating.
1. Egyptian Treasures in the Grand Canyon
The April 5, 1909 edition of the Arizona Gazette featured an article entitled "Explorations in Grand Canyon: Remarkable finds indicate ancient people migrated from Orient." According to the article, the expedition was financed by the Smithsonian Institute and discovered artifacts that would, if verified, stand conventional history on its ear.
Inside a cavern "hewn in solid rock by human hands" were found tablets bearing hieroglyphics, copper weapons, statues of Egyptian deities and mummies. Although highly intriguing, the truth of this story is in doubt simply because the site has never been re-found. The Smithsonian disavows all knowledge of the discovery, and several expeditions searching for the cavern have come up empty-handed. Was the article just a hoax? "While it cannot be discounted that the entire story is an elaborate newspaper hoax," writes researcher/explorer David Hatcher Childress, "the fact that it was on the front page, named the prestigious Smithsonian Institution, and gave a highly detailed story that went on for several pages, lends a great deal to its credibility. It is hard to believe such a story could have come out of thin air."
2. Age of the Pyramids and Sphinx
Most Egyptologists believe the Great Sphinx on the Giza plateau is about 4,500 years old. But that number is just that - a belief, a theory, not a fact. As Robert Bauval says in "The Age of the Sphinx," "there was no inscriptions - not a single one - either carved on a wall or a stela or written on the throngs of papyri" that associates the Sphinx with this time period. So when was it built? John Anthony West challenged the accepted age of the monument when he noted the vertical weathering on its base, which could only have been caused by long exposure to water in the form of heavy rains. In the middle of the desert? Where did the water come from? It so happens that this area of the world experienced such rains - about 10,500 years ago! This would make the Sphinx more than twice its currently accepted age. Bauval and Graham Hancock have calculated that the Great Pyramid likewise dates back to about 10,500 B.C. - predating the Egyptian civilization. This raises the questions: Who built them and why?
3. Nazca Lines
The famous Nazca lines can be found in a desert about 200 miles south of Lima, Peru. On a plain measuring approximately 37 miles long and one mile wide are etched lines and figures that have puzzled the scientific world since their discovery in the 1930s. The lines run perfectly straight, some parallel to one another, many intersecting, making the lines look from the air like ancient airport runways. This prompted Erich von Daniken in his book Chariots of the Gods to suggest (ludicrously, we think) that they actually were runways for extraterrestrial craft... as if they would need runways. More intriguing are the gigantic figures of 70-some animals carved into the ground - a monkey, a spider, a hummingbird among others. The puzzle is that these lines and figures are of such a scale that they can only be recognized from a high altitude. (They were rediscovered by accident in the 1930s by an overflying airplane.) So what is their significance? Some believe they have an astronomical purpose, while others think they served in religious ceremonies. A recent theory suggests the lines lead to sources of precious water. The truth is, no one really knows.
4. Location of Atlantis
There are as many theories as to the true location of Atlantis as there are SPAM in your e-mail box. We get the legend of Atlantis from Plato who wrote about the beautiful, technologically advanced continent-sized island back in 370 B.C., but his description of its location was limited and vague. Many, of course, conclude that Atlantis never really existed, but was merely a fable. Those who think it did exist have sought evidence or at least clues in almost every corner of the globe. Edgar Cayce's famous prophecies said remnants of Atlantis would be found around Bermuda, and in 1969, geometric stone formations were found near Bimini that believers said confirmed Cayce's prediction. Other proposed locations for Atlantis include Antarctica, Mexico, off the coast of England, possibly even off the coast of Cuba (see below).
Writer Alan Alford makes the case that Atlantis was not an island at all, but an exploded planet. The controversy and theories will likely continue until someone uncovers a sign saying: "Atlantis, pop. 58,234."
5. Mayan Calendar
There's been a lot of hand-wringing over the supposed prophecies of the Mayan calendar. More people fear it, perhaps, than feared the ominous predicted catastrophes of the year 2000. All the fretting is based on the finding that the Mayan "Long Count" calendar ends on a date that corresponds to our December 21, 2012. What does this mean? The end of the world through some global cataclysm or war? The beginning of a new era, a new Age for mankind? Such prophecies have a long tradition of not coming to pass. But the only way we'll find out for sure is to wait and see. Just in case, however, in 2012 you might want to do your Christmas shopping early.
6. Japan's Underwater Ruins
Off the southern shore of Okinawa, Japan, under 20 to 100 feet of water lie enigmatic structures that may have been built by some ancient, lost civilization. Skeptics say the large, tiered formations are probably natural in origin. "Then, in late summer of the following year," writes Frank Joseph in an article for Atlantis Rising, "another diver in Okinawa waters was shocked to see a massive arch or gateway of huge stone blocks beautifully fitted together in the manner of prehistoric masonry found among the Inca cities on the other side of the Pacific Ocean, in the Andes Mountains of South America." This seems to confirm that these are manmade ruins. The architecture includes what appear to be paved streets and crossroads, large altar-like formations, staircases leading to broad plazas and processional ways surmounted by pairs of towering features resembling pylons. If it is a sunken city, it is huge. It's been suggested that it might be the lost civilization of Mu or Lemuria (see below).
7. Voyages to the Americas
We were all taught that Columbus discovered America; what they meant to teach us, however, was that Columbus began the official European invasion of the Americas. People had "discovered" the continent long before Columbus, of course. What are known as Native Americans arrived here many centuries before Columbus, and there is good evidence that explorers from other civilizations beat Columbus here, too. It is widely accepted that Leif Ericsson successfully sailed to North America in the year 1000. Far stranger, artifacts have been found suggesting that ancient cultures explored the continent. Greek and Roman coins and pottery have been found in the U.S. and Mexico; Egyptian statues of Osis and Isiris were found in Mexico, to say nothing of the Grand Canyon discovery, see above; ancient Hebrew and Asian artifacts have also been found. The truth is, we know very little about early, far-traveling cultures.
8. Sunken City off Cuba
In May 2001, an exciting discovery was made by Advanced Digital Communications (ADC), a Canadian company that was mapping the ocean bottom of Cuba's territorial waters. Sonar readings revealed something unexpected and quite amazing 2,200 feet down: stones laid out in a geometric pattern that looked very much like the ruins of a city. "What we have here is a mystery," said Paul Weinzweig, of ADC. "Nature couldn't have built anything so symmetrical. This isn't natural, but we don't know what it is." A great sunken city? It must be Atlantis, was the immediate suggestion of many enthusiasts. National Geographic showed a great deal of interest in the site and was involved in subsequent investigations. In 2003, a minisub dove down to explore the structures. Paulina Zelitsky of ADC said they saw a structure that "looks like it could have been a large urban center. However, it would be totally irresponsible to say what it was before we have evidence." Further explorations are forthcoming.
9. Mu or Lemuria
Nearly as famous as Atlantis is the legendary lost world of Mu, sometimes call Lemuria. According to tradition among many Pacific islands, Mu was an Eden-like tropical paradise located somewhere in the Pacific that sunk, along with all of its beautiful inhabitants, thousands of years ago. Like Atlantis, there is ongoing debate as to whether it really existed and, if so, where. Madame Elena Petrovna Blavatsky, the founder of the Theosophy movement in the 1800s, believed it was in the Indian Ocean. The ancient residents of Mu have become a favorite of channelers who bring their enlightened messages to present times.
10. Caribbean Underwater Pyramids
One of the most intriguing tales of the discovery of ruins of a lost civilization is the story of Dr. Ray Brown. In 1970, while diving near the Bari Islands in the Bahamas, Dr. Brown claimed to have come across a pyramid "shining like a mirror" that he estimated was 120 feet tall, although he could see only the top 90 feet. The pyramid had a colored capstone and was surrounded by the ruins of other buildings. Swimming into a chamber he found a crystal held by two metallic hands. Over the crystal hung a brass rod from the center of the ceiling, at the end of which was a red multifaceted gem of some kind. Brown said he took the crystal, which allegedly has strange, mystical powers.
Brown's story sounds fictitious - it's just too spectacular. But it excites the imagination and wonder about all the mysteries that could be down there - lost worlds awaiting rediscovery.
Source: paranormal.about.com
http://paranormal.about.com/cs/lostworlds/a/aa020204.htm