---
- WHAT THEY DON'T WANT YOU TO KNOW DEPARTMENT -

Entrepreneur Says Free Energy Technology A Reality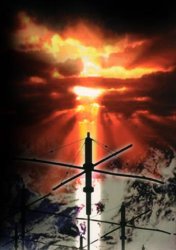 In the early 20th century, Gary Ruff (entrepreneur) believes, Tesla was working on a secret technology that would have delivered "electrical" energy to everyone in the world, without cost. It was a free energy technology, and here is how it works (the fundamentals):
Let's say I have a tuning fork. The tuning fork may be in "F sharp". If there are millions upon millions of "G" tuning forks, and only one "F sharp" tuning fork, only the one tuning fork out of the millions would vibrate. It is resonating at a certain frequency. Of course, this would be disastrous for the world's structured economies and the rich. Why? Because free "electricity" means the government cannot control its people no longer. But this article is not about politics. I only mention this because these secrets for free electricity have been know for years.
Resonance, so what. How does this electricity get from the north end of town to the south end of town without wires? Simple. When the vibration is generated from the north end of town, the "tuning fork" on the south end of town starts to vibrate. This vibration energy is then converted into another form of energy called "electricity".
But how is this free? And, how can California get energy from this vibration method from a long distance neighbor such as Australia? The earth has its very own resonance (vibration). Yes, it varies from time to time through volcanic eruptions, earthquakes, and sunspots, but as a whole it's frequency energy is the same from the core to the Earth's crust. Therefore distance for transferring this energy is not important (unless we need to transfer this energy into outer space someday! I will let our future generation work out that problem).
Do I have proof that his works? Yes. We use frequencies to travel long distances already! It is called the radio. We also use VHF, UHF band and many many other types of frequencies to uniquely identify a transmission. Also, tuning forks DO work. Both of these points are undisputed.
Our government uses free energy all of the time. I imagine it is for military application, but it will work just as well for the private sector. It is called HAARP. Some people mistakenly say HARP, but it really is HAARP. I imagine the guise for this program will say nothing about free energy, but you can see with your own eyes that this system I talk about in this blog will actually work. This technology would give troops a huge advantage if they do not have to provide their forces with a supply line for fuel.
And that is why I bring this idea to the blogosphere. Maybe there IS a scientist out there in the third world that could develop this idea? You see, no matter who develops it, once it is created and available to everyone in the world (free of charge, except the device you will need in your home to capture the vibration from the earth and convert it into electricity), free energy cannot be stopped.
"Here's a clue to those scientists", Ruff says. One problem you will have is to convert the frequency vibration energy to electrical energy to be used with all of the different appliances in the world. Here is an example: USA runs on 120 volt AC, while some countries in Europe run on 220 volt. Here is the answer. Since the supply of energy is constant or rarely interrupted, you need an intermediary conversion device. This device is an air compressor and tank. The compressed air then can be used to make whatever electrical current the users all over the world will need. Yes, even 12 volt DC. And now you are starting to see grander implications of this free technology. Gary Ruff is not a scientist, but a visionary or conceptual engineer. Money can be made in making and regulating the units that harness the earth's energy. The device is called the "Ruff Box", or maybe you prefer the more generic term "Vibration Electrical Device" or VED. Al Gore will be happy about this idea I guess, unless he really wished there was a way to tax this (no carbon foot print guys!).
Source: Press Media Wire
http://pressmediawire.com/article.cfm?articleID=4457
---
- GIVE ME BACK MY HEAD DEPARTMENT -
Mystery Skull Found in 'Haunted' Mansion
A house formerly owned by the Duke of Devonshire's estate is now the focus of a bizarre mystery as gardai attempt to confirm the identity of a human skull unearthed during renovation works.
The skull -- believed to be that of a young male -- was discovered underneath first-floor floorboards in a supposedly haunted house in Ballynoe in North Cork. However, no other body parts were discovered -- just a pair of old-style hand-stitched leather shoes.
The grim discovery came just days before Christmas as the owner did preliminary renovation works on the Queen Anne-style house which was already known in the area for having a "spooky" reputation.
The new owner was doing ceiling work when, as he removed plaster and floorboard, the skull fell from a concealed ceiling storage space. The shocked man immediately alerted Fermoy gardai.
Detectives cordoned off the area and requested the expertise of Assistant State Pathologist, Dr Margaret Bolster. Dr Bolster conducted an examination of the skull at the scene -- and it has since been removed for detailed laboratory tests to determine its precise age. At this point, no evidence has been found that the individual met a violent death.
A garda search has been under way for more than a week in both the house and adjacent fields for further body parts -- but, to date, none have been found.
The State Pathologist's office will now liaise with University College Cork (UCC) archaeologists over tests on the skull.
Gardai hope that forensic tests and DNA analysis can indicate a cause of death for the individual involved -- as well as a timeframe for when he lived.
It is also hoped that tests can indicate whether the individual lived in Ireland.
Gardai have no indication that the individual involved died due to foul play -- but want to determine why the skull was hidden in a secret compartment. Amongst the theories being considered are that it might have been used for medical studies -- or may even have been used for occult rites.
Gardai have now consulted local historians and genealogists in a bid to determine who lived in the house over the past century -- and whether anyone inexplicably "disappeared" in the vicinity since 1900.
To date, inquiries have focussed on a British doctor who lived for a period in the house roughly between 1910 and the early Twenties. The man is thought to have returned to Britain and is not understood to have retained any contacts in the area
Ballynoe locals remained tight-lipped about the house's reputation -- but one local farmer confirmed that stories about bad luck, ill health and strange occurrences have circulated about that area for generations.
"Anyone working there cleared off once their work was done -- some people reckoned that there was something strange about the house and the fields. But I never heard any specific story about why that was," he said.
The house -- which was built in the late 18th century -- was once part of the Duke of Devonshire's Lismore estate but was sold off almost 100 years ago as his holdings were reduced.
The Ballynoe house was built by the Duke -- whose Cavendish family have had very close links to the Windsor Royal family for more than a century -- as a formal residence for one of his land agents. But the premises has been in private hands for more than a century. The house has changed hands three times in the past few years.
Source: The Independent
http://www.independent.ie/national-news/mystery-skull-found-in-haunted-mansion
-1254881.html
---
- AS ABOVE, SO BELOW DEPARTMENT -
Myths and legends of the Hollow Earth
As theories go, the idea that the Earth is hollow does not garner a lot of respect. For most people, the hollow Earth is probably a close second to the "Earth is flat" theory on that big list of "crackpot" ideas. Nevertheless, as long as there have been people able to sit around a campfire, tales of a mysterious inner world have been part of mankind's heritage.
Unlike the flat Earth, the hollow Earth has not disappeared into that great dustbin of quaint and old-fashioned myths of our ancestors. No longer does anyone have stories to tell of angels taking them up on-high to view the flat Earth, but even into this modern age of spaceflight and personal computers, there are still claims of personal encounters with the lands and people of the inner world.
The idea of the hollow Earth is still so tantalizing that Dr. Brooks Agnew, a physicist and engineer, is planning an upcoming expedition to the inner Earth in an attempt to find the northern polar opening. Dr. Agnew hopes to board the commercially owned Russian icebreaker Yamal in the port of Murmansk, and to sail into the polar sea just beyond Canada's Arctic islands.
"Everest has been climbed a hundred times," Mr. Agnew says. "The Titanic has been scanned from stem to stern. [But] this is the first and only expedition to the North Pole opening ever attempted."
Dr. Agnew is the latest in a long line of people to suggest the theory that humans live on the surface of a hollow planet, in which two undiscovered openings, near the North and South poles, connect the outer Earth with an interior realm. In the 17th century, English astronomer and mathematician Sir Edmond Halley, who calculated the orbit of Halley's Comet, advanced hollow-Earth theories, as did German scientist Athanasius Kircher.
What is it about the hollow Earth theory that continues to fascinate people? Perhaps it is because people love a good mystery and right now there are not a lot of good mysteries left for people to cling to. The surface of the planet has been almost completely explored, and now we are taking those first steps to penetrate the vast reaches of outer space. So what does that leave for the rest of us who have that primal urge to see what lies on the other side of the mountain?
The deepest parts of the oceans are still almost completely untouched by human exploration, but it is not so easy for most of us to do that sort of exploring. You either have to have a whole lot of money or the ability to hold your breath for a really long time to do any serious undersea exploration.
Part of the hollow Earth mystique is that many ancient civilizations have similar creation legends that involve mankind birthing from the subterranean realm. Some of these myths even seem to suggest that people first came to the surface world via a great opening located somewhere in the northern polar regions.
The Inuit people have legends that tell of a beautiful land far to the north, a land of perpetual light, where there is no darkness or a bright sun. This wonderful land has a mild climate where large lakes never freeze, where tropical animals roam in herds, and where birds of many colors cloud the sky, a land of perpetual youth, where people live for thousands of years in peace and happiness. They believe that after death the soul descends beneath the earth, first to an abode rather like purgatory, but good souls then descend further to a place of perfect bliss where the sun never sets.
A Welshman, Walter Mapes, in the latter part of the twelfth century, in his collection of anecdotes, tells of a prehistoric king of Briton called Herla, who met with the Skraelings or Inuits, who took him beneath the Earth. Many early legends tell of people going under the Earth into a strange realm, staying there for a long period of time and later returning.
The ancient Irish had a legend of a land far to the North where the sun always shone and it was always summer weather. They even thought that some of their heroes had gone there and returned, after which they were never satisfied with their own country.
The Japanese paradise was situated "on the top of the globe" and at the same time "at the center of the Earth." It was called the "island of the congealed drop." Its first roof-pillar was the Earth's axis, and over it was the pivot of the vault of heaven.
As well, the Chinese terrestrial paradise, round in form, is described not only as at the center of the Earth, but also as directly under Shang-te's heavenly palace, which is declared to be in the polestar, and is sometimes called the "palace of the center."
SUBTERRANEAN FLYING SAUCERS
Ray Palmer, who was a writer and editor of such magazines as
Amazing Stories
,
FATE
,
Search
,
Flying Saucers
, was often referred to as the "man who created flying saucers." With his background in science fiction, Palmer was one of the earliest publishers to realize that there was money to be made on the subject of UFOs.
Palmer would never commit himself to the extraterrestrial explanation for UFOs that had become so predominant by the 1950s. Instead of looking to the heavens for flying saucers, Palmer looked downwards into the hollow Earth as a possible point of origin.
In the December 1959 issue of
Flying Saucers Magazine
, Palmer wrote: "Flying Saucers Magazine has amassed a large file of evidence which its editors consider unassailable, to prove that the flying saucers are native to the planet Earth and originate from the hollow interior by way of openings in the North and South Poles."
Theodore Fitch was another writer who agreed with Palmers Thesis. In his book,
Our Paradise Inside the Earth
, Fitch writes: "UFO occupants who come to us in flying saucers and who pose to be visitors from other planets, are really members of an advanced civilization in the hollow interior of the Earth, who have important reasons for keeping their true place of origin secret, for which reason they purposely foster the false belief that they come from other planets."
Those who embrace the extraterrestrial hypothesis of UFOs find it easy to scoff at the idea that UFOs and their occupants could originate from a yet-to-be-explored realm beneath our feet.
Considering the ancient worldwide traditions that say the inner world exists and is populated by a rich variety of intelligent races, it is no more difficult to imagine that some UFOs could be from right here on planet Earth then it is to imagine them traveling thousands of light years from some far, distant planet.
So the next time someone says to "keep your eyes to the skies;" perhaps you should also spend a little time looking downwards, for as above, so below.
For more information about the mysteries of the hollow Earth, check out Tim R. Swartz's new book:
Admiral Byrd's Secret Journey Beyond the Poles
, available at
www.conspiracyjournal.com
and
Amazon.com
Source: Tim Swartz/UFO Digest
http://www.ufodigest.com/news/1207/hollow-earth.html
---
- LOOK, UP IN THE SKIES DEPARTMENT -
MoD to Open British UFO Files in 2008
Top-secret details about hundreds of sightings of Unidentified Flying Objects are to be released for public viewing in response to the nation's continuing fascination with the subject.
The Ministry of Defence will release a total of 160 files dating back to that time to the National Archives in Kew. The first files will be made available in Spring 2008 and the process is expected to take three years.
The MoD has received reports of over 10,000 UFO sightings since the UFO project was set up in 1950. After investigation, around 5 per cent remain unexplained. According to Nick Pope, who ran the Ministry of Defence UFO project from 1991 to 1994, some of the sightings are "highly credible".
Pope decided to speak out about the failure to seriously address the issue after resigning from his MoD post at the Directorate of Defence Security last year. He claimed that he and his staff spent their time releasing documents in answer to Freedom of Information requests from the media or members of the public instead of interviewing witnesses to more credible sightings
It is understood that the MoD has decided to release the documents because it receives more FoI requests on the subject that on any other.
Pope said that while he was initially sceptical about UFOs, access to the classified files and investigation of a series of spectacular UFO sightings - mainly by police and military personnel - had changed his mind.
One such sighting was of a "vast, triangular-shaped craft" firing a narrow beam of light onto the ground and emitting a low-frequency humming sound that was spotted flying over RAF Cosford in the West Midlands and RAF Shawbury in Shropshire in 1993.
In another incident, at the Twin Bases of RAF Bentwaters and RAF Woodbridge in Suffolk in December 1980, RAF staff were sent to investigate a suspected plane crash after bright lights were reported emanating from nearby woods.
They found a kind of lunar landing module standing on three legs, decorated with strange hieroglyphic-type markings, which then flew off.
The indents it left in the ground were examined the next morning with a Geiger Counter and emitted ten times the normal levels of radiation.
However, the Ministry of Defence does not attempt to identify such aircraft unless it sees "evidence to suggest that UK airspace has been compromised by hostile or unauthorised air activity".
When the French government released all its UFO files earlier this year, the dedicated website promptly crashed due to the number of people trying to access the information.
Pope said he expected to see similar a flurry of interest in the files, which he predicted would convert some sceptics.
"Whatever people think about UFOs, these documents are fascinating and show how the MoD has researched and investigated this mystery for nearly 60 years, without an answer," he said.
A Ministry of Defence spokeswoman confirmed the documents would be released from next year. "There has always been a great deal of interest in this subject," she said.
Source: The Telegraph (UK)
http://www.telegraph.co.uk/news/main.jhtml?xml=/news/2007/12/23/nufo23.xml