- UFO ROUND-UP DEPARTMENT -
Romanian Fighter Jet Hits UFO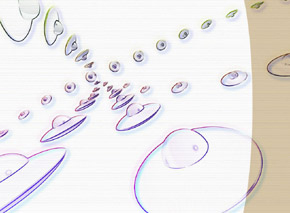 A UFO had a mid-air collision with a fighter jet over central Europe, a leaked report has revealed. Defence chiefs are investigating claims that the Romanian MIG 21 fighter plane was struck by 'strange objects'.
The official report says the cockpit of the jet was shattered.
Romanian defence ministry officials have ruled out all normal types of collision such as birdstrikes, ice or small meteorites. Chief investigator Commander Nicolae Grigorie said in the report: 'We can definitely say what this thing was not, but we cannot say what it was.'
The impact on a training flight above Transylvania took only 67 milliseconds and was recorded on an in-flight video camera. Pilot Marin Mitrica was slightly injured but managed to land the plane safely after the incident last year.
Baffled defence chiefs have now passed the UFO incident on to the Security Committee of European Air Forces for investigation.
An elderly couple claim they had a close encounter with a UFO while travelling along a Territory highway. Lawrie Fuchs, 70, and his wife Gwen, 69, were returning to their home town of Elliott following a trip to Queensland last Friday when they say the UFO swooped them as they drove along the Barkly Highway.
Estimated to be about six metres wide, they say the object passed the vehicle with such speed that its slipstream forced their Mazda sedan into the middle of the road. They were travelling in a westerly direction and were about 55km east of the Threeways roadhouse when the incident occurred.
"It was about 4pm when suddenly we saw a dark, silvery flash and heard a loud sound as it passed," Mr Fuchs said.
"It was travelling at a terrific speed, very bloody fast, and there was no warning at all.
"I'm sure it dive-bombed us but I can't imagine why."
"I do a lot of bush work and over the years I've seen a number of strange, unexplained things," he said.
Mrs Fuchs said she saw a little flash just below the sun visor then heard a loud whoosh as it passed over.
"I actually thought it hit the car, but there were no marks," she said.
Mr Fuchs, a mechanic who has lived in Elliot for 40 years, says he took the incident in his stride.
"I don't talk about it much because sometimes people don't take you seriously."
Last week, another man reported seeing a UFO near Tennant Creek. Alan Martin, who is deaf, was obviously shaken by his experience. The Aboriginal man in his 40s had bought alcohol and headed alone into scrub land to avoid being humbugged.
He described seeing a disc-shaped object at close range. His drawing indicated it had red, green and blue lights.
Couple Watch "Freaky-Looking" Object Descend to Earth
A mysterious craft spotted in the sky over Wanstead and Woodford, has sparked UFO fever amongst shocked residents. Five strange lights were spotted hovering over Charlie Brown's roundabout in Woodford Green, which suddenly went out one-by-one as a dark object descended to earth.
Bradley Gross, of Baddow Close, Woodford Green, was outside his home saying goodbye to some friends with his partner Cheri and 15-year-old daughter Natasha at 11.55pm on Saturday night when they saw the UFO.
The 32-year-old paint shop worker said: "It still gives me the shivers even thinking about it now. It was really freaky-looking and we saw these bright spots and then this thing slowly come down diagonally to earth.
"Without a doubt it was something odd and it could not have been a plane or a balloon as it was not moving at all and had these bright lights.
"It totally freaked my daughter out and she couldn't sleep. It could well have been something to do with UFOs as I believe we can't be the only living things in the universe."
"I stood out there at midnight the following night to see if I could catch it again but couldn't see anything."
Strange beings have apparently attempted to make contact after a hostile alien craft' was seen near Winston Churchill's statue on the Green, Woodford Green, in February, prompting the Ministry of Defence (MoD) to issue an appeal for calm. And when secret Government files were opened last month, many stories emerged such as the tale of two little boys who were terrified back in 1970 when they saw a pair of strange lights in the skies over Wanstead.
More recently, accounts cover a variety of strange sights, including one man who spotted two "giant sparklers" hovering in the skies of Woodford Green back in February, 2001.
London UFO studies group chairman Roy Lake said north-east London was notorious for UFO activity.
He added: "A lot of times these are Chinese lanterns which float up very high but from the description that must be ruled out so it's definitely an unexplained sighting.
"But there's nothing much to go on and we need more information. There's certainly been contact made with aliens as after 50 years investigating these things and talking to lots of people including airline pilots I'm left in no doubt."
A spokeswoman for the MoD played down the possibility of an alien craft.
She said: "We examine reports solely to establish whether UK airspace may have been compromised by hostile or unauthorised military activity.
"Unless there is evidence of a potential threat, there is no attempt to identify the nature of each sighting reported."
Sources: Metro, Northern Territory News, Your Local Guardian
http://www.metro.co.uk/weird/article.html?in_article_id=169913&in_page_id=2
http://www.ntnews.com.au/article/2008/06/02/4271_ntnews.html
http://www.guardian-series.co.uk/news/topstories/display.var.2330906.0.woodford
_green_ufo_seen_over_woodford_green.php
---
- CAN NEVER BE TOO CAREFUL DEPARTMENT -
Thai Politics Depend on Spirits and the Stars
The ex-premier tours 99 temples to improve his fortune. Generals gather in Chiang Mai to channel the spirit of a Himalayan rishi. Ritualists vandalise an ancient monument. Thai politics have long been subject to the stars and the spirits.
Still, the desecration of Phanom Rung was startling. This is a major historical sight of stunning grandeur. The damage was spread throughout the complex, and involved many different types of images. The intention seemed highly aggressive.
Of course, the desecration might have nothing to do with the current political situation. But the knee-jerk reaction was to make that association. Some soldiers had used the site for a politically inspired rite a few months earlier. As the monument is of Khmer origin, the trail quickly led to Newin Chidchob - Thaksin Shinawatra's lieutenant for politics and magic.
Access to mysterious forces is a form of power. In the past, kings tried to monopolise this important asset. But now, access has become more open and democratic. Politicians now compete to use them.
Astrologists claim that the movement of the planets determine events, especially great events. To understand these movements and be able to predict the future offers advantage over rivals.
In the past, Thai kings imported an astrological system from Sri Lanka, and hired Indian Brahmans expert in its use. They used their advice to find the propitious times for wars and other great events.
The exclusiveness and exoticness of this astrological service was an important part of royal power. The government's astrological department still existed until less than a century ago. Astrologers still provide services to the palace and the state.
Today access to this knowledge is not so exclusive. Astrologers write newspaper columns and offer fee-based consultancies. Politicians compete to find those with the greatest expertise. Hon Warin rose to prominence because he specialised in politics, and made a few good predictions. If the military had succeeded in their plan to form a governing party last year, he was set to become a member.
Theoretically, astrology offers nothing more than prediction. It is passive. But people who want to know about the future also want to influence it. For this reason, astrologers have often tended to offer a portfolio of services beyond prediction. The court Brahmans were happy to conduct all sorts of ceremonies. Now politicians seek experts who can mobilise the gods and spirits in their favour.
Although Thailand has long been technically Buddhist, in practice a vast panoply of gods and spirits comes into play. Much of India's prodigal assembly of gods and goddesses has been imported, redefined a bit, and rearranged somewhat. On top, there's a deep and ancient belief that the spirits of some people linger in the world and can influence events. Great figures from the past and prominent ancestors can be very powerful. So too can anyone who has had the misfortune to die a violent and untimely death.
Old royal and state ceremonies called upon all these for assistance. Some old legal processes began by invoking all the gods and spirits to ensure a fair and just outcome.
The list, including Hindu gods, saint-figures from early Buddhist history, semi-mythical kings, and sundry ancestors took almost twenty minutes to read.
Again, in the modern era, access is no longer so exclusive. Anybody can find a monk willing to call on all the gods and spirits for luck. But politicians want the best and most efficient service.
Thaksin likes quantity, especially magical quantity. A few years ago he organised synchronised chanting in 108 temples all over the country. Recently he has toured around 99. Other people put their faith in quality, hoping for access to a single god or spirit with exceptional influence. Spirit mediums have boomed over the last twenty years. Many of them claim access to major historical figures, including the first and fifth kings of the Chakri dynasty. Hon Warin has established the reputation of an obscure Himalayan rishi.
Besides the stars and the spirits, there are the more mysterious forces of saiyasat or supernaturalism. Again there is probably an Indian origin. Three thousand years ago, Indian sages compiled a manual of methods to protect oneself against all kind of dangers, especially illness, wild animals, and the malice of one's fellow man. The name of this collection still survives in the Thai word arthan. The scope and methods of Thai supernaturalism today are still very close to this old manual. Mantras, talismanic protective devices, and magical diagrams are used to ward off danger and bring good fortune. Nowadays, the old wide range of talismans has been replaced by the convenient amulet. It is much easier to buy an amulet over the Internet rather than searching in the forest for scraps of ivory lodged in trees by charging elephants.
Old royal governments had a department to distribute protective devices to troops. The use of these supernatural devices is also now democratised. Chanting formulas, blessing amulets, and perform arthan ceremonies for a new house, business, or political party is probably the major activity of the monkhood. The police hand out yantra cloths to officers sent to the South.
Most politicians have many amulets. But again too there's competition for quality. Thaksin seems impressed by the Khmer reputation for special expertise.
In saiyasat, there is a clear distinction between defence and attack. Using these methods for protection is widely accepted and practised. Using them to harm someone else is not. That distinction was written into the old laws, in force until a century ago.
That is why the Phanom Rung incident is significant. Not only did it damage a historical treasure, but it seemed to indicate a shift from defence to attack. To counter this, someone found a suspiciously sleek rishi wearing what looked like a fake Louis Vuitton version of a tiger-skin toga.
Wish him luck.
Source: The Nation
http://nationmultimedia.com/2008/06/09/opinion/opinion_30075053.php