- IN SEARCH OF ANCIENT MYSTERIES DEPARTMENT -
Himalayan Secrets of Tum-Mo Sought By Russian Scientists
A group of St. Petersburg scientists have returned from the Himalayan Mountains after learning the secrets of an almost-extinct form of Tibetan yoga that they hope can be used to cure diseases in the West.
The scientists have recently completed a two-month mission to find traces of Tum-Mo, a form of Tibetan Buddhist yoga that preserves body temperatures through excessive production of internal heat despite the body's exposure to extremely cold mountain climates.
The technique could be applied in areas with extreme cold climates, such as Russia, to prevent and treat heart disease, cancer, tuberculosis, pneumonia and influenza if developed, Rinad Minvaleyev, a physiologist, mathematician and the team's senior researcher, said.
"In fact, Tum-Mo is about the human being's adaptation to low temperatures where thermo-dynamic functioning of a human liver is activated to further regulate the heating process," said Minvaleyev, referring to a mathematical formula he co-established last year.
Irina Arkhipova, a yoga specialist, who was head of the mission and architect of St. Petersburg's Search for Lost Knowledge Program, which holds annual mountaineering events aimed at promoting medical science, said that although "there were considerable breakthroughs in our mission, it would be immature to reveal the exact outcomes with accuracy, pending the ongoing laboratory examinations."
Arkhipova, who is also a director of St. Petersburg's Pharaoh Historical Movie Studio, led a team of 45 experts including 14 medical doctors, physicists and yoga enthusiasts to the snow-capped, 4,000-meter high Indian Himalayan province of Himachal Pradesh.
The team paid visits to Tibetan Buddhist monasteries in search of Tum-Mo's medical secrets, currently on the verge of being lost to posterity because "the last lama who practiced Tum-Mo in that part of the Himalayan Mountains died last year," leaving scant oral traces of the ancient tradition, Arkhipova said.
However, after visits to about 40 monasteries, monks showed Arkhipova's team a route across the Kully Gorge, reputed for its unpredictably harsh weather, to the top of the Rotang ridge, one of the rare spots where until recently Tum-Mo was practiced.
However the team did not reach the Rotang because of snow in the middle of the Kully Gorge, blocking the way.
"We resorted to practicing yoga on the ice surfaces beneath the waterfalls in the Rotang Valley, and everything was fantastic even for those who were on such a mission for the first time," she said
Determined to reach the home of Tum-Mo on the top of Rotang, the adventurers have vowed to return next year.
The team said it had gathered enough material on the technique during the recent trip to warrant continued research.
In 2002 research into the medical benefits of Tum-Mo was carried out by Herbert Benson, associate professor of medicine at the Harvard Medical School and president of the Benson-Henry Institute for Mind Body Medicine at Massachusetts General Hospital in Boston, U.S., reported the Harvard Gazette.
Benson was quoted as saying that studying advanced forms of meditation such as Tum-mo "can uncover capacities that will help us to better treat stress-related illnesses" but that more research into the technique was required.
Benson has been researching Tum-Mo since 1979 when the Dalai Lama gave his blessing on a trip to Harvard University, reported the Harvard Gazette.
Source: The St. Petersburg Times
http://www.times.spb.ru/index.php?action_id=2&story_id=26307
---
- DAYS OF FUTURE PAST DEPARTMENT -
Area 51 and Time Machine Aliens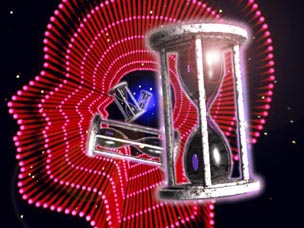 There is a conspiracy of secrecy among men today that is hidden from the public. It hides in the hierarchy of the Republican (commercially rich) group from which government patents that have been unresolved by the patentee are being stolen. There exists some that would rather research this long unresolved issue of the patentee and under cover continue the trademark's idea. Hidden by hierarchy and wealth these men (under republican guard) remarkably continue to research what today is called "THE TIME MACHINE." It was generally believed by scientists that because space flight is more seaworthy of the trade, that a laboratory time machine, would not advance quickly enough through the development stages to be viable in the twentieth century. But, other men of power believed otherwise.
In the peak of the 20th century physicists working on this advancement of time-travel were able to create the first working time machine in a laboratory. The advancement of time space flight technology lingered slowly behind this independent commercial group but problems of interstellar manufacturing in space slowed productivity during these times where investments in building maintenance manufacturing were quite feasible.
Acknowledgement of the manufacturing of "THE TIME MACHINE" was top secret. Aside from privacy and patent laws - waiting out a patent took twenty years - gave ample time for research. Upon completion the republican group developed the first time machine having the ability to travel through time an ion (An atom or a group of atoms that has acquired a net electric charge by gaining or losing one or more electrons) both to the past and to the future. Its achievements went on unnoticed to the public but prevailed as a commercial group research project that became born to secrecy under government privacy and protection laws. They were able to continue their work and research with no problems, but laboratory confinement of the project perimeter boundaries gave little area to research and experimentation. They could advance objectal and personnel journey leaps between laboratories and or sending information from one place to another. But the problem of sending personal imagery was their primary objective in the research.
A time-machine allows a person to travel from a specific time to a desired time, but can only be achieved by having a time-machine at every time sector it traveled to or from.
Time machines and time-travel have been publicized as extraterrestrial technology, with earthlings having little or no knowledge about it. But the fact of the matter is that government secrecy has allowed certain groups to research and manufacture an array of time machines already throughout America.
The ventures of twentieth century scholarly groups or universities have only touched the surface of such technology, like what have been published in today's newspapers. The first Time Machine is being built by reform university physicists by using laser beam energy to form a wormhole." This is actually old news. What does exist and what people see as an array of sightings are actually examples of the secret group and what they have created as new technology under this secrecy.
Other than sending or receiving information from place to place this group has been able to develop a personnel enhancement devise that creates and trans-bursts energy at the touch of a button.
Aside from long range time-travel or traveling instantaneous from place to place at close ranges, and with the availability of this small device, short range trans-bursts connected with a mapped destination module in the device - a person can leap at short range distances. If ever you've seen something that looks out of place or something you believe to be a figment to your imagination you may be wrong. It could be real!
Top secret research in laboratory experimentation is all part of the normal faucet of our government. The patent laws like the government advancement technology secrecy laws, allow the government to stay seventy-five years a head of its time - this is exactly what I am speaking about.
It was only in the end of the 19th century that technology protection like this was given precedence in its meaning with government officials. As a patent clerk in 1901 Albert Einstein developed what is today the most remarkable scientific mathematical scientific equation in the world E=Mc2. It was the development of this research that modern physics was developed.
But the idea of privacy protection and technology advancement with government backing and secrecy laws leads the global network with new technology.
Just think that in the future instead of railway cars there will exist time portals. Sound impossible? I don't think so. The division between science and science fiction is a thin enough line. The fact of traveling faster then light was though impossible. In the Kawecki Formula this is not the case. Remember at the beginning of the 20th it was believed that man would never fly.
The government and financial groups of today are the commercial networks that have banked at an independent commercial level that allows for the advancement of such technologies. We have advanced from the invention of the wheel - to planes, trains and automobiles. The inventor of the time machine should be the news of the day, but you'll hardly find a word about it in your daily newspaper or on television news.
The extraterrestrial publicity given to space and space travel may be a deception. It is not extraterrestrials that are in these so called flying saucers sighted around the globe, but is actually a close future event of space advancement and time-travel, which today we are only beginning to discover.
The UFO you see in the sky today is a preview of mankind in the future - not an extraterrestrial craft.
Area 51, finally acknowledged as existing, was built for the purpose to protecting advanced scientific technology. It's not that Area 51 was a protected government cover-up but it was evidence of a commercial experiment that contained the bodies of four trained monkeys - the same event that was used for the first world's interstellar space flight in 1961.
Source: UFO Digest
http://www.ufodigest.com/news/0608/area51-3.html