- KNOCK, KNOCK, WHO'S THERE DEPARTMENT -
Moved by the Spirit: When Ghosts Come Calling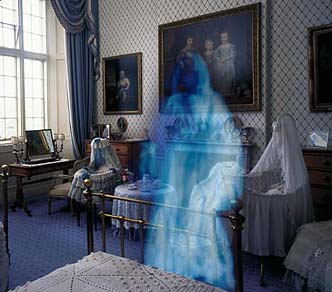 Last year, just before her release from a short prison sentence, American starlet Paris Hilton described feeling like spiritual forces had sent her to jail (contrary to what any tabloids may have said otherwise). She reported feeling that her "spirit or soul did not like the way I was being seen and that is why I was sent to jail. God has released me."
Whether or not you can take this statement seriously, on a personal level at least Hilton seemed to describe what she felt to be "divine intervention", instances of which may not appear to be a blessing of any sort at the onset, only to reveal later that there was a hidden meaning behind the hardship.
In one form or another, We all get "moved" by the spirit from time to time. My father is an Episcopal Priest, and growing up I've known a few people over the years who have come to me and personally described having "interventions" in their lives that seem to stem from someplace other than their inner consciousness. No doubt, my father has witnessed a lot more of this than I have, but I've still heard my fair share of bizarre instances of synchronicity from time to time in this regard, and of the amazing way that the spirit world, when it has something to say to us, will seem to communicate directly if necessary.
This seems to have been just the case in Leeds, England on the 12th of June when a 61 year old man was convicted and sent to prison on five charges of indecently assaulting three young girls between 1997 and 2001. As reported by paranormalreview.com, the whistle-blower had been the grandmother of one of the girls; it's not unusual to have a family member speak-out against such action when circumstances like this arise, especially when the victim is a young child or otherwise feels insecure about discussing their plight. What IS unusual in this instance is that granny was deceased, having passed away years ago!
In a bizarre turn of events, her spirit had appeared before psychic/medium Patrick Hutchinson at a demonstration he was giving at an area pub, and insisted that he convey the message, "otherwise it might be swept under the carpet." Against his better judgment, Hutchinson approached a 20 year old woman in the audience, which the spirit now pressing him had identified as her granddaughter. The mother of the girl, also present, was clearly shocked by the revelation, who watched her daughter break down as Hutchinson carefully approached her with the sensitive information. Later, the girl indeed confided to a 19 year old friend that what Hutchinson had conveyed was correct, and that she had been abused as a child. Since the revelation, two other women have come forward stating they were abused by the 61 year-old father of eight, Terrence Dunstan.
From time to time, spirits might opt for more conventional means of communication. One bizarre instance of spirit communication by more modern means involved well known British medium James Byrne, who has since described becoming "used to spirits interfering with technology associated with him."
In August of 2007, Byrne had recently returned from a vacation, and found a single, mysterious message left for him on his telephone answering machine. Once the message had begun to record, a ghostly voice could be heard asking "is this switched on"? The message was dated August 7, and though no number had been recorded by the answering machine, by using the redial function on the phone itself he was able to return the call to its source.
James, living in the Mansell Close area at the time, said "a woman in Bolton answered, and when explained who I was, she said I'd done a reading for her 14 years earlier." Still, she denied having made the strange call Byrne had received. Byrne then played the message for the woman, who was shocked at the similarity the voice had to that of her deceased partner, who had passed away only two months earlier! The woman followed up with her telephone service provider, who confirmed that no call had been made from her line to James' number on August 7. Though Byrne was hesitant to say the deceased partner had called his phone, he did acknowledge the bizarre nature of the event, saying that "we can't explain it, but it is very strange."
Did Byrne receive a telephone call from the dead? If so, how might spiritual energies interfere with and manipulate technolgy in this way? Furthermore, if the call "was never made" according to the phone company, yet a spirit did indeed use Byrne's telephone to make a distance call from beyond the grave, what kind of rates did he have to pay in order to do so? I'd imagine they were "out of this world"…
Source: The Gralien Report
http://gralienreport.com/psychic-phenomena/moved-by-the-spirit-when-ghosts-come-calling/
---
- LETTING THE DJINN OUT OF THE BOTTLE DEPARTMENT -
Evil Exploits of the Invisible People
It's open season again for stranger-than-fiction stories. In the coastal town of Mombasa, Nairobi-Kenya, the talk is about spirits (djinns) that take on human and animal forms.
Said to possess supernatural powers, these spirits are able to beat people, rape or sodomise them, or just make life miserable for them. Some will take on the form of long-dead people. Others will promise and even bring wealth in return for the life of a family member.
While many will be tempted to wave away such stories as old women's tales, people who claim to have encountered djinns have chilling stories to tell. The coastal strip is believed to be a favourite haunt of these spirits, the main reason, according to some Islam preachers, being the Indian Ocean.
This scary topic has been reintroduced by the happenings of two weeks ago in Mombasa's Old Town where residents claimed to have seen strange people at night. Some complained of having been strangled, others of having been slapped and other forms of rough treatment.
Many tenants moved from their rented houses claiming to have been attacked by spirits.
A tour of the Old Town reveals many beautiful houses that are unoccupied, a situation that residents attribute to the houses being haunted by spirits.
For the past three weeks or so, some Old Town residents claim to have experienced weird occurrences such as invisible families conversing in apparently empty houses.
"One moment you see naked people and the next, they are dressed. At other times you hear invisible people talking and laughing around you," says Mohammed, an Old Town resident.
"Dozens of houses have been abandoned, but they have their owners. Nobody would rent these houses because they belong to the djinns," he says.
Mohammed recalls his own experience with the spirits after chewing miraa, his favourite pastime.
"It wasn't my imagination. Somebody was strangling me, chocking the life out of me and telling me to stop chewing miraa and start attending mass instead," he says.
Though descriptions of the phenomena differ from person to person, Mohammed is sure of what he saw.
"I saw somebody with dreadlocks who was smiling. Then the next minute his face turned red with anger."
In Kisauni and on the Nyali and Mtwapa bridges, strange tales are told of people being raped or sodomised by invisible beings. An old man who lives under the Mtwapa bridge claims to have once seen a woman being molested by spirits.
"Unseen people threw her into the sea from a moving car on the bridge and it was like she was fighting off some unseen hand which was chocking her. She kept screaming and asking the person to leave her alone," recalls the elderly man, who has made a home under the bridge.
"I went after her accompanied by my dog and threw her a lifeline. It was like someone was trying to drown her and she was drifting away by the second. However I managed to bring her ashore and she hasn't been seen since," he says.
The man claims to have witnessed many weird incidents while living under the bridge, such as people being sodomised or raped by invisible persons.
"You hear their voices, their groans, and you see the victim's clothes being removed. You see clothes being detaching from the body but you don't see the person removing them. The next moment, the victim is crying in pain," says another Bamburi resident, Ali Mahmud.
Mahmud says he once saw his own girlfriend being raped by people he could not see and that his efforts to save her were fruitless as the beings were too powerful.
Residents of Bamburi still recall an incident in 2001when a person believed to be a djinn was turned into a cat that was then trapped by a magician from Tanzania. The cat had its head and neck in a pot buried in the ground.
According to Islamic preachers and Muslims in Bamburi, it was the case of a djinn being trapped by a more powerful djinn, probably from Tanzania, which is believed to be home to very powerful spirits.
The "cat" struggled to get its head out of the tight-necked pot for over 12 hours and, according to residents, when it was finally released it turned into a human being and disappeared into a nearby cemetery.
The area where the scary incident occurred has since been christened "Stage ya paka."
There are oft-told stories of sex-crazed men from upcountry who come to the Coast on vacation and hook up with what they take to be coastal beauties.
Some of these mostly married men either end up atop huge baobab trees, thinking they are in their houses, or in a state of confusion near the Likoni channel.
Mama Fatuma, who lives in Kibokoni, recalls how a man from Meru came to Mombasa and dated a woman for over three weeks, only to realise that she had actually died and been buried 10 years before.
"These are not just stories. They happen, and those they happen to are never the same again," Mama Fatuma says.
According to her, after dating a beautiful buibui-clad girl for three weeks, the man from Meru decided it was time to go and meet her parents.
"She directed him to her father's house where he declared his love for their daughter. The family was shocked. Their daughter was long dead, but the man was not convinced until he was taken to her grave in Tudor.
"There he found his jacket, which he had given to the girl. He fainted and has never been himself again. Today he roams the streets of Mombasa," says Mama Fatuma.
Sheikh Juma Ngao, secretary general of the Supreme Council of Kenya Muslims tells all doubting Thomases that djinns are real and that they live like normal human beings. They can turn into anything, a human being, an animal or a shoe.
Ngao says they were created by God and, according to the Koran, they were created for the purpose of worshipping God.
"There are good and bad djinns but people tend to use bad ones to harm others or to acquire more wealth," says Ngao. "However, it is a sin according to the Koran for a human being to use a djinn against another human being."
He talks of certain extremely wealthy families that have one of their children who is either mentally handicapped or just locked up as a prisoner in one of the rooms.
"Those are families that use djinns to get wealth and the locked up family members are the sacrifices to the spirits," says Ngao.
"The effect is that the members of that family are, one after the other, turned into a state in which they are neither dead nor alive. They are neither in heaven nor in hell. The people who put human beings in such a state are committing a sin, and the sad thing is they know it and just don't care."
He claims some bus companies offer their passengers as sacrifices in grisly accidents to acquire more wealth.
In parts of Ganjoni, Nyali and Mkomani, stories are told of empty houses with invisible tenants. Children are heard running about and there are appetising aromas of food every morning, lunchtime and dinnertime.
Asked why stories of djinns are common in Mombasa, Ngao says: "They are just like human beings. Some like living in the sea, others prefer the hills, while some stay in exile in forests and deserts. Some might actually be living on top of your roof, that is just their preference."
And, for all you know, even this newspaper you are reading might be a djinn!
Source: The Standard
http://www.eastandard.net/mag/index.php?id=1143989336&catid=349
---
Author Peter Robbins will be speaking and signing books at the Roswell, NM Public Library this Monday, July 7, 2008 at 7:00PM.


The subject of his free book reading is "Left at East Gate and the Rendlesham Forest UFO Incident: Facts, Observations, and Reflections."
---
Be sure to tune in to

Speaking of Strange

with host Joshua P. Warren
Saturday nights from 8-11pm ET on AM 570 WWNC
You can also listen live at: http://www.speakingofstrange.com/