- MYSTERIOUS CROP IMAGES DEPARTMENT -

Argentina: Further Details on the Chicoana Agriglyphs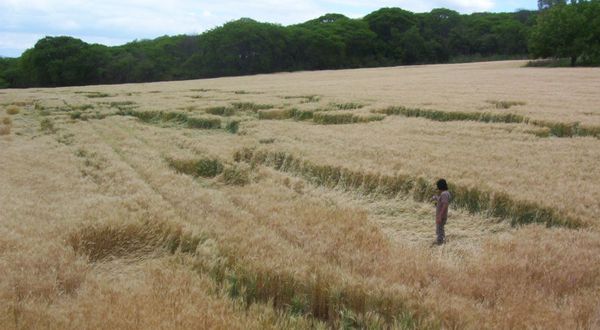 Residents of the town of Metán also witnessed strange lights with zigzagging movements at low altitude late into the night. These lights disappear into the fields, and occurred at the same time as the Chicoana events. What is remarkable is that the predominant direction of movement is toward the NW, which dovetails with the statements made by the people of Chicoana, who see the movements predominantly toward the SE. In both cases, the trajectory suggests the Cabra Corral Reservoir, an immense body of water.

The reason that I'm highlighting this fact is because the disappearance of large quantities of water is often associated with this phenomenon.

With regard to the wheat fields: the first one, nearest the town, was visited by hundreds of curiosity-seekers that trampled down the wheat, so the possibility of seeing the marks no longer exists. The field was plowed, but the flattened wheat stalks that formed the mark were allowed to remain. The soil's depth is no different from that of the rest of the field. The depth of the marks was due to the field's height prior to plowing. The wheat stalks were no different from the remainder of the mature wheat stalks: neither burns nor color-changes are noticeable.

I visited a tobacco plantation to the north of Chicoana, where three workers witnessed flying object manifestations. They are probably the best-qualified witnesses to the phenomenon, as they had to work nights in the field the week that the marks occurred and the following week as well. This is a summary of my conversation with them: They are well aware of the stars and planets at various times of year by virtue of having to work at night. The lights they saw could not be mistaken for stars, planets, shooting stars, airplanes or satellites, which are also visible at night.

The lights they saw at night were several. They lit up the fields in the darkness with such intensity that it was possible to see the crops; a powerful beam of light [issued from them], casting light in the same way as fishermen's' flashlights. They compared the size of the object to that of the Sun at that time of day (4 p.m.) and they also gyrated.

The employees tried to record the lights on their cellphones and were unable to do so. All three have cellphones and not one of these devices worked at the time. The symbols appeared on the wheat fields after the first evening that these sightings took place. The place where the first object was seen is over a mountain located to the west of the plantation. They saw two small lights breaking away from the larger one, progressing along the sky in a parallel formation.

At a given moment, when the larger object remained motionless over the mountain, they saw something like "lightning rays", blue in color, and emerge from the mountain toward the object.

When the lights moved toward them, they estimated that they were some 100 meters overhead. They did not notice any reactions in the local animals, as there were none nearby.

Another object was also seen toward the southeast, in the distance, over the mountains of Sierra Metán, behind which the city of the same name is located. They had the impression that these objects were in communication, as the lights would rise and descend in unison (the Cabra Corral Reservoir is located between Chicoana and Metán, separated from Metán by the Sierra Metán).

The three workers assured me that they didn't believe in "flying saucers" and had never warmed to the subject. But ever since their sighting, the think that what they saw was neither a natural phenomenon nor anything known to them up to that point.

On the third night of the sightings, given that the plantation's owner did not believe them, one of the workers ran over to wake him up and bring him to the fields. The owner remained incredulous, arguing that the lights could be stars, but moments later the light began to move and headed toward them, causing a commotion. Speaking to the plantation's owner, he echoed the words of his employees. He had never believed in such "tales" but what he saw was new to him.

Finally, I was in the field of the Arroyo Tillán mountain stream, facing the Villa Fanny shelter school. No wheat had been harvested there and the marks were present. This is the field that was photographed from a height, as displayed in the press. I wasn't lucky enough to see the photos from above, but here are the images I took. This photo was taken with a view toward the East-Southeast, from the Villa Fanny School, with the Sierra Metán Mountains in the background.

The wheat stands approximately 1.30 meters tall. Soil is normal, the stalks that form the agriglyph are flattened, some are bent and others broken; this could be due to the fact that the wheat stems are very fragile this time of year, when they are ready to be harvested. Furthermore, there has been no rain, which has contributed to very dry conditions these days, and a 30º C heat. The flattened wheat stalks are not aimed toward any particular point, rather in a spiral, as though following the direction of the object that caused them.

This, then, is a summary of what I saw in Chicoana. I have more photographs, with higher definition, and I have a panoramic shot of the wheat field, which is far too large to include [in this report]. Regards – Mercedes Casas

Source and Translation (c) 2008, Scott Corrales, IHU.
Special Thanks to Mercedes Casas and Guillermo Gimenez, Planeta UFO)
http://inexplicata.blogspot.com/2008/11/argentina-further-details-on-chicoana.html

---
- NOTHING TO SEE HERE FOLKS DEPARTMENT -

UK Recruits Experts To Investigate UFO Flap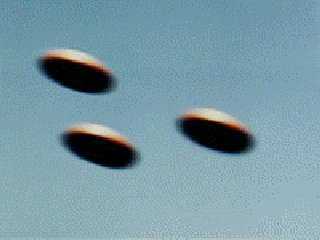 A crack new 'X-Files' squad of special FBI agents has been recruited by the UK Government – because the number of UFO sightings this year has been out of this world.

Leading boffins in Whitehall have admitted to being flummoxed by a spate of 'extra-terrestrial activity' and have turned to a top US agency to hire in "Mulder and Scully" style investigators.

The undercover unit will begin work in a high-tech London lab analysing unexplained photography and debris, before moving into the field to obtain explanations of bizarre crop circles.

There has been a huge upsurge in the interest for alien life forms since late last year when the The Ministry of Defence opened its 'X-Files' to the public for the first time since records began in 1967.

The unveiling has thrust it to the forefront of the public agenda and, amazingly, it has been afforded more debating hours in the House of Lords than foxhunting.

But cynics suggest opening the Pandora's Box has only engaged the public's over-active imagination.

Georgina Grounded of an unnamed local council said: "For a lot of people it's just a sci-fi fix.

"There are those who think that this Fox Mulder fella cuts a bit if a dash and are just desperate to believe.

"But these are credit crunched times. We need people with down-to-Earth attitudes."

Numbers of UFO sightings have really taken off this year, dwarfing the total of 135 reported to the Ministry of Defence for the whole of 2007.

The Sun recently reported how a flying saucer hovering over Dudley in the West Midlands was photographed by a Wakefield nanny visiting the local castle.

And pop oddball Robbie Williams is reported to be penning new tracks after staying at Trout Lake – the number one spot in the US for UFO sightings.

Malcolm Robinson, founder of research group Strange Phenomena Investigations, told The Sun last month: "Something really bizarre is happening in the skies over the UK."

Source: The Sun
http://www.thesun.co.uk/sol/homepage/advertisement_feature/
xfiles/article1861412.ece

---
- OBITUARY DEPARTMENT -

Rev. Frank Stranges Dies

The Reverend Frank Stranges, author of such contactee classics as
Stranger At The Pentagon
and
Flying Saucerama
, has returned to his permanent home with the space brothers, according to an email from Tim "Mr. UFO" Beckley. Stranges, who was 81, had recently suffered from a broken neck, but was recovering at home when he caught an infection and passed away.
Stranges founded the National Investigations Committee on Unidentified Flying Objects (NICUFO) in 1967, apparently in homage to NICAP, the original civilian UFO group founded in 1956. He may have been piggybacking on NICAP's strong public image, but we can of course forgive him for that.
Stranges most lasting legacy may be his narrative in Stranger At The Pentagon, the story of Venusian Captain "Valiant Thor."
According to Stranges, After Val had met with the president and members of the Joint Chiefs, he had a meeting with Stranges at the Pentagon. Val Thor sounded (and looked) like Michael Rennie's portrayal of the ufonaut Klaatu in The Day The Earth Stood Still:
Being a minister of the Gospel of Jesus Christ, as well as a student of the Bible for many years, coupled with my experience as an special investigator, I felt as though my senses were functioning properly and that I knew exactly what I was about to do. I was on my guard for fakes and frauds. In walked a man, about six feet tall, perhaps 185 pounds, brown wavy hair, brown eyes.
His complexion appeared normal and slightly tanned. As I approached him and he looked at me IT WAS AS THOUGH HE LOOKED STRAIGHT THROUGH ME. With a warm smile and extending his hand, he greeted me by name.
His genuineness astonished me, but quickly I understood. As I gripped his hand, I was somewhat surprised to feel the soft texture of his skin… like that of a baby but with the strength of a man that silently testified to his power and intensity.
Other contactees met their space brothers in deserts, along deserted highways, and in coffee shops. Frank Stranges met Val Thor in the hallowed halls of military power, making him the only contactee to be able to claim the imprimatur of officialdom.
On December 12th of last year, WFMU's 365 Days Project posted mp3s of Stranges' only known record album–part of the soundtrack from his 1966 film Phenomena 7.7. I provided some commentary and supplied the recordings and images of the cover. I was privileged to meet Dr. Stranges at the Retro UFO conference last year, where he signed a couple of his books and a copy of the Phenomena 7.7 soundtrack. "I haven't seen one of these in years" he said wistfully. Since I had two copies, I gave him the other. For me, it was like meeting a rock star, albeit a 70-odd year-old one.
Source: UFO Mystic
http://www.ufomystic.com/wake-up-down-there/frank-stranges-passes/
---
Rev. Frank Stranges RARE DVD - Val Thor: Stranger At the Pentagon
, videotaped at the UFO, New Age and Conspiracy Conference in San Diego. Watch Rev. Stranges tell the intriguing story of his contact with the extraterrestrial Val Thor at the Pentagon.
This DVD is Available from Conspiracy Journal for $12 plus 5.00 shipping.
---
- IS IT HOT IN HERE DEPARTMENT -
Climate Change 'To Halt Next Ice Age'
A new model of the Earth's climate suggests that human-made carbon dioxide emissions may prevent the onset of the next ice age.
Based on geological history, the Earth would be expected to enter a new ice age in 10,000 to 100,000 years.
Researchers say even small changes in carbon dioxide levels right now could prevent this from happening.
They tell the journal Nature this may not be good news as the planet could change in ways that are unprecedented.
The scientists say that over the past 400,000 years, sea temperature and ice coverage have been more variable than before.
This variation is a sign of the climate changing from one state to another, and signals the coming of an ice age.
Professor Thomas Crowley who developed the new model at Edinburgh University, UK, says this natural event might be postponed or even prevented by human-induced changes - especially the CO2 emissions from industrial processes.
"In the last 100,000 years, global CO2 levels increased by around 1.5 parts per million - but now we put out this much every year. The natural process is 100,000 times slower than the way humankind is changing CO2 levels," he says.
The researchers looked at variations in oxygen levels in the shells of tiny sea creatures found in samples taken from the world's ocean beds. When combined with data on past sea levels, these give an estimate of global temperatures and sea-ice cover for the past three million years.
Professor Crowley warns against seeing increases in carbon dioxide levels as a good thing and adds that we might end up with a planet completely different from anything we've ever known.
"It doesn't mean we've averted catastrophe. A rise of just three to five degrees will give us temperatures unheard of for 50 million years - but at that time the world was a different place, with no ice caps.
"This time round, we are raising the temperature at such a rate that we may create a different world, a non-glacial atmosphere with polar ice sheets."
Rapid increases in global temperatures may not initiate immediate rapid polar ice melting, say the scientists; and there is no past geological evidence to indicate how a polar ice cap might behave if sitting on a warmer world.
Source: BBC
http://news.bbc.co.uk/2/hi/science/nature/7722300.stm
---
- WORLDS UPON WORLDS UPON WORLDS DEPARTMENT -
Are Parallel Universes More than a Figment of Our Imagination?
The Hollywood blockbuster, The Golden Compass, adapted from the first volume of Pullman's classic sci-fi trilogy, "His Dark Materials" portrays various universes as only one reality among many, but how realistic is this kind of classic sci-fi plot? While it hasn't been proven yet, many highly respected and credible scientists are now saying there's reason to believe that parallel dimensions could very well be more than figments of our imaginations.
"The idea of multiple universes is more than a fantastic invention—it appears naturally within several scientific theories, and deserves to be taken seriously," stated Aurelien Barrau, a French particle physicist at the European Organization for Nuclear Research (CERN).
There are a variety of competing theories based on the idea of parallel universes, but the most basic idea is that if the universe is infinite, then everything that could possibly occur has happened, is happening, or will happen.
According to quantum mechanics, nothing at the subatomic scale can really be said to exist until it is observed. Until then, particles occupy uncertain "superposition" states, in which they can have simultaneous "up" and "down" spins, or appear to be in different places at the same time. The mere act of observing somehow appears to "nail down" a particular state of reality. Scientists don't yet have a perfect explanation for how it occurs, but that hasn't changed the fact that the phenomenon does occur.
Unobserved particles are described by "wave functions" representing a set of multiple "probable" states. When an observer makes a measurement, the particle then settles down into one of these multiple options, which is somewhat how the multiple universe theory can be explained.
The existence of such a parallel universe "does not even assume speculative modern physics, merely that space is infinite and rather uniformly filled with matter as indicated by recent astronomical observations," Max Tegmark, a cosmologist at MIT in Boston, Massachusetts concluded in a study of parallel universes published by Cambridge University.
Mathematician Hugh Everett published landmark paper in 1957 while still a graduate student at Princeton University. In this paper he showed how quantum theory predicts that a single classical reality will gradually split into separate, but simultaneously existing realms.
"This is simply a way of trusting strictly the fundamental equations of quantum mechanics," says Barrau. "The worlds are not spatially separated, but exist as kinds of 'parallel' universes."
Partly because the idea is so uncomfortably strange, it's dismissed as sci-fi by many critics. But there are also many credible, respected proponents of the theory—a group that is continuously gaining new adherents as new research unveils new evidence. Some Oxford research—for the first time—recently found a mathematical answer that sweeps away one of the key objections to the controversial idea. Their research shows that Everett was indeed on the right track when he came up with his multiverse theory. The Oxford team, led by Dr David Deutsch, showed mathematically that the bush-like branching structure created by the universe splitting into parallel versions of itself can explain the probabilistic nature of quantum outcomes.
The work has another strange implication. The idea of parallel universes would apparently side-step one of the key complaints with time travel. Every since it was given serious credibility in 1949 by the great logician Kurt Godel, many eminent physicists have argued against time travel because it undermines ideas of cause and effect. An example would be the famous "grandfather paradox" where a time traveler goes back to kill his grandfather so that he is never born in the first place.
But if parallel worlds do exist, there is a way around these troublesome paradoxes. Deutsch argues that time travel shifts happen between different branches of reality. The mathematical breakthrough bolsters his claim that quantum theory does not forbid time travel. "It does sidestep it. You go into another universe," he said. But he admits that there will be a lot of work to do before we can manipulate space-time in a way that makes "hops" possible. While it may sound fanciful, Deutsch says that scientific research is continually making the theory more believable.
"Many sci-fi authors suggested time travel paradoxes would be solved by parallel universes but in my work, that conclusion is deduced from quantum theory itself."
The borderline between physics and metaphysics is not defined by whether an entity can be observed, but whether it is testable, insists Tegmark.
He points to phenomena such as black holes, curved space, the slowing of time at high speeds, even a round Earth, which were all once rejected as scientific heresy before being proven through experimentation, even though some remain beyond the grasp of observation. It is likely, Tegmark concludes that multiverse models grounded in modern physics will eventually be empirically testable, predictive and disprovable.
Source: The Daily Galaxy
http://www.dailygalaxy.com/my_weblog/2008/11/parallel-univer.html
---
- WE ARE ALL NESSIE IN SPIRIT DEPARTMENT -
Nessie Is Much More Than A Monster To Us
We cling to the myth because it goes right to the heart of our culture and who we think we are.
The tourism people want us to stop thinking about Loch Ness solely in terms of the monster, and instead as part of one of the world's great geological formations, one link in the chain of the Great Glen. More Grand Canyon and less Jurassic Pond, you might say.
It's a persuasive idea, but the truth is that Nessie is a vital and complex icon. We need her, or him, or them, as a guarantor of national identity and distinctiveness.
It's 75 years since the first 'photograph' of the Loch Ness Monster appeared in the public prints. They came thick and fast after that, though for some reason they thinned out rather suddenly when colour photography came along. Loch Ness became a place of pilgrimage for a broad spectrum of researchers and obsessives, naturalists, New Agers, palaeontologists, cryptozoologists, hoaxers and film-makers; for Britons it's cheaper to get to than Dallas and there's a grassy knoll for everyone.
The place has a strange effect on people. It turned poor Tim Dinsdale, the best known Nessie researcher, into a brooding obsessive. It tempted the saintly Peter Scott into a gross manipulation of scientific evidence: turn a blurry photograph upside down, highlight and touch up a vague rhombus in the middle and, presto, you have a fin! It's a plesiosaur! And does anyone rib BBC royal correspondent Nicholas Witchell - 'Still watching dinosaurs, Nick?' - about his youthful obsession with the monster.
The 'Surgeon's Photograph' - and what a clever designation that was for what turned out to be an April Fool joke; who'd suspect a medical man? - has survived its own debunking and is still considered, even by disbelievers, to be an image 'of' the monster. In reality, it is the monster, an ambiguous surfacing of something many of us guiltily want to believe in.
The curious thing about Loch Ness studies is that all the debunking in the world doesn't seem to make a dent on the phenomenon. One by one, the classic photographs and iconic sightings are ticked off as natural phenomena or pranks: swimming deer, mergansers, a family of otters, fertiliser bags filled with straw, fishing-boat fenders and a broken hatstand (that was us; we were young and needed the money, though nobody wanted the snaps), 'vegetable mats' bubbling up from the goo, boat wakes and standing waves, logs and even dogs - one famous picture is alleged to be a double-exposed Labrador with a stick in its mouth, which seems to me an even greater jump of imagination than thinking it represents a living fossil alive and breeding in a Scottish loch.
We need Nessie because she tells us so much about ourselves. If she exists at all, she must be impossibly ancient which reminds us of our own long past.
She's not altogether comely by all accounts, which is our way of telling the world that even if we lack superficial glamour, there's something impressive underneath.
Her very elusiveness is useful in a country which doesn't boast elephants or vast herds of grazing wildebeest. A Loch Ness safari is a triumph of hope over probability.
Deeper than all this, though, is that almost metaphysical question about whether the Loch Ness Monster actually exists and what she represents.
There's a touch of spuriously elegant coincidence in the recognition that Nessie was first photographed in the year King Kong was released and Hitler assumed power in Germany, forming the Gestapo shortly thereafter.
I once spent a very uncomfortable hour in an Inverness pub with an American woman who was trying to convince me that Nessie was the actualisation of evil. Perhaps more interesting is its closeness to the modern take-off of Scottish nationalism.
Though Sir Alexander McEwan was roundly trounced in the 1933 Kilmarnock byelection, beaten into fourth by three rival Labour candidates, he stood as the candidate for both the National Party of Scotland and the Scottish party, who managed to overcome their Lilliputian differences the very next year to become the SNP.
You're not going to tell me there's no connection between its rise and the sudden appearance of 'the creature'. After a slumber of centuries, Nessie suddenly started making more winning appearances than Michael Phelps, just as the Nats started to come on the scene. Coincidence? I don't think so.
I used 'actually' in its proper sense because even more deeply buried in the Loch Ness phenomenon is an anxiety that goes to the heart of Scottish culture.
Perhaps the creature was there once - during our human history, that is - but no more.
One school of Nessie watchers believes that our presence pushed her to extinction. Others will tell you that you won't see her if you're actively looking for her. Others still insist that you can only see her if you already believe.
Here's the rub: which specialism is more appropriate to Scottish identity, palaeontology or cryptozoology? Did it exist in the past, but is now little more than a fossil record? Or is it a hippogriff, put together out of elements lifted straight from the unconscious, but with no real-world existence?
Do we cling to Nessie because we don't really know who we are any more?
Source: The Guardian (UK)
http://www.guardian.co.uk/uk/2008/nov/16/scotland-tourism-loch-ness-monster