- SOMETHING TO WATCH OVER ME DEPARTMENT -

Third Man Theory of Otherworldly Encounters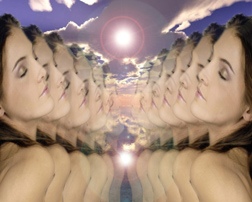 Encounters with otherworldly beings that lead us out of danger are more common than you think.

Charles Lindbergh felt it.

During that first solo, non-stop transatlantic flight in 1927, the aviator, flying just above the ocean, was desperately struggling to stay awake. Twenty-two hours into the trip, he became aware of vague forms aboard the Spirit of St. Louis. They offered reassurance and discussed navigational problems.

They stayed with him until he spotted the Irish coast, and Paris was within reach.

An avalanche in the Canadian Rockies swept climber James Sevigny 600 metres, breaking his back, scapula, arm, nose, teeth and tearing ligaments in both knees. When he regained consciousness, he saw his climbing companion was dead. He laid next to him to die.

But an invisible being urged him to survive, telling him what to do. The presence stayed with him while he painfully made his way to camp, where skiers found him.

On Sept. 11, 2001, overcome by smoke in a stairwell of the World Trade Center's south tower, money market broker Ron DiFrancesco joined others lying on the concrete floor, some slipping into unconsciousness.

"Get up!" a voice ordered DiFrancesco, who sensed a physical presence encouraging him. Descending the stairs again, he was blocked by fire. The being led him to dash through the flames. He raced down to the plaza; then the tower collapsed. But he survived, one of only four people to escape from above the 81st floor.

Some believe it's a guardian angel. Others say it's the brain's way of coping under great duress. Whichever, the experiences are eerily similar: the sense of a presence that encourages, advises and even leads a person out of peril.

"In every case I found, it was a benevolent helpful companion, not a single example of a malevolent being," says John Geiger, author of The Third Man Factor published this week.

He found more than 100 cases, including those accounts described earlier.

"They're people in a life-and-death struggle, often but not always in nature," he explains.

Among the examples: an American astronaut on the Mir space station, an Israeli soldier undergoing torture, an Austrian mountaineer on a Himalayan peak.
TORONTO STAR FILE PHOTO
Toronto author Vincent Lam claims to have experienced the phenomena known as "third man."

Most know the being's gender, and a minority identify it as a deceased relative, friend or Jesus Christ.

Geiger, who has written several books about exploration, became fascinated by the otherworldly guardian after reading Sir Ernest Shackleton's accounts of his crew's horrific 1916 crossing of a south polar island, aided by an invisible being.

The phenomenon became known as the Third Man, writes Geiger, because that's how T.S. Eliot referred to it in his poem "The Waste Land."

Spiritual or religious people, no matter the faith, say they were helped by a divine companion, while agnostics see it as a brain function, Geiger says.

Scientific researchers have studied how the human mind might conjure the Third Man.

"Opinion is divided," says Geiger. "There's not a definitive explanation."

Some psychologists believe it's an example of bicameralism. Under stress, the usually dominant left hemisphere loses some hold over the mind, and logical thinking declines. The right brain, involved in imaginative thinking, intrudes, explains Geiger.

Another theory suggests the Third Man is a coping mechanism, a mental process for calming and separating the person from the horrible experience. "Just as we have a biochemical response to stress through adrenaline, this is a mental process that helps us survive."

But why do some people sense a wise helper, and others don't?

"There may be psychological variables," says Geiger.

"Some people may be more open to new things and experiences."

For some people, it may kick in at lower stress levels than others.

Young children's imaginary friends may be Third Man-like manifestations.

In studies of widows and widowers, says Geiger, between 30 to 50 per cent reported having felt the presence of the deceased partner.

Whether the Third Man is an angel or a survival mechanism is for people to decide for themselves, says Geiger.

"I can't solve that riddle. But it is very powerful and raises some profound questions."

Source: The Toronto Star
http://www.thestar.com/living/article/579401
---
- SOMETHING WICKED THIS WAY FLAPS DEPARTMENT -
Anomalous Bats and Cryptozoology
In May of last year, motorists in Washington County, Pennsylvania traveling along a major route suddenly pulled over to watch what many described as a "huge dark-colored flying creature" flying low as it passed over the cars. Prolific researcher Stan Gordon noted at his website how witnesses to the event agreed that the creature looked "more like a giant bat than a bird."

Indeed, of all places, giant bat-like creatures are often described over America's skies, though generally speaking, many of this country's best known cryptozoological mystery-monsters host bat-like traits. Take for instance the membranous wings of the Northern Jersey Devil; or perhaps most famous of all American cryptids, the Mothman of West Virginia, with its large wings and glowing red eyes. Elsewhere in the world, England's "Owl Man", essentially a British counterpart to America's Mothman, is joined by an infamous "vampire" said to have haunted Highgate Cemetery in North London for several decades. Regardless, both of these mysterious European entities bear similarities to America's most famous fluttering beast, a number of which are indeed bat-like.

In general, Bats have long been associated with strange phenomenon in almost every culture around the world. Sparring the already widely-known European notions of vampires in association with bats, one significant source for this prevailing belief that bats are somehow supernatural creatures may indeed have stemmed from ancient observation of the way bats pollinate the silk-cotton-bearing Kapok or "ceiba tree". In addition to providing a vital source of timber used in ancient times for constructing native canoes and a variety of structures, in many locales this tree was also considered to be sacred. Several cultures referred to the ceiba as the "World Tree", a central figure in the mythologies of pre-Columbian Mesoamerican cultures, especially that of the Maya civilization.

The Mayas believed that a central "world tree" connected the planes of Xibalba, the Mayan Underworld, with the terrestrial realm and the skies above. Mayan art often depicted the trunk of a ceiba in representations of the enigmatic world tree. Not surprisingly, the Mayans also related the transit of bats between the land of the living and that of the dead to their pollination of the ceiba, and witnessing bats roosting in this tree no doubt helped convince the ancients that these dark-dwelling creatures indeed had dealings with the netherworld. To this day, among the descendants of the Mayans who live in the highlands of Guatemala are the Zotzil uinic, a name meaning "bat men". It is widely believed among them that long ago their ancestors had discovered a giant stone bat, which they adopted as their god.

In spite of the supernatural traditions involving bats of normal size and orientation, cultures the world over also describe bat-like manifestations, often of gigantic proportions, which haunt various indigenous people in their locales. For instance, the Ahool of Western Java (named so for a similar sound it is alleged to make) is described as a large, bat-like creature roughly the size of a young child. The Ahool is a grayish color, sporting a monkey-like head, large claws, and of course, bat-like wings. According to one of the most popular "classic accounts", what was believed to have been an Ahool supposedly flew over Dr. Ernest Bartels' head as he explored a waterfall on the slopes of the Salek Mountains in 1925.

Bartel's encounters with the Ahool eventually made their way to naturalist Ivan T. Sanderson, thanks to his associations with the "father of cryptozoology", Bernard Heuvelmans. Ultimately, Sanderson would take particular interest in creatures like the Ahool, likely due to a similar encounter he had with a large bat-like creature in the Assumbo Mountains of Cameroon, Western Africa in 1932. After shooting a fruit bat that fell into the nearby river, Sanderson had gone to retrieve his catch, when he was suddenly warned to duck by one of his associates. Sanderson's description of the events that followed sound almost like a passage recounted from the works of Edgar Rice Burroughs:

"And I looked. Then I let out a shout also and instantly bobbed down under the water, because, coming straight at me only a few feet above the water was a black thing the size of an eagle. I had only a glimpse of its face, yet that was quite sufficient, for its lower jaw hung open and bore a semicircle of pointed white teeth set about their own width apart from each other. When I emerged, it was gone. George was facing the other way blazing off his second barrel. I arrived dripping on my rock and we looked at each other. "Will it come back?" we chorused. And just before it became too dark to see, it came again, hurtling back down the river, its teeth chattering, the air "shss-shssing" as it was cleft by the great, black, dracula-like wings. We were both off-guard, my gun was unloaded, and the brute made straight for George. He ducked. The animal soared over him and was at once swallowed up in the night."

The giant bat-like creature Sanderson witnessed was variously called "Olitiau" or "Kongamato", by the African natives he traveled with, the latter being it's more popular name meaning "breaker of boats". Making our way back to the states, it is amazing that an entire world (and nearly a century) away, sightings of strange creatures like the "giant bat" witnessed by motorists in Pennsylvania last year continue to occur. I often wonder what Sanderson would have thought of this sort of encounter, especially with the state in question's history of alleged "Thunderbird" sightings; this, of course, considering that Sanderson was the one man in the history of Forteana who had sworn to ownership of that damned photograph… and yet even the mighty Ivan Sanderson was eluded by the mysterious Thunderbird photo. Did it indeed ever exist? Could Sanderson have been mistaken, or could he somehow have imagined the entire affair? It seems unlikely… but for now, it must remain only one of many encounters he claimed to have with gigantic winged monstrosities the likes of our beloved giant bats.

Is our humble Earth indeed still home to bat-like creatures of gigantic proportions the likes of "something prehistoric"? If so, how and where might these creatures exist? Are they supernatural entities, cryptozoological wonders, "cave demons" that exist here only to haunt and torment mankind, or something else altogether?

Source: The Gralien Report
http://gralienreport.com/cryptozoology/something-wicked-this-way-flaps-
anomalous-bats-and-cryptozoology/

---
- WHO I WANT TO BE DEPARTMENT -

Can You Choose Your Reincarnated Successor?

The search for the present Dalai Lama commenced in earnest in 1935 when the embalmed head of his deceased predecessor is said to have wheeled around and

Then, the story goes, a giant, star-shaped fungus grew overnight on the east side of the tomb. An auspicious cloud bank formed and a regent saw a vision of letters floating in a mystical lake, one of which — Ah — he took to refer to the northeast province of Amdo.

High lamas set off at a gallop and found a 2-year-old boy in a distant village. This child, they determined after a series of tests, was the reincarnation of the Dalai Lama.

There is little linear about lama succession in Tibet. And now, as the 14th Dalai Lama journeys into his 74th year, the question of how to pick his successor has come to preoccupy both him and his followers, as Tibet stands at an ever more precarious political pass.

Late last year, the Chinese government again rejected the Dalai Lama's proposal for a rapprochement that would yield greater autonomy for Tibet. In recent days, Chinese troops have raided thousands of homes and detained at least 81 activists ahead of the 50th anniversary in March of the failed uprising that forced the Dalai Lama into exile in India. China seems inclined to tighten its grip and wait out the aging leader, insisting, a bit improbably for a government that is officially atheist, that it has the legal right to designate the Dalai Lama's next reincarnation.

When Tibetan representatives met last autumn at their Parliament in Dharamsala, in the Indian Himalayas, their worries about the future echoed down the corridors. A few argued for a militant line, insisting on independence. A majority heeded the Dalai Lama's counsel to find a pacifist middle way. But the unanswered question remains: How much longer will Tibetans be able to rely on their charismatic and learned spiritual leader, whose persona is so entwined with the destiny of Tibet?

The Dalai Lama has openly speculated about his next life, his reincarnation, musing that he might upend historical and cultural practice and choose his reincarnation before his death, the better to safeguard his exiled people.

But doubts creep in.

Can even so highly evolved a Buddhist as the Dalai Lama select his reincarnation? Will upending the old way of searching for the Dalai Lama's incarnation, in which priests search for omens, portents and meteorological signs, undermine the legitimacy of his successor?

Since he fled Chinese rule by foot and horseback over the Himalayas in 1959, the Dalai Lama has traveled restlessly and spoken passionately about Tibet. The fruits of his labors are many: The world is spotted with Tibetan centers, and prayer flags flap from Delhi to London to Zurich to Todt Hill in Staten Island. Tibetan culture is celebrated in Hollywood and in popular art. (Exiles number about 130,000; about six million Tibetans live in Tibet and China).

But a darker vision of Tibet's future is easily divined. This Dalai Lama dies and his successor is young and inexperienced and holds no sway in the chambers of the powerful. Slowly, ineluctably, the Tibetans become just another of the globe's landless peoples lost in the shadow of a rising superpower.

"Definitely when someone as charismatic and popular as the Dalai Lama passes away, the Tibetans will suffer from less outside attention," says Tenzin Tethong, a fellow in the Tibetan Studies Initiative at Stanford University. "We will lose a strong unifying symbol."

The Dalai Lama, a Nobel Peace Prize winner, is no theocratic traditionalist. Should his people ever reclaim Tibet, he says an elected parliament and prime minister should rule; the Dalai Lama would occupy a religious station.

"He is thinking outside the box about Dalai Lama rule," said Robert Thurman, a professor of Indo-Tibetan Buddhist studies at Columbia University and author of "Why the Dalai Lama Matters." "He's trying to get it through the Chinese heads that he's helpful to them. Their waiting for him to die is completely misplaced."

Tibetan Buddhists believe in reincarnation, although not in the sense of an irreducible self passing from body to body. They describe a dying candle lighting a new one; one's essence passes on.

Typically, when the Dalai Lama dies, the royal court appoints a regent who rules until the next reincarnation comes of age. Over the centuries some regents grew fond of their power and some Dalai Lamas expired prematurely, not to mention suspiciously. The sense of the regency as a time of peril persists.

It is within this context that the Dalai Lama speculates about how to pull off his next reincarnation. Perhaps the four sects that constitute Tibetan Buddhism might form a Tibetan version of the Roman Catholic College of Cardinals and pick a successor. Perhaps he will return as a girl, or as a non-Tibetan.

Or perhaps he will pick his future self.

Professor Thurman offers his own speculation. The Dalai Lama, he says, might declare that a younger lama is the reincarnation of his own long-dead regent. Then the Dalai Lama could die and reincarnate as a new baby, which would be identified after the usual study of portents and signs. "Maybe the one he names as the reincarnation of the regent would transfer the Dalai Lama title back to him when his next reincarnation comes of age," Mr. Thurman said.

Who could gainsay that?

Politics might pose a challenge as great as metaphysics. The Chinese insist that their army freed Tibetans from theocratic slavery and that Tibet is inseparable from China. They are not shy about enforcing their writ. In 1995, the Chinese government rejected the Dalai Lama's choice of a 6-year-old boy as the reincarnation of the Panchen Lama, a spiritual leader of Tibetan Buddhism's dominant sect, and then appointed its own. The child chosen by the Dalai Lama vanished into Chinese custody.

"The thinking is a bit odd," Mr. Thurman said, "as the Chinese Communists don't believe in former or future lives and it is illegal to propagate religion in China."

Still, China's power grows as the Dalai Lama ages. Han Chinese now crowd out ethnic Tibetans in Lhasa, Tibet's capital, and exiles are uneasy, some taken again to searching for portents of what's to come. To find themselves without a transcendent leader at this time is, as D. H. Lawrence once wrote of the Brazilian Indians, to risk being consigned "to the dust where we bury the silent races."

Source: NY Times
http://www.nytimes.com/2009/02/01/weekinreview/01powell.html?_r=1
---
- REALITY OR URBAN LEGEND DEPARTMENT -

An Encouter With Black-Eyed Kids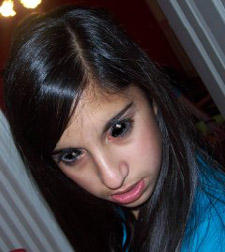 There's something wrong with these children.

They approach quietly, yet boldly. They're young, usually teens or slightly younger. They insist on coming inside your house to use the bathroom, the telephone or just for a drink of water. But for some reason you're afraid. Why? They're just kids. Then you notice their eyes – black, as if the pupil had poured over its banks. You don't let them in – or do you?

Black-eyed kids. The term has floated across cyberspace since Jan. 16, 1998 when journalist Brian Bethel first posted his chilling encounter with overly-lucid children whose eyes were coal black; not a hint of iris, nor white.

And they scared the hell out of him.

The existence of these children has since become an Internet urban legend, but is it really just that? Maybe not.

Below is a story of black-eyed kids from an anonymous reader of "From the Shadows." I'll call him "Bill."

Bill was driving through Afton, Okla., a town in the northwestern part of the state on historic Route 66 just south of the Will Rogers Turnpike, when he stopped to see some old friends.

"I saw they had a new dog; a very stout dachshund," Bill said. "I asked them about it and Michael said, 'The weird kids left her when they left town.'"

Bill asked Michael and his wife about these "weird kids." They told him a group of young people had knocked on their door and begged to come in and talk. The "weird kids" were driving an old van, but Michael thought it was in good shape because it didn't make noise.

"However, he and his wife felt uneasy and didn't let them in," Bill said. A few of the kids left the van and walked the dachshund Michael and his wife ended up with. "But they didn't seem too attached to (the dog)."

Bill asked Michael if these young people were Mormons.

"Hell, no," Michael said. "They didn't dress right and they were junkies."

"Junkies?" Bill asked.

"Yeah," Michael said. "Their pupils were huge."

The kids' eyes were solid black. Looking into their eyes was like staring into a void.

Turned away at the door, the black-eyed kids eventually left, to the relief of Michael and his wife. Some time later, Michael saw the dachshund wandering around town, felt sorry for it, and brought it home. Michael and his wife are thankful the black-eyed kids never returned for it.

Michael's story has disturbed Bill ever since.

"(Jan. 18), a friend was talking about dark forces on the move and mentioned black-eyed kids," Bill said. "I Googled it and a chill went up my spine."

Bill contacted Michael about the information he'd found on these entities, but, like many who've encountered these black-eyed kids, Michael and his wife just want to forget meeting them. Their experience was terrifying.

"They don't want anything to do with an investigation," Bill said, "or have their name made public, or really have anything to do with any further conversation about black-eyed kids."

Source: From the Shadows/Jason Offutt
http://from-the-shadows.blogspot.com/2009/02/encouter-with-black-eyed-kids.html
---
- COBWEBS OF MY MIND DEPARTMENT -

Basements of the Damned

Mike Dash says Rat Kings, tentacles of the Giant Octopus, Fairy Coffins and Ice from the sky need a good home ... and where better than the Charles Fort Institute?

This first appeared in Time Out in 1995. Copyright Mike Dash 1995.

Strange things lurk in the dusty storerooms of great museums -- rarely-opened boxes stuffed with freaks and mermaids, fish that have fallen from the sky and the fragmentary remains of unknown animals. While the few objects the curators deem worthy of exhibit sit in the public galleries, awaiting new admirers, their damned brethren rot below them in the dark, still vaults, crumbling slowly into nothingness.

In 1995, Fortean Times mounted a major exhibition of these wonders of the vaults in association with the Croydon Clocktower museum. Two years' of patient detective work exhumed such startling exhibits as a group of fairy coffins, found buried below Arthur's Seat in Edinburgh, a pair of haunted seamen's boots, from the Scottish Fisheries' Museum, said to move of their own accord, and a pickled rat king -- a group of eight rats which had knotted themselves inextricably together by their tails -- from the Zoological Institute in Gottingen. Few if any of the more than 100 objects thus assembled were on regular display in their own museums, yet their collective drawing power was considerable; the exhibition broke all attendance records at the Clocktower, as well as attracting considerable media attention.

What a shame that the exhibits were soon returned to their respective museums -- where they were no doubt consigned once more to the nether reaches of the vaults. But what an opportunity there must be for a permanent exhibit of the bizarre and the bewildering -- something to encourage the senses of wonder and enquiry, as any good museum should do.

Let's not forget that many modern galleries began life in the eighteenth and nineteenth centuries as precisely such cabinets of curiosity. The British Museum, when it opened its doors in 1752, included among its holdings 'monsters preserved in spirits' and a landscape painted on a spider's web -- exhibits that were soon joined by a stone resembling a loaf, a starved rat and cat, a desiccated thumb dug from the foundations of a St James's coffee house, and a monstrous pig from Chalfont St Giles. Such apparently eccentric collections reflected not superstitious muddle but a post-Renaissance world-view in which God's purpose could be discerned in the careful juxtaposition of wonders -- one that, once replaced by the Victorian notion of an immutable classification revealed by science, led swiftly to the dispersal and destruction of many remarkable and irreplaceable exhibits.

Where today could one find such lost wonders as the Royal Society's bottle full of stag's tears, the Smithsonian's jars full of roast chicken-sized lumps of flesh hacked from a giant octopus whose tentacles spanned 150 feet, and the 'real werewolf' displayed by a Margrave of Ansbach?

A Fortean museum, properly funded, would not only preserve and display objects of similarly irresistible interest, such as the frogs, nuts, human excrement and smoked haddock that irregularly shower from the sky and the corpses of the half-dozen jungle cats, pumas, and swamp cats run over and killed on British roads in the past decade; it could also act as a repository for the half-million or so reports of the remarkable gathered by the magazine since 1973 and sponsor some much-needed research into phenomena such as phantom social workers, flying manhole covers and phone calls from the dead, which tend not to figure prominently when scientific research grants are allocated.

Already Fortean Times has made modest progress in this direction. The magazine's scholarly journal, Fortean Studies, gathers the latest detailed research by many of the most respected students in the field, while an annual conference, UnConvention, attracts upwards of 1,000 visitors to the Institute of Education to hear lectures on topics ranging from FBI raids on satanic cults to the sexual aspects of British fertility rites and the unidentified flying wallaby slasher of Newquay. UnConvention is the already the largest gathering of its kind in the world, and a much-needed window onto the present state of eccentric research.

It is, however, only a start. In the United States, scientific and humanist bodies have combined to raise $8 million to fund a research centre for the avowedly-sceptical Committee for the Scientific Investigation of Claims of the Paranormal. A London-based British equivalent, combining an archive centre, electronic access to international databases, an exhibition gallery and resources for investigators would not only prove a popular attraction and an immensely worthwhile contribution to the knowledge of mankind -- it would finally assuage the lament penned by Charles Fort, that pioneering scholar of the rum and the remarkable: 'I accept that over the door of every museum, into which such things enter, is written 'Abandon Hope'.

Source: The Charles Fort Institute
http://www.forteana.org/html/MD-museum.html