---
- NOW GO OUT AND BUY SOMETHING DEPARTMENT -
Subliminal Images Impact on Brain
The brain does register subliminal images even if a person is unaware they have seen them, UK researchers report.

The research, in Current Biology, suggests subliminal advertising is probably effective.

The practice, which was first used in the 1950s, has been banned in the UK, but is still permitted in the US.

Using brain scans, a team from University College, London, showed people only registered the images if the brain had "spare capacity".

Subliminal images may be contained in other information, which people are aware of receiving.

The researchers cite the example of the film Fight Club, where a character who works as a cinema projectionist inserts a single frame of pornography into the 24 frames of a film shown each second.

In the movie, those watching were unaware of the split-second shot, but felt depressed or aggressive afterwards.

Although it has long been thought that subliminal images can be detected without people being aware of them, and have been used in techniques such as subliminal advertising, this is the first time researchers have provided physiological evidence of the impact.

The seven participants in the study wore red-blue filter glasses that projected faint images of everyday objects, such as an iron, on to one eye and a strong flashing image on the other.

The strong flashing image meant the participants were not consciously aware of the faint images projected on to the other eye.

At the same time, they were asked to carry out an easy task, such as picking out the letter T from a stream of letters, or a harder task of picking out a white N or a blue Z.

Using functional MRI brain scanning, the researchers found that during the easy task the brain registered the 'invisible' object although the participants were unaware they had seen it.

This was highlighted by activity in a part of the brain called the primary visual cortex.

But during the harder task, which required more concentration, the fMRI scan did not pick up any relevant brain activity suggesting the participants had not registered the subliminal image.

Dr Bahador Bahrami, UCL Institute of Cognitive Neuroscience, said: "What's interesting here is that your brain does log things that you aren't even aware of and can't ever become aware of.

"The brain is open to what's around it. So if there is 'spare capacity', in terms of attention, the brain will allocate that resource to subliminal activity.

"These findings point to the sort of impact that subliminal advertising may have on the brain.

"What this study doesn't address is whether this would then influence you to go out and buy a product."

Dr Bahrami is set to carry out more research to evaluate the further impact of subliminal words and images.

Source: BBC
http://news.bbc.co.uk/2/hi/health/6427951.stm

---
- OUR WEIRD, WILD WORLD DEPARTMENT -
Myths and Legends Guarded by Peru's Amazon Rainforest
The Amazon, apart from housing the most amazing biodiversity, is also home to a myriad of magical myths and mysterious occurrences. I was fortunate enough to have lived in the southern part of the Peruvian Amazon in the Madre de Dios region for 5 months, and I was always captivated by the many mysterious stories and anecdotes locals told me.
I would like to narrate some of these tales which will hopefully have the same enchanting effect on you as they had on me, perhaps even to the extent that you may begin sensing the rainforest's hot and humid air; hear the buzz, chirp and growl of the animals; and you want to pull out your machete and cut down that ripe bunch of bananas.
El Tunchi
This is one of the spirits that protects the rainforest, and more specifically it is said to be the spirit of people that took their last breath inside the rainforest. The technique of El Tunchi is to whistle a certain tune, always the same short melody, and if you chime in by whistling the exact same tune, the spirit will appear, its wrath will fall upon you and terrorize you.
If you are well-behaved and respect nature by not harming flora and fauna, El Tunchi will just scare you a little and move on. However, if you mow down trees like there's no tomorrow, pollute the air or displace animals from their habitat, then watch out and take heed! The best advice that even the locals follow religiously, is not to answer its whistle, thus not giving it a chance to "play" with you.
La lupuna
The lupuna is a tree found in various parts of the Amazon. It is one of those beautiful giants of the Amazon, grand, imposing, and well rooted in the jungle's soil. Its trunk can be as wide as 10 meters (33 ft) when given the time to grow. The lupuna distinguishes itself from other tropical trees because of its "belly", a part of the trunk that is wider than the rest and bears some resemblance to a human abdomen.
And it has another characteristic: its spirit is also widely known to be a protector of the rainforest. Unfortunately, it is not entirely safe from deforestation but local loggers and lumberjacks are very careful about which lupuna to cut down, because if they choose the wrong species, the tree will take revenge…
You must also show your respect for the lupuna in other ways, which is reflected by the following story:
A local woman was hiking through the jungle and felt a basic human urge. She squatted down near a big tree and relieved her bladder. She returned to town, unaware of what was about to unfold. At nighttime her stomach began to hurt and swelled up to painful proportions. The discomfort kept her from sleeping that night and throughout the next day the pain got worse and the swelling increased.
She called for the help of a shaman, who asked her what she had been doing before the pain started. Had she, by any chance, urinated near a lupuna? The poor woman confirmed and the shaman explained that the lupuna was punishing her for showing such disrespect. "The only solution", he said, "is to ask the lupuna for forgiveness. If you don't your stomach will burst and you will die".
And with these words he went on his way looking for the moody lupuna. The woman waited in agony, hoping that the shaman would succeed in his mission. He found the tree according to her description and spent the night at the lupuna's feet carrying out his rituals, asking the powerful tree for forgiveness. He took a knife and carefully cut the lupuna's "belly" and took some of the juice that trickled from the wound. In the morning he returned with this potion and told the punished woman to drink it. Almost immediately the swelling and agonizing pain subsided. By the evening she was up on her feet again, good as new, and with a very important lesson learned!
Sirens
Many rivers feed the Amazon, serving as water highways to transport people and goods. They are intricate eco-systems and home to many fish species. They are also the natural habitat of the infamous, dreaded anaconda. These rivers have their own myths and legends, including the enigmatic sirens.
Traditionally, men are working in the forest for weeks on end, whether to collect Brazil nuts, taking out rubber or trees, or mining gold. During all this time there is not a single woman in sight. Surrounded by nothing but dense forest and male colleagues for weeks, one can imagine their longing for little female contact. Many have reported that they saw beautiful women singing to them from the opposite shore, trying to lure them to the other side of the river. Some couldn't resist and drowned in the river's swift currents. The one's who withstood the attraction told us this tale.
During the rubber boom at the beginning of the 20th century, legends also tell of lonely and desperate men who trapped pink dolphins living in these rivers and lakes, and made love to them. This would then transform the men into male sirens who went to live with the dolphins in the depths of the river. This is said to be the reason why numerous rubber extractors simply disappeared and their bodies were never found.
El Chullanchaqui
This little creature known as Chullanchaqui is also there to protect the rainforest. He is a farmer, and if you come across a clearing in the forest, you might be standing on one of Chullanchaqui's farms known as "chacras". If you return to the same place months later, you will find that it is still a clear area, as if someone had been weeding it and took care of it. Chullanchaqui is said to have a very unique appearance: a tiny midget-like man that leaves a peculiar trace. Those who have seen his tracks say he has a tiny left foot and his right side leaves a round hole behind, apparently the mark of a wooden leg. When he appears out of nowhere, it is often to confuse you, he could be calling you, you will barely get a glimpse of him every now and then, so you keep following him. And when you realize that you've lost his trail, you are utterly and completely lost in the dense forest.
A farmer told me this story about an encounter he had with Chullanchaqui one night:
"I was on my way back from a hunting trip. It was about 9 o'clock at night, it was dark, and this is a dangerous time to be in the jungle since it also marks the time when animals like snakes and tigers begin their own hunt for prey. I was moving as fast as I could. It was then when I heard someone call my name. It startled me and I held my lantern in the direction from where I had heard the voice. There it was: a small, sturdy little person walking away from me. Because of the darkness and the distance I couldn't see him very well.
At first I thought it was my neighbor playing a joke on me, so I called out his name and started following him. He moved very fast ans brisk for a little fella that he was and I had a hart time keeping up with him. I told him to slow down, still thinking it could be my neighbor, and I kept running after him as fast as I could. This went on for some time when suddenly I stumbled over something and brought me to my knees. I looked down for a moment trying to find out what it was. When I raised my head again, the creature was gone. Not a sound, not a trace, gone. It seems as if he had fallen off the face of the earth. Then it dawned on me: I just had an encounter with Chullanchaqui."
What are these creatures really telling us?
All creatures in these myths have one thing in common: They are there to protect flora and fauna of the rainforest from mankind's harm and exploitation. Whether you believe in these myths or not, they teach us to respect and care for the mighty jungle, and if we do so, it will continue sharing its benevolent powers with us. Don't forget that the rainforest filters the world's polluted air, and it is one of the most important parts of the world's ecosystem. Thus it is our responsibility to listen to the message of these creatures and protect the "lungs of the planet".
Source: Journal Peru
http://journalperu.com/?p=536
---
- EXPANDING THE HORIZONS OF OUR MINDS DEPARTMENT -
Psychic Researchers Say our Consciousness has Unexplained Powers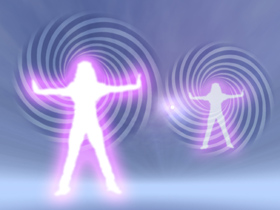 As we travel through life we are all seekers after something larger than ourselves, a truth known to seers, healers and book publishers through the ages. For Elizabeth Lloyd Mayer, a prominent clinical psychologist at Berkeley, her quest began in 1991 with the theft of a rare and valuable harp belonging to her daughter. On the advice of a friend, she sought help from a professional psychic named Harold McCoy, who, with only a street map and a photograph of the harp—he never left his home in Arkansas—told her exactly the address in Oakland where it could be found. For the rest of her life Mayer was obsessed with this feat, as who wouldn't be? So last month, 15 years after the harp was returned, I sent McCoy a picture of a lock—a cast-iron padlock my grandfather had used to lock up his pushcart at night—and a set of New York City street maps. Find the lock, I told him.

Mayer's quest took her into a world where the ordinary rules of time and space don't apply—of dowsers like McCoy, who ordinarily searches for water underground but asserts he can find almost anything by tuning in to the "vibrations" that pervade the universe; of clairvoyants who claim to read minds over the telephone or to be able to see what someone else is looking at, hundreds of miles away; of laboratories where people stare at a pendulum, trying to slow it down with their minds. She compiled her research into a just-published book, "Extraordinary Knowing: Science, Skepticism and the Inexplicable Powers of the Human Mind," that she finished just before her death in 2005, at the age of 57.

Her work took her to Princeton, where for more than 25 years engineering professor Robert G. Jahn has been testing the ability of people to influence physical objects by their thoughts. (His lab closed last month.) In thousands of experiments, he has found that they can, but only by tiny amounts—a few hundredths of a percent, a level that achieves statistical significance only because of the very large number of trials involved. Mostly he used electronic devices, such as random-number generators, but he also used a machine of the sort you see in science museums, in which balls tumble down an array of pegs and pile up in slots at the bottom, illustrating how random processes create a bell-shaped distribution.

Volunteers, staring at the display, would try to nudge the falling balls to favor the left or the right side—and it worked! In fact, it worked if the volunteer was in another room, or even in Australia. Another machine, a small robot programmed to travel in a random zigzag pattern, appeared to move in response to the mental activity of a flock of chickens. These facts will either strike you as even more amazing, or else prompt you to call the whole business into question. Even assuming there is a force, unknown to science, that emanates from the brain and can affect a falling Ping-Pong ball, what directs it to a precise location on the other side of the globe? How does the volunteer avoid screwing up a science fair down the street instead?

Mayer consulted with psychics, one of whom, a woman named Ellen Tadd, gave her some startling psychological insights about her own daughter, and later about five strangers she was interviewing for a job. I called Tadd myself, and in the course of a 20-minute phone call she gave me a quick psychic reading of my personality. The crux of it was this:

I see you being very sensitive and in some ways getting overwhelmed by the harshness and negativity and insensitivity in the world. When that reaction happened, there became this decision deep inside your soul to be strong and not be overwhelmed by this sensitivity.

I leave it to those who know me better to judge the accuracy of that assessment, but it struck me as a fairly generic description of a journalist, or a human being.

It seemed to me, reading Mayer's obviously sincere and earnest account of her investigations, that the distinguished physicist Freeman Dyson, who has long harbored an interest in the paranormal, had it exactly right in his foreword to her book: "As a scientist, I don't believe the story," he wrote about McCoy's dowsing for the harp, "but as a human being I want to believe it." It is part of the human condition to seek wonder in the world, to seek communion with a higher power that links us all together with our machines and our chickens. If there is anything stronger than belief itself, it is the desire to believe.

As for McCoy, after several hours of poring over the street maps I gave him, he called to say that the lock was in the Bronx.

It was in Queens.

Source: MSNBC
http://www.msnbc.msn.com/id/17551805/site/newsweek/?from=rss
---