---
- BUTTON UP YOUR OVERCOAT DEPARTMENT -
Russian Scientists Forecast "Little Ice Age"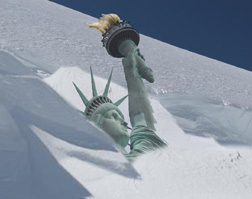 Global cooling could develop on Earth in 50 years and have serious consequences before it is replaced by a period of warming in the early 22nd century, a Russian Academy of Sciences' astronomical observatory's report says, the RIA Novosti news agency reported Friday.

Environmentalists and scientists warn not about the dangers of global warming provoked by man's detrimental effect on the planet's climate, but global cooling. Though never widely supported, it is a theory postulating an overwhelming cooling of the Earth which could involve glaciation.

"On the basis of our [solar emission] research, we developed a scenario of a global cooling of the Earth's climate by the middle of this century and the beginning of a regular 200-year-long cycle of the climate's global warming at the start of the 22nd century," said the head of the space research sector.

Khabibullo Abdusamatov said he and his colleagues had concluded that a period of global cooling similar to one seen in the late 17th century — when canals froze in the Netherlands and people had to leave their dwellings in Greenland — could start as soon as 2015 and reach its peak in 2055-2060.

He said he believed the future climate change would have very serious consequences and that authorities should start preparing for them today because "climate cooling is connected with changing temperatures, especially for northern countries."

"The Kyoto initiatives to save the planet from the greenhouse effect should be put off until better times," he said, referring to an international treaty on climate change targeting greenhouse gas emissions.

"The global temperature maximum has been reached on Earth, and Earth's global temperature will decline to a climatic minimum even without the Kyoto protocol," Abdusamatov said.

Source: Mosnews
http://www.mosnews.com/news/2006/08/25/globalcooling.shtml
---
- UNNATURAL LOVE FROM BEYOND DEPARTMENT -
Belief in Sex-Mad Demon Test Nerves in Zanzibar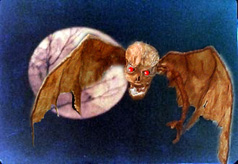 CHAKE CHAKE, Tanzania - Mohammed Juma starts to sweat and fidget as he recalls his rape by Popo Bawa, the most feared spirit-monster of the Zanzibar spice islands.

"We believe reading the Koran is our only defence, nothing else," says the 41-year-old driver and father of four. "But Popo Bawa is real, and well prepared."

Holidaymakers on the Indian Ocean islands tend to smile dismissively at accounts in guidebooks of the bat-like ogre said to prey on men, women and children. But for superstitious Zanzibaris a visit from the sodomising gremlin is no joke.

Although no one ever has seen it, belief in the monster and his unnatural lust is so strong that entire villages will sleep out of doors for protection: Popo Bawa (Swahili for Bat's Wing) prefers to attack behind closed doors at night.

In huts set amid rustling groves of jackfruit and mangoes on Zanzibar's Pemba island, victims said in interviews that they detected a bad smell, became cold and went into a trance in the moments before they felt the creature's inhuman strength.

Some attacks were heralded by the sound of giant wings and claws rattling and scraping on huts' tin roofs. Others cringed in terror at what sounded like a car engine ticking over.

"We heard a rustling on the roof," recalls Asha Saleh, in her late 50s, in Machomanne village near Pemba's main town of Chake Chake. "I felt someone fondling me. I felt very cold. I felt weak," she said, recalling the attack some 35 years ago.

"I couldn't call out for help to my husband who was lying asleep beside me. Popo Bawa is strong: He really presses down on you. And it took such a long time: One hour! Eventually I lost consciousness. And I was one of many who were attacked."

Successive waves of colonisers and traders -- Arabs, Portuguese, Hindus, Chinese, Britons, Persians and Africans -- left behind a multinational array of legends on Zanzibar.

Accordingly, many dismiss Popo Bawa as another of the satanic stories swapped over the centuries by migratory Indian Ocean peoples as they moved back and forth on the tides from Indonesia to the Comoros, from Madagascar to the Maldives.

Zanzibar's distinctive past as an Arab-run slave market prompted some academics to speculate that the story of Popo Bawa emerged from a collective race memory of the horrors of slavery.

But Popo Bawa is unlike the many goblins believed by the islanders to populate the tall grasses that ring their huts.

Many on the islands are adept at exorcisms, placing charms at the base of fig trees or sacrificing goats to avert evil or draw favour from the spirit world.

So experienced are the isles' traditional healers that they draw visitors from the Gulf and east Africa, with the successful amassing riches and prestige.

But no placatory offering or witch doctor can deflect Popo Bawa when he has made his mind up to strike, islanders say.

The monster favours Pemba, the poorer and more backward of the archipelago's twin islands despite being home to the clove plantations that provide the mainstay of Zanzibar's economy.

He also becomes active at election time: a habit that is testing nerves ahead of polls due in October.

His last major visitation was during elections in 1995, when Juma says he endured his terrifying ordeal, although some reported his presence again in 2000 and in 2001.

Pemba's population are staunch opposition supporters. Many accuse the ruling party of Tanzanian President Benjamin Mkapa of neglecting the island since 1964, when Zanzibar merged with mainland Tanganyika to form the United Republic of Tanzania.

But Juma says Popo Bawa is apolitical even though electoral emotions seem to summon him from the beyond. "He can strike even if the opposition wins the elections," he said.

The driver vows to do his utmost to avoid what happened to him back in 1995 as he sat alone late one evening.

"Many were afraid and were sleeping outside. But I was confident and was alone in my room. I was reading the Koran for protection. After about 20 minutes I started feeling sleepy. I heard something falling on the roof. I continued reciting. I started feeling something in the room.

"I felt my mouth becoming bigger and bigger. I started losing my ability to form words. My feeling was that my lower lip had stretched to my lap. I felt weak in my body. I became very sweaty. My experience was like that of a neighbour of mine who said his head seemed to grow to an enormous size."

Popo Bawa gets annoyed if villagers deny his existence -- a fact to which Khamis Juma Hamad says he can testify.

Hamad, a retired village chief now aged 75, said that in 1971 Popo Bawa spoke to terrified villagers on Pemba through a girl possessed by the monster.

"I am Popo Bawa," said the girl, called Fatuma, speaking in the unnaturally deep voice of a man. "You have challenged my existence so I have come to prove I am here."

Seconds later, he says, the villagers heard the sound of a car revving and a rustle on a nearby roof -- signs of Popo Bawa. "The people felt cold, almost paralysed. They were terrified."

Source: Reuters
http://today.reuters.co.uk/news/newsArticle.aspx?type=oddly
EnoughNews&storyID=2005-05-16T011620Z_01_DIT604532_RTRIDST_0_
OUKOE-TANZANIA-MONSTER.XML
---
- THE DEVIL'S DOLL DEPARTMENT -

"Possessed" Doll Terrifying Singapore

If ever you come across this doll, do not remove its blindfold... or else you could find it following you home.

This creepy figurine is apparently keeping Singaporean children (and adults) awake at night after it was found resting against a tree by the side of a busy street.

Wearing a stained silk and lace dress, the doll looks as if it has been accidentally left outside for the night.

But it has caused something of a stir online after pictures of it were posted to Reddit, along with a bizarre story about how it is supposedly 'possessed'.

According to the post, the doll was found blindfolded with a cloth with the word 'bismillah', an Arabic phrase meaning 'in the name of God', written on it.

The post includes claims that the doll has the ability to move on its own accord and can even be heard talking in a woman's voice.

The post reads: 'Original owner found that the only way to get rid of it and make sure it won't come back is to cover its eyesight.

'The curse is rumoured to have passed on to someone else who found it and untied the cloth unknowingly'.

Reaction to the story on Reddit has ranged from the understandably cynical to those offering tips on how to destroy the doll.

Getting rid of the doll might be a little trickier than it would first seem though, as according to the original poster, it has now gone missing.

The poster did however go on to edit his message with the disclaimer: 'Nothing here should be taken seriously as I don't have any valid or scientific proof of it. It was all rumours by words of mouth and on the internet. I'm just sharing it.'

Source: The Daily Mail
http://www.dailymail.co.uk/news/article-2657271/Possessed-childs-doll-terrifying-Singapore-blindfolded-road.html
---

- EXTRAORDINARY EXPERIENCES DEPARTMENT -

Why Not an Animal Afterlife?
By Christopher Laursen

Like people, animals seem to be able to come through in many ways after they have died. A good friend of mine from Ottawa had a feline apparition that regularly bounded across her apartment's hallway. She had lived in the century-old apartment building for many years, and saw the shadowy cat a few times a year.


"Out of the corner of my eye, I'd see this black shadow zip across the width of the hallway. I used to write it off as shadows from the sun, but every time it happened, it was in the same spot, but at different times of the day."

Her immediate thought, whenever it happened, was that it was a black cat.

"My first roommate said, 'Oh yeah, I see it too. It's our black cat.' And we'd joke about it."

My friend received further verification from subsequent roommates who also saw the ghost cat. The greatest substantiation of what she saw came when a maintenance man was replacing the fire doors in her apartment. When he was done, he came to speak with her. He turned around, and then looked back at my friend.

"Oh, do you have a cat?" he asked, describing a black cat darting across the hall.

Having a visitor witness the phenomenon excited my friend, and she called her roommate over and had the mystified repairman repeat what he saw. Interestingly, he saw the cat from a different position than people would usually see it in the hallway.

"It would never occur to you in the depths of your mind that it was anything other than a cat," she told me.

Animal apparitions and afterlife contact is not all that uncommon. Famed medium Allison Dubois (who inspired the popular TV series Medium) wrote in her book Don't Kiss Them Goodbye that passed on pets figure significantly in the readings she does.

In one memorable reading, Allison saw a bird perched on the finger of her client's recently departed mother-in-law, and the client confirmed that her mother-in- law's bird died around the same time she did.

"Although I knew dogs and cats crossed over," Allison wrote, "I wasn't aware that birds could come through from the other side."

Maybe everyone will be reunited with the pets they loved once they die. My Mom certainly believes so. She recently recounted to me a variety of experiences that she agreed to share here.

Her beloved collie, Katie, died in April 2006 from lymphoma. This was quite hard on my Mom who lives on her own. In the years leading up to Katie's death, two of her cats had died: Kitty and my own cat, Mookie, adopted by my Mom when I moved to Ontario.

After Katie's death, it was very sad for me to think of my Mom returning to an empty house every night after work and going for walks alone. But she wasn't completely alone, I later found out. A week after Katie died, my Mom heard two distinct barks in her house.

"I know her barks like you would know your kid's voice," my Mom told me. "It was like her saying, 'I'm still here, I'm okay.'"

The signs continued on in the ensuing weeks after Katie's death. Early one morning, my Mom awoke to hear Katie lie down in her crate in a room down the hall; the crate creaked as she did so. In August 2006, my Mom heard the sound of Katie shaking out her coat in the sitting room.

The audible evidence that Katie was still around the house was further verified for my Mom in several dreams she had, where she would be visited by Katie and find that she no longer had the lumps from lymphoma.

When I was younger, after my childhood cat Sylvester died, I remember lying on my parents' bed on a warm afternoon. I felt what seemed to be Sylvester jumping on the bed, doing circles and resting on the bed near me. I just left my eyes closed. It made me smile. Of course, there was no cat on the bed when I opened my eyes, but I felt that Sylvester had curled up next to me one last time.

My Mom has had such experiences as well. Maybe the most interesting experience occurred after Katie's death in the wee hours of morning. She heard Katie come into her room, turn around to lie down on the floor beside her and smack her lips as if she were going to go to sleep. Then she felt her old cat Kitty come under the blanket (something her cat was prone to doing when she was alive). She reached her hand under the blanket and could feel Kitty's tail and her rump. She felt Kitty sniff her hand.

"It was like I was having a dream, but it was more than a dream," she said.

Whether this was a dream or something experienced while she was awake, the animals' presence comforted my Mom.

"But what really blows me away are the actual things that have shown up in my house after Katie died," my Mom said, recollecting how she had found individual pieces of Katie's fur. "They seemed to come when I was most upset and needed to know that she was okay. The hairs would always stick straight out so I could see them."

One long collie hair appeared on her sweater, and another time, she found one on the upper part of her dining room curtain. Perhaps the strangest finding during this time was when she opened her clothes closet a few weeks after Katie died and found one of Kitty's claws sitting on the carpet just inside the closet. This was especially unusual since Kitty had been dead for two years. I should mention that my Mom keeps her home meticulously clean.

In November 2006, my Mom adopted a new bounding spirit into her home – an energetic collie puppy by the name of Holly. My Mom maintains a very detailed journal of these experiences, and in the year following her adoption of Holly, she regularly found pieces of cat litter around the house - very strange since she hadn't had a cat in about three years at that point.

One January morning in 2010, my Mom awoke to a 5 a.m. alarm and as she stood up from her bed, she heard the sound of a dog's feet approaching her bedroom in the hallway. She thought it was Holly and saw the outline of a dog in the dark.

"I bent down to pet her as she walked by me," my Mom recorded in her journal, but my Mom "didn't feel her," and thought the dog went into a large carrier that she keeps in her bedroom, but she didn't hear the dog enter it. She went to the bathroom and put the light on, and her dog Holly was lying in the sitting room on the other side of the house from her bedroom, looking at her.

Was it an apparition of Katie that my Mom experienced?

These are extraordinary experiences. Numerous people have reported having such experiences after their pets have died. For example, cat enthusiast and writer Dusty Rainbolt encountered so many stories of people encountering apparitions and signs of their cats' presence after they had died, that she wrote a book, Ghost Cats, based on these accounts in 2007.

Another animal lover and naturopath, Kim Sheridan, has written two volumes on animals and the afterlife, the most recent due for an upcoming release. And the parapsychologist and painter Raymond Bayless collected many accounts in his 1970 book Animal Ghosts.

In a review of Sheridan's first book in about.com, the reviewer concluded that "This book should offer much-needed comfort to those who have either recently lost a pet or face the imminent loss of one. It offers compelling anecdotal evidence that life after death indeed exists for the animals we love."

My Mom expressed how grateful she is for these types of books in finding that others have also had such experiences. The meanings of these experiences are extraordinarily powerful and personal to those who encounter deceased animals. The ghostly black cat that darts across the hall. A bird perched on the finger of a deceased relative in a medium's reading. Apparitions and physical evidence that deceased pets remain present.

These are but three types of experiences people have had involving animals in ways that do not work within conventional explanation. Such uncanny encounters with animals is no doubt an area worthy of further study.

Source: Extra-Ordinarium
http://journal.extra-ordinarium.com/2013-01-07-animal-afterlife.htm
---
Sign up today for Bizarre Bazaar and
Conspiracy Journal
Magazines