---
- NOT YETI JUST YET DEPARTMENT -

Hair Samples Find Prehistoric Bear in Himalayas
By Adam Withnall
An international search for Bigfoot and Yeti hair samples and the subsequent genetic analysis been completed and, depending on your perspective, they either found no Bigfoot DNA or they found no Bigfoot DNA … yet.
In 2012, the Oxford-Lausanne Collateral Hominid Project was formed, headed by Bryan Sykes, a professor of human genetics at the University of Oxford and Michel Sartori, Director of the Lausanne Museum of Zoology. They received 57 responses to their call for hair samples. After eliminating obvious false candidates like plant material and glass fibers, they picked 36 to study based on where they came from or their history. Their findings are now published in the journal Proceedings of The Royal Society B.
However, there was an interesting discovery made that shows unknown animals do still exist in this world. Sykes has discovered the world's first verified DNA evidence that something unknown is roaming the Himalayas.
Two hair samples taken from remote regions of the Himalayas have been found to show a 100 per cent genetic match to a prehistoric polar-bear-like creature that existed more than 40,000 years ago.
The extraordinary find suggests there are bears roaming the mountain range that have not been seen since the Pleistocene period, which experts say may well be "the biological foundation of the yeti legend".
Sykes said that his research was proof enough to start planning an expedition to the Himalayas to capture a "yeti" bear specimen alive.
He told NBC News that his team's study, published in this week's issue of the journal Proceedings Of The Royal Society B, should encourage "Bigfoot enthusiasts to go back out into the forest and get the real thing."
People from around the world answered Prof Sykes' call to send in hair samples that may or may not be from what he describes as "anomalous primates".
In the first study of its kind, his team then analysed 36 specimens reported to be yeti, Bigfoot from the US, Almasty from Russia or orang pendek of Sumatra.
The vast majority of the samples turned out to be from easily-explained, modern species, including horses, cows, bears, canines and even one unidentified human.
But a golden-brown sample from an animal shot by a hunter in the northern region of Ladakh, India, 40 years ago and a reddish-brown hair from a high-altitude bamboo forest in Bhutan both matched the presumed long-lost bear.
Prof Sykes admitted that the study has not yet come across a hidden human-like creature – the Holy Grail of cryptozoologists – but that the anomalous bear was the next best thing.
In the study, he and his team wrote: "It seems more likely that the two hairs reported here are from either a previously unrecognised bear species, colour variants of Ursus maritimus (polar bear), or U. arctos/U. maritimus hybrids."
If hybrids, the specimens were likely to have been descended from ancient cross-breeding soon after brown and polar bears separated on the path of evolution.
Prof Sykes is writing a book about the link between the samples and the 40,000-year-old bear fossil remains entitled The Yeti Enigma, and said a Himalayan expedition was "the next logical step".
"We need a live bear," he said.
Despite what media outlets are touting, this DNA result does not completely discredit the reports of an unknown "man-like" creature in the Himalayas. Just because these hair samples turned out to be from an unknown bear-like animal, doesn't mean that every "Yeti" sighting reported over the years can be attributed to a bear. Further research and DNA evidence needs to be conducted all over the world to continue the investigations.
Source: The Independent
http://www.independent.co.uk/news/science/dna-study-shows-yeti-is-real-sort-of--and-oxford-scientist-prepares-expedition-to-find-it-9577991.htm
l
---
- WAITING TO HEAR FROM YOU DEPARTMENT -
Telepathy May Be Connected to Phone Calls, SMS, Emails
By Tara MacIsaac
A study by Dr. Rupert Sheldrake shows that modern forms of communication may be connected with a more primeval form of communication—telepathy.
He tested a group of people by asking them to guess who was calling when their phones rang. Each was given four potential callers to chose from. "The average scores were very significantly above the 25 percent hit rate expected by chance," wrote Sheldrake in an article published by the Institute of Noetic Science earlier this year. Sheldrake has a Ph.D. in biochemistry from Cambridge University and he studied philosophy and history of science at Harvard University.
Similar results have been replicated independently at the University of Amsterdam in Holland and the University of Freiburg in Germany. Statistically significant results have also shown a positive connection between telepathy and text messaging or various forms of Internet communication, according to Dr. Sheldrake.
The telepathic ability seems to come through especially clear in relation to people with whom the subjects have strong emotional bonds.
Dr. Sheldrake anticipates the criticism that a close friend or family member is highly likely to both be in a person's thoughts and to call that person, and thus the chances of both events occurring at the same time are high.
"The only way to resolve these questions is by means of experimental tests that can be evaluated statistically," he said. Referring to the experiments he has done along this line, he said, "These tests gave positive, statistically significant results."
In an initial series of trials, 63 people got an average hit rate of 40 percent, well above the 25 percent rate dictated by chance. Throughout hundreds of tests, Sheldrake has heard from some subjects that they were more often right when they felt confident in their guesses, like their intuition had kicked in.
Sheldrake began also asking subjects how confident they felt about each guess. He gave the example of a female subject who had a hit rate of 85 percent when she felt confident and a hit rate of only 34 percent when she was not very confident. She had a hit rate of only 28 percent when she was just guessing without any feeling of intuition whatsoever.
Pam Smart, Sheldrake's colleague, conducted experiments to compare the telepathic connection between loved ones versus the connection between strangers. She found the hit rate of 50 percent with familiar callers compared to a hit rate near the chance level of 25 percent with strangers.
Experiments to test for precognition and other potential extra-sensory perceptions came back with negative results, suggesting a connection specifically to the ability of telepathy.
So, do we form telepathic bonds with loved ones?
Dr. Bernard Beitman of the University of Virginia has found in his study of coincidences that people with close bonds can sometimes experience the same things at the same time, particularly distress, even when they are great distances apart. He calls the phenomenon simulpathity. Beitman had a personal experience of simulpathity that spurred him to study it. When his father was on his deathbed thousands of miles away, Beitman started choking, apparently without cause. He later found out that his father was choking at approximately the same time.
This phenomenon has been known to occur between twins and others with close bonds.
Source: The Epoch Times
http://www.theepochtimes.com/n3/771606-study-shows-telepathy-may-be-connected-to-phone-calls-sms-emails/
---
- THE OFFICIAL AIRLINE OF THE PARANORMAL DEPARTMENT -
The UFOs and Ghosts of Eastern Airlines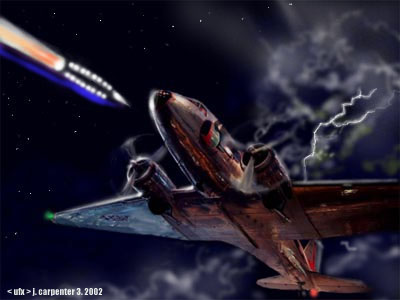 Although Eastern Airlines dissolved in 1991, the association that this commercial passenger airline had with the paranormal for the majority of it's life will live on. Eastern Airlines, at least for some of us, will always be associated with ghosts, UFOs and other unexplained phenomena.

The airline had a long (and documented) history of credible officials and employees who claimed to have had encounters with the paranormal.

Even though the airline officially denied the famous ghostly encounters associated with Eastern Airlines Flight 401, many former employees of the airline do still stand by their belief in the hauntings associated with that ill-fated flight.

Although the events reported are incredible in nature, the persons involved with the airlines and the events were considered to be credible.

Eastern Airlines was born normally enough. Established in 1926 as Pitcairn Aviation, the company won a government contract to fly U.S. mail between New York and Atlanta. By 1930, the name would change to Eastern Air Transport, then eventually would be called Eastern Airlines. In 1938, the airline was purchased by World War I flying ace Eddie Rickenbacker. The airline would become one of the "Big Four" airlines, along with United, American and TWA.

The purchase of the airline by Rickenbacker was made possible with the substantial financial backing of Laurance Rockefeller, a man who would fight later in his life for UFO disclosure by the U.S. government.

All persons and paranormal events presented in this article are associated with Eastern Airlines, but is by no means all-inclusive.

This third generation Rockefeller had an interest in aviation. After World War II, Laurance Rockefeller became friendly with Captain Eddie Rickenbacker, who had famously triumphed in many dogfights over Europe. Rockefeller had learned to fly by this time and was fascinated by Rickenbacker's prediction of an approaching boom in commercial air travel.

The financial investment paid off for Rockefeller. Within a decade after Rockefeller's considerable investment, Eastern Airlines had become the most profitable airline to emerge after World War II. Rockefeller was Eastern's largest shareholder. Rockefeller also funded the McDonnell Aircraft Corporation.

Rockefeller's interests eventually evolved to include other flying objects, specifically UFOs. In 1993, Rockefeller and his niece Anne Bartley established the UFO Disclosure Initiative to the Clinton White House. They asked for all UFO information held by the government (including information held by the CIA and US Air Force) to be declassified and released to the public. The following year, in 1994, Rockefeller called for the declassification of the Roswell UFO Incident files, but the Air Force denied that the 1948 incident was UFO related. That same year, Clinton produced an Executive Order to declassify numerous documents in the National Archives, though the declassification was not specifically related to UFO information.

Rockefeller's investment in Eastern Airlines in the late 1930?s set the stage for many paranormal events related to the airline, which may have spurred this interest in UFOs later in life.

Rockefeller's friend, Eastern Airlines President Eddie Rickenbacker, once said about UFOs:

"Flying saucers are real. Too many good men have seen them, that don't have hallucinations."

Rickenbacker spoke from experiences involving his own airline.

One of the very first reports of a UFO encounter by a commercial airline was reported by Eastern Airlines pilots in 1948.

The Chiles-Whitted Encounter

On July 24, 1948, two Eastern Airlines pilots reported that their Douglas DC-3 had nearly collided with a strange torpedo shaped object flying nearby. The object was seen within a few hundred feet by two very experienced pilots, Clarence Chiles and John Whitted. Both men were considered credible witnesses. They had both been decorated for their service as airmen during World War II.

The encounter occurred at about 2:45 a.m. Chiles spotted what was described as a hazy red cloud, said to be somewhat similar to aircraft exhaust. It was slightly above them, and to the front-right of the DC-3 by about half a mile. Chiles saw an aircraft and pointed it out to Whitted. Both men quickly realized that the object was unlike a jet plane, and was moving towards them at a very high rate speed. Within seconds, the craft was almost on top of them.

When recounting the event to Air Force intelligence, the men's stories remained consistent. They said they had seen the object for about 10 to 15 seconds. Both men described the object they encountered as "cigar- or torpedo-shaped", about 100 feet in length, and about three times the diameter of a B-29 bomber but had no wings, projections or fins. They heard no sound from the craft.

Chiles wrote a few weeks later: "there were two rows of windows, which indicated an upper and lower deck, from inside these windows a very bright light was glowing. Underneath the ship there was a blue glow of light."

"It [The Chiles-Witted Encounter] was a pivotal case for the personnel of the U.S. Air Force's Project Sign, and was a main reason they championed the extraterrestrial hypothesis as the best explanation for UFOs." – Wikipedia

Although most passengers were asleep, the passengers who witnessed the craft also gave consistent testimony to Project Sign.

During a two-week period in July, the United States Air Force responded to reports of unknown objects flying in the sky at a high rate of speed. One of those incidents involved an Eastern Airlines flight.

In the early hours of July 27, 1952, at 3:00 a.m, an Eastern Airlines flight over Washington was informed that an unknown object was in its vicinity, yet the crew saw nothing unusual. Personnel on the ground tracked the object on radar. When the flight crew was told that the object had moved directly behind their plane, the crew began a sharp turn to see for themselves. When the plane began to turn, the object disappeared from both the sky and the radar.

This incident was one of many that took place over a two-week period.

Almost eleven years later, in March of 1963, Eastern Airlines Flight 539 experienced unexplained phenomena that has not been solved to this day. The plane was on its way from New York to Washington when a fireball entered the plane at one end, traveled through to the other end and vanished near the toilet. No one was harmed by it, but passengers said that it smelled slightly like sulphur or nitrogen oxide.

"I was seated near the front of the passenger cabin of an all-metal airliner (Eastern Airlines Flight EA 539) on a late night flight from New York to Washington. The aircraft encountered an electrical storm during which it was enveloped in a sudden bright and loud electrical discharge (0005 h EST). Some seconds after this, a glowing sphere a little more than 20 centimeters in diameter emerged from the pilot's cabin and passed down the aisle of the aircraft approximately 50 centimeters from me, maintaining the same height and course for the whole distance over which it could be observed." – Physicist Richard Jennison, published in Nature, 1971

Jennison also stated in the article that the object was blue-white in color and did not radiate any heat. He said that it moved at a "walking pace" about 2.5 feet above the floor.

Although experts have mulled this one over and suggested possibilities like ball lightning, it remains unsolved 47 years later.

On September 14, 1972, Major Gerald Smith of the US Air Force was of the F-106 pilots scrambled under orders from NORAD (North American Air Defense Command) to investigate a UFO over West Palm Beach, Florida. The UFO was seen by many others, including an FAA supervisor, an Eastern Airlines captain, police and several civilians. It was also tracked on radar by Miami International Airport and Homestead AFB.

Frank Borman was an astronaut who flew two flights while with NASA. In 1970, he retired from the Air Force and NASA to become a special advisor to Eastern Airlines. By December of 1975, Borman rose to the rank of CEO and spent 11 years in the position.

Borman was no stranger to UFOs.

In December 1965, while in space on board the Gemini, Borman reportedly saw a UFO during the second orbit of the record-breaking 14-day flight. Borman reported that he spotted an unidentified craft some distance from their capsule. When reported to Gemini Control at Cape Kennedy, Borman was told that he was seeing the final stage of their own Titan booster rocket. Borman confirmed that he could see the booster rocket, but he could also see something else. What that something else was has long been speculated by UFO enthusiasts.

On Christmas Day 1968, while on board the Apollo 8, Borman was again associated with a UFO. Borman's fellow astronaut James Lovell contacted Mission Control with an exchange that had UFO enthusiasts buzzing ever since.

Apollo 8: Houston, Apollo 8. Over.
Mission Control: Hello, Apollo 8. Loud and clear.
Apollo 8: Please be informed there is a Santa Claus.
Mission Control: That's affirmative. You're the best ones to know.

Despite the fact that it was Christmas day, many believe that "Santa Claus" was the code word for "UFO" on this particular mission.

However, during Borman's tenure as CEO, he was more concerned with ghosts than with UFOs.

In particular, he attempted to quash rumors of a haunting that surrounded a 1972 Eastern Airlines crash that killed 101 crew and passengers.

This haunting became known all over the world as "The Ghost of Flight 401."

Eastern Air Lines Flight 401 left New York's JFK airport, bound for Miami International Airport, on December 29, 1972. The Lockheed L-1011 carried 163 passengers and 13 crew members. The flight was under the command of Captain Robert Loft, 55, a veteran Eastern Airline plot. His flight crew included First Officer Albert Stockstill, 39 and Second Officer (flight engineer) Donald Repo, 51.

The flight departed at 9:20 pm and crew and passengers enjoyed a routine flight until 11:32 pm. At this time, the flight was near its destination in Florida and the crew began to prepare for landing. First Officer Stockstill noticed that the landing gear indicator did not illuminate. The other crew members assisted Stockstill, but became distracted by it. While the crew was focused on the landing gear indicator, the plane crashed.

Stockstill died on impact as the plane crashed into the swampy Florida Everglades. Captain Robert Loft and Second Officer Donald Repo survived the crash, briefly. Captain Loft died before he could be pulled from the wreckage. Officer Repo died the next day.

Of the 176 people on board, 101 died.

Frank Borman, prior to becoming CEO of Eastern Airlines, arrived at the scene after the crash to assist with rescue efforts.

Over the next several months, the employees of Eastern Airlines began to report sightings of the dead crew members Loft and Repo on board another L-1011. Parts from Flight 401 were reportedly salvaged after the Flight 401 crash investigation and refitted into another L-1011 in service. Ghostly sightings began to be reported by those who knew Loft and Repo. Eastern's management threatened dismissal to those caught spreading "ghost stories", it was said.

By this time, the rumors of the haunting had spread far and wide. Television and books told the stories of the ghosts. By this time, Frank Borman was the CEO of Eastern Airlines. Borman called the stories of a haunting "garbage" and considered suing the producers of the 1978 made-for-TV movie The Ghost of Flight 401 for libel.

Despite this, former Eastern Airlines employees still insist to this day that they saw the ghosts of Loft and Repo on board the other L-1011. Parts were said to have been removed from the plane. After the parts removal, there was no further mention of any more appearances by Loft and Repo.

After the 1972 crash, it was discovered that the indicator light that distracted the Flight 401 crew was caused by a burned-out light bulb. The landing gear could have been manually lowered with or without the light. The crash was due to the error of the crew. It is said that this is the reason Loft and Repo haunted Flight 401 – to keep future flights safe from human error.
Don Elkins, Eastern Airlines Pilot, UFO and Paranormal Researcher

Don Elkins held a B.S and M.S in Mechanical Engineering, and a Ph.D in philosophy. He served with distinction in the US Army during the Korean War. He was Professor of Physics and Engineering at the University of Louisville for twelve years. He was the founder and head of the University of Alaska's mechanical engineering department. His main interest during his free time was related to researching UFOs and other areas of the paranormal.

In 1965, he left his position as tenured professor in order to devote more time to UFO and paranormal research. To better fit his research schedule, he became a pilot, then a Captain, for Eastern Airlines.

Elkins' research would take him all over the United States, often flying in his own small plane to his research-related destinations.

Elkins committed suicide on November 7, 1984.

———–

It is unlikely that Eddie Rickenbacker and Laurance Rockefeller purchased Eastern Airlines for paranormal reasons. Both men loved aviation and they shared a vision of being a part of the commercial passenger airline boom. Both men became believers in UFOs.

Some of the most well-known people and events associated with the paranormal will be forever associated with this airline.

Source: Tucson Citizen
http://tucsoncitizen.com/paranormal/tag/ghost-of-flight-401/
---
- FIRST ONE, THEN THE OTHER DEPARTMENT -

26 Japanese Schoolgirls Suffer From Mass Panic Attack

FUKUOKA – Twenty-six students at a girls high school in Fukuoka Prefecture became sick Monday in an apparent panic attack, prompting the school to close for the day.
It was not immediately clear what caused the students to fall ill.
According to Yanagawa High School, a private school in the city of Yanagawa, a first-year student suddenly shrieked in the middle of a class and fell down at about 10 a.m.
Two other students in the class fell into a similar state soon afterward, followed by students from other classes who came to check on the incident. Some of the students turned pale, though the exact cause of their sickness was not known.
The school let the 26 students go home and canceled all classes later in the day. It remained closed on Tuesday as well, an official said.
"We don't know why such an incident happened, but we need to take good care of the students. I'll talk to them more to find out what happened," said Vice Principal Shigemitsu Mori.
Twitter and other social media were abuzz with unfounded rumors of the students "becoming possessed with evil spirits," the Nishinippon Shimbun reported Tuesday. The students got well soon afterward, according to the paper.
Psychiatrist Rika Kayama said students in adolescence can feel excessive tension and anxiety, which are highly contagious, and added that the group panic attack might have been triggered by occultism.
"The only thing you can do (to avoid the recurrence of such incidents) is to distance yourself from people and topics that triggered such incidents. Rumors spread quickly in today's society, through Twitter and other means, raising the possibility of panic attacks," Kayama said.
Source: Japan Times
http://www.japantimes.co.jp/news/2014/07/01/national/26-fukuoka-schoolgirls-fall-ill-panic-attack-suspected/#.U7mTCLFZDEb
---
Sign up today for Bizarre Bazaar and
Conspiracy Journal
Magazines