---
- WE ARE HERE FOR YOU DEPARTMENT -

Women in Black: Lock the Doors!
By Nick Redfern

Within the world of UFO research, the Men in Black are just about as legendary as they are feared. These pale-faced, ghoulish entities have for decades terrorized into silence both witnesses to, and researchers of, UFO encounters.

Theories for who, or what, the MIB might be are many. They include: extraterrestrials, government agents, demonic creatures, time-travelers from the future, and inter-dimensional beings from realms that co-exist with ours.

While much has been written on the sinister, and occasionally deadly, actions of the MIB, practically nothing, at all, has been penned on the subject of their equally bone-chilling companions: the Women in Black. Make no mistake: the WIB are all too real. And they are as ominous and dangerous as their male counterparts.

They may not have achieved the iconic status of the MIB, but these fearsome females, and their collective role in silencing those that immerse themselves in the UFO puzzle, is all too terrifyingly real. Not only that: the WIB have a long and disturbing history.

The WIB are not the agents of officialdom – not at all. They are something stranger, something occult and supernatural. The story is not one of "government conspiracy" proportions in the slightest.

Centuries before they plagued and tormented flying saucer seekers, the Women in Black roamed the landscape by night. They silenced those that studied the subject of alchemy, those who claimed encounters with goblins, fairies and pixies, and those who delved into the realm of the occult.

Whereas today's WIB arrive at homes in shiny – but curiously old-looking – Cadillac cars, in centuries past, this terrible breed invariably appeared atop equally black, glowing-eyed stallions and in later years, in black, horse-drawn carriages.

They were also up to their infernal tricks in the 1920s. A definitive WIB turned up in none other than a piece of publicity-based footage for a Charlie Chaplin movie, The Circus, which was made in 1928. The footage, undeniably real and shown not to have been tampered with, reveals what appears to be an old, short lady, wearing a long black coat and black hat pulled low over her face, while walking through Los Angeles in high heat.

If that was not strange enough, she is holding to her ear what some researchers claim appears to be a cell-phone, and which she talks into as she walks. Weirder still, the Woman in Black sports an enormous pair of black shoes, which look most out of place given her short stature. She also seems to be taking careful steps to avoid her face being seen clearly.

Fifteen years later, a terrifying WIB haunted the Bender family of Connecticut. It so happens that a certain Albert Bender, of that very clan, began the Men in Black mystery. In the early 1950s, Bender was visited and threatened by a trio of fedora-wearing MIB, something which set the scene for the decades of MIB-themed mayhem that followed.

Back in the 1940s, however, the Bender family had a black-garbed woman in its midst that tormented both young and old in the dead of night. Predating Albert Bender's own experience with the MIB by years, the hideous silencer in black haunted the Benders near-endlessly. For the Bender family, long before the MIB there was a Woman in Black.

In the 1960s, the emotionless, evil-eyed WIB turned up in the small town of Point Pleasant, West Virginia, when sightings of the legendary flying monster known as Mothman were at their height. Claiming to be "census-takers," the WIB practically forced their way into the homes of frightened witnesses to Mothman.

What began as seemingly normal questions about the number of people in the house, average income, and the number of rooms in the relevant property, soon mutated into something very different: Persistent and intrusive questions about strange dreams, unusual telephone interference, and beliefs regarding the world of all-things of a paranormal nature abounded.

One of the WIB that put in an appearance at Point Pleasant claimed to have been the secretary of acclaimed author on all-things paranormal, John Keel, author of The Mothman Prophecies. Just like her male counterparts, she turned up on doorsteps late at night, waiting to be let in, before grilling mystified and scared souls about their UFO and Mothman encounters, and then vanishing into the night after carefully instilling feelings of distinct fear in the interviewees.

Only when dozens of such stories got back to Keel did he realize the sheer, incredible scale of the ruse. Keel summed up the reality of the situation in four, concise words: "I have no secretary."

Something similar occurred in Britain during the 1980s. A weird wave of encounters with "phantom social-workers" hit the U.K. They were out of the blue events that eerily paralleled the incidents involving WIB-based "census-takers" that manifested in West Virginia in the 1960s.

Just as menacing, sinister and unsettling as their American cousins, these particular WIB began by claiming that reports had reached them of abuse to children in the family home which had to be investigated. Worried parents, several of who had traumatic UFO encounters, and clearly realizing that these creepy characters were anything but social-workers, invariably phoned the police.

The WIB, realizing when they had been rumbled, made hasty exits. Most disturbing of all, there was a near-unanimous belief on the part of the parents that the Women in Black were intent on kidnapping the children for purposes unknown, but surely no good.

In 2005, while roaming around Puerto Rico in 2005 with Canadian film-maker Paul Kimbal to try and seek out the vampire-like Chupacabras, we had the very good fortune to meet and interview a man named Antonio, a pig-farmer who had an unusual experience in 2000 that led to a decidedly strange visit from a Woman in Black/Man in Black duo.

As Antonio told us, one of his animals had been killed, after darkness had fallen, by the now familiar puncture marks to the neck. In this case, however, the animal exhibited three such marks, rather than the usual two. In addition, a number of rabbits kept on the property had been slaughtered in identical fashion.

At the time that all of the carnage was taking place, a considerable commotion was, quite naturally, being made by the rest of Antonio's animals. As a result, upon hearing this, he rushed wildly out of his house with a machete in his hand, and flung it hard in the direction of the marauding predator. Very strangely, he told us, the makeshift weapon seemed to bounce off something that seemed distinctly metallic in nature.

In fact, Antonio suggested that what the machete had made contact with seemed armor-plated in nature. Due to the overwhelming darkness, however, he had no idea what the creature may have been. But something deadly was most certainly prowling around the property. The machete was later given to Antonio's cousin for safekeeping. The most confounding aspect of the affair was still to come, however. That's right: Antonio was about to get a visit of the dark and disturbing kind.

Shortly after the killing of the pig and the rabbits, a man and woman – dressed in typical, official-looking black regalia, on a stifling hot day, no less, and who announced they worked for NASA – arrived at the farm and quickly proceeded to ask Antonio a wealth of questions about what had occurred, what he had seen, and the way in which his animals had met their grisly fates.

When the conversation was over, the pair thanked the bemused farmer, in a fashion utterly befitting them – wholly unemotionally, in other words – and left without uttering another, single word. How the dark duo even knew that the attacks had taken place, and why on earth NASA would be dispatching personnel to his farm to investigate them, Antonio had no idea at all.

One thing that Antonio told us had held back from informing his two mysterious visitors was that on the morning after the attack he had found strange footprints on his property that were spread quite a distance from each other; and he formed the opinion that whatever had made them, had the ability to leap considerable distances, in a fashion similar to that of a Kangaroo – or, perhaps even, he mused, it had the ability to fly.

The above-accounts amount to the mere tip of what is a gigantic, largely overlooked and under-appreciated, iceberg – I know, because I am close to completing a lengthy book on the subject of the WIB.

When paranormal activity occurs, and when UFOs intrude upon the lives of petrified people, the WIB are ready to strike. They dwell within darkness, surface when the landscape is black and shadowy, and spread terror, malignancy and negativity wherever they walk.

They are the Women in Black. Keep away from them. And keep the doors and windows locked.

Unless it's Abby from NCIS, then it's all good…

Source: Mysterious Universe
http://mysteriousuniverse.org/2014/07/women-in-black-lock-the-doors/
---
- REACH OUT AND HAUNT SOMEONE DEPARTMENT -
Research Into Electronic Voice Phenomena
By Tara MacIsaac
Pretty much since the dawn of electronic communication devices, people have reported hearing the voices of spirits through these devices. Since the early 20th century, many have set up recorders in quiet rooms and played back the recordings, hearing what they say sounds like human voices.
Some have even reported receiving communications from the dead via telephone calls, images on televisions and computer screens, and more.
Though many experiments have been carried out with varying degrees of success, the mainstream modern scientific literature on the phenomenon is scarce. Experiments are dismissed by some as flawed in their processes or as failing to yield the degree of certainty required by mainstream science to accept a phenomenon as real. Dr. Imants Barušs at the University of Western Ontario in Canada made a rare move in seriously studying this so-called "electronic voice phenomenon" (EVP), publishing his study in the Journal of Scientific Exploration in 2001.
Though his report is titled, "Failure to Replicate Electronic Voice Phenomenon," it admits partial success in replication. While Dr. Barušs could not provide the clear, hard proof of EVP he set out to, he was able to detect what sounded like voices, and even some words that his assistant felt may have come from a deceased acquaintance of hers. Barušs replicated EVP in a weak sense, he said, but not a strong one. He raised some interesting points, however, as to the difficulties of studying this subject and established some protocol that could be used for further investigation.
Ghost Hunting in the Lab
As he prepared to begin his investigation, Barušs met with Mark Macy in Boulder, Calif. Macy had taken photos he said contained spirit images and had also tried to prove the existence of other realms through EVP recordings. Macy gave Barušs some advice on how to proceed, as recounted by Barušs: "He emphasized two things: the more successful experiments have been the result of spiritual purpose so that spiritual integrity is necessary on the part of ITC researchers, and the ability to obtain anomalous voices and images is dependent upon the establishment of a contact field through regular and persistent effort."
Could an attempt to scientifically verify EVP also have a sufficiently spiritual purpose or integrity behind it? As to establishing a "contact field," Barušs noted that "the parameters for the development of such a field, other than, presumably, the prerequisite of spirituality and the need for persistence, are unknown."
Nonetheless, he selected two assistants back at the university in London, Canada, whom he esteemed for their integrity. They set up equipment in a quiet corner of campus, in a room closed off from voices of incarnate beings, to ensure any voices heard would be sufficiently mysterious. They kept the experiment secret to ensure no pranksters could interfere. Taking turns, each would sit in the room and record themselves talking to any spirits that may be listening.
EVP experiments by others have often required a radio tuned between stations or a TV on a blank channel. Barušs and his assistants thus tuned the radio between stations to record. Later, they would play back the tape to listen for any voices aside from their own.
What They Heard
Barušs described what they heard for most of the recording, which totaled 60 hours: "In addition to static and apparent radio stations breaking through from time to time there was also a buzzing noise, probably caused by interference from the overhead fluorescent lights. There were occasional dramatic fluctuations of the background noise that were similar to fluctuations that I heard during Macy's demonstration on his equipment that he attributed to an effort on the part of those in spirit to control the radio output."
The most remarkable result came on Oct. 17, 1997, when it sounded like someone said, "Tell Peter." Both Barušs and one of his two assistants independently identified the words as "Tell Peter," describing the voice as female and as speaking at a regular speed. The assistant, Gail, thought the voice sounded like a deceased woman she had known whose husband's name was Peter.
Another event was a "squawking noise" 13 seconds after one of the researchers asked if any spirits were present. The noise, "with a little imagination could be interpreted as 'Hello,'" Barušs wrote.
Some EVP has been dismissed as enthusiasts imagining random noise to sound like words. Some have said it is parts of radio broadcasts tuning in and out. Enthusiasts have said, however, that one must simply become accustomed to listening carefully for these kinds of communications before being able to hear them more clearly. The language of the communications has also been said to change depending on the listener, irregardless of the local language broadcast on the radio programs.
What Would Have Convinced Barušs
Barušs gave a couple of examples of what would have constituted hard evidence that EVP exists.
The late Dr. Konstantin Raudive studied EVP and said the voices would speak to him in his native language, Latvian.
"As I am also a native speaker of Latvian, had clear and meaningful phrases in Latvian showed up on the tapes, if indeed phrases in Latvian spoken by Raudive had showed up on the tapes, given that Raudive has purportedly addressed others in English since his death in 1974 … that would have been an argument in favor of a paranormal origin for the voices," Barušs wrote.
He would have also been convinced, "if one of the operators had been clearly addressed by name and given information that was unlikely to have been known by anyone else, as has been reported by some EVP researchers."
Barušs noted that his experiment may not have been sufficiently spiritual if that is indeed a requirement for EVP to manifest. George Meek, an industrialist who invested in an EVP recording machine known as the Spiricom in the 1980s, had said that at least one psychically endowed person must be involved.
EVP could be one of three things, said Barušs. Either it is nothing unusual, a phenomenon created by known psychological factors; or it is the anomalous influence of researchers on electronic equipment (researchers at Princeton University's Princeton Engineering Anomalies Research Lab have suggested that people may be able to affect electronic devices with their minds); or it really is disincarnate beings influencing the minds or the equipment of the investigators.
Source: Epoch Times
http://www.theepochtimes.com/n3/804943-fascinating-study-of-purported-phone-calls-from-the-dead-phenomena-some-confirmation/
---
- FANNING THE FLAMES OF CONTROVERSY DEPARTMENT -
Burning Questions Surround Fiery Deaths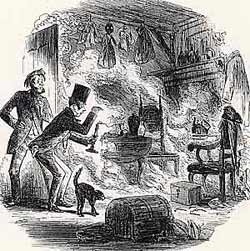 "Among the wonderful phenomena which chemistry presents to us, there are few more remarkable than those of spontaneous human combustion, in which bodies both animate and inanimate emit flames and are sometimes entirely consumed by internal fire."
Letters on Natural Magic addressed to Sir Walter Scott -- Sir David Brewster, 1832

When Charles Dickens wrote his novel Bleak House in 1852 it caused a sensation. Never before had the idea of spontaneous human combustion (SHC) entered the mainstream. George Henry Lewes, a philosopher and critic, harangued Dickens for perpetuating a ridiculous superstition. Dickens fought back arguing that he had researched the subject and knew of about 30 such deaths.

Scotland's first SHC case was in 1829 when an Edinburgh man burst into flames whilst talking to his brother. Despite repeated dowsing with water the flames were only extinguished when both brothers were totally submerged.

The second case allegedly happened in Falkirk when a Gladys Cochrane was found burnt to a cinder in her armchair. The cushion and chair were untouched although all that was left of poor Gladys was ash.

SHC - where a person is burnt to ashes with no obvious trigger - has been, and still is, a contentious phenomenon. In the past 300 years only 200 cases have been documented and whilst science strives to "prove" a rational explanation, there are many who remain convinced that there is more to it than meets the eye.

When Sir David Brewster listed it in his 1832 book Letters on Natural Magic addressed to Sir Walter Scott, he described the death of Grace Pett, the pipe-smoking wife of an Ipswich fisherman who spontaneously combusted in 1744.

Brewster wrote that Pett retired to bed having "drunk plentiful gin". When her daughter opened the kitchen door the next morning, she walked in to a hellish scene:

"The trunk of the unfortunate woman was almost burned to ashes and appeared like a heap of charcoal," wrote Brewster. "There was no fire in the grate and a paper screen on the other side were untouched."

Pett's death epitomises the circumstances of SHC. It often involves drink and no obvious source for the fire, with nearby combustible items left untouched. Furthermore, like all SHC cases, the body had been incinerated and body fat was present around the room.

From earliest times science has reported on these cases. But whilst today it tries to explain, older reports sometimes hint at unease.

On 19 February 1888, a Dr Booth was called out to a hay loft in Aberdeenshire to examine the remains of a 65-year-old man, someone, he notes, "of notoriously intemperate habits." He subsequently wrote up the case in the British Medical Journal.

"I found the charred remains of the man reclining against the stone wall of a hay loft. The body was almost a cinder. " Booth noted that loose hay surrounding the body was untouched and when the body was lifted, it disintegrated. He offered no explanation.

Recently, science has "explained" SHC with the so-called wick effect. Experiments suggest that if a body is set alight and wrapped up, then body fat, burning slowly, can achieve the same effects as SHC. Not everyone is convinced.

Gordon Rutter writes for the Fortean Times and is open-minded about the subject.

"With SHC it's very much 'you pays your money and you takes your choice'," says Rutter. "I have read reports from firemen who have said it's not like a normal fire. By all accounts it is rare, so it is difficult to study."

So just what could causes spontaneous human combustion? Well, as Rutter says, you can take your choice from a number of diverse possibilities:

• Alcohol and cigarettes – blaming the demon drink was very popular in Victorian times when they were never quick to miss an opportunity to moralise. However, whilst a number of cases have involved heavy drinkers, it is not always the case.

• The wick effect – by recreating the circumstances with a pig wrapped in a blanket, scientists reckon they have found the solution. Detractors point out that even after a number of hours in an oven at 600° Fahrenheit, bodies in crematoriums are still not burnt to ashes.

• Faulty digestive system – a bad diet could cost you more than low energy levels and raised cholesterol. It has been posited that a build up of gases in the digestive tract could lead to unstable chemicals spontaneously combusting. This has been offered to explain cases where the individual has been seen to burn from the inside out.

• Ball lightening – weird electrical fields, ball lightening et al have been pulled out, dusted down and put forward as theories. Not many takers though…

• An act of God – or aliens, or any other weird thing that you'd like to imagine.

Because let's face it, if you've decided SHC is more than a tragic accident, then you're probably going to want to seek the explanation from as strange a source as possible.

Source: The Scotsman
http://heritage.scotsman.com/myths.cfm?id=2251772005
---
- NOT JUST A FASION STATEMENT DEPARTMENT -
The Weird Science of Tinfoil Hats
By Tom Head
In my 8 years as an online civil liberties writer, I've heard a lot of conspiracy theories—but I've never actually met anyone who claims to wear a tinfoil hat. In theory, they keep out secret mind surveillance/mind control rays. In practice, well…I've never actually encountered anyone who falls under the heading of "in practice." When "Weird Al" Yankovic had fun with the idea recently (in his parody of Lorde's "Royals"), we all got the reference, and it was clever:
Where did all of this start? Most sources trace the idea to Julian Huxley's "The Tissue-Culture King," a dystopian short story published in the August 1927 issue of Amazing Stories, where our narrator avoids falling under the power of a mind control device by disrupting its waves with metal foil:
"[W]e had discovered that metal was relatively impervious to the telepathic effect, and had prepared for ourselves a sort of tin pulpit, behind which we could stand while conducting experiments. This, combined with caps of metal foil, enormously reduced the effects on ourselves."
There's also a comic book example: Magneto, archfoe of the X-Men, shuts out Professor X's telepathic abilities by wearing a metal helmet. But outside of fiction, you're not going to find many people who actually wear, or at least admit to wearing, a metal hat to keep out telepathic devices.
Huxley was an accomplished scientist, so we can reasonably presume he was familiar enough with the work of Michael Faraday to postulate that the pulpit and/or foil hat might function as a Faraday cage, diffusing the telepathic waves before they could reach the brain.
The scientific reasoning behind the foil helmet is that it acts as a Faraday cage, an enclosure made up of a conducting material that shields its interior from external electrostatic charges and electromagnetic radiation by distributing them around its exterior and dissipating them. While sometimes these enclosures are actual cages, they come in many forms, and most of us have probably dealt with one type or another. Elevators, the scan rooms that MRI machines sit in, "booster bags" that shoplifters sometimes use to circumvent electronic security tags, cables like USB or TV coaxial cables, and even the typical household microwave all provide shielding as Faraday cages.
That may well have worked for Huxley's hypothetical device, but it wouldn't do a good job of deflecting modern-day technology.
In 2005, a group of MIT students, prodded by "a desire to play with some expensive equipment," tested the effectiveness of foil helmets at blocking various radio frequencies. Using two layers of Reynolds aluminum foil, they constructed three helmet designs, dubbed the Classical, the Fez, and the Centurion, and then looked at the strength of the transmissions between a radio-frequency signal generator and a receiver antenna placed on various parts of their subjects' bare and helmet-covered heads.
The helmets shielded their wearers from radio waves over most of the tested spectrum (YouTube user Mrfixitrick likewise demonstrates the blocking power of his foil toque against his wireless modem) but, surprisingly, amplified certain frequencies: those in the 2.6 Ghz ( allocated for mobile communications and broadcast satellites) and 1.2 Ghz (allocated for aeronautical radionavigation and space-to-Earth and space-to-space satellites) bands.
While the MIT guys' tongue-in-cheek conclusion -- "the current helmet craze is likely to have been propagated by the Government, possibly with the involvement of the FCC" -- maybe goes a few steps too far, their study at least shows that foil helmets fail at, and even counteract, their intended purpose. That, or the students are aliens who fabricated these results in an effort to get you to take your perfectly functional helmet off.
Source: Mysterious Universe
http://www.theatlantic.com/health/archive/2012/09/tin-foil-hats-actually-make-it-easier-for-the-government-to-track-your-thoughts/262998/
---
Sign up today for Bizarre Bazaar and Conspiracy Journal Magazines