---
- MONSTERS OF THE ID DEPARTMENT -
El Cucuy Has Roots Deep in Border Folklore
Its name is whispered in hushed tones. For mothers, it is the ultimate threat that keeps their sons and daughters in line. For children, it is the bogeyman, the closet monster and their worst nightmares rolled into one hideous being.
It is el cucuy.
Walk down any market in Brownsville or Matamoros and you can hear mothers invoke its name.
"Portate bien o te lleva el cucuy," they say. "Behave, or the cucuy will get you."
With today's children obsessed with video games, movies and other features of modern life, why do they still fear the shadows at night? Why does this age-old monster still haunt them?
Cultural Creature
The beast is known by different names to different people throughout Latin America. It has been called cucuy, coco, cocu, chamuco and a dozen other titles.
Anthropology professor Tony Zavaleta explained that the "shadow figure" is a common myth passed between parent and child. Fathers traditionally tell children that there's nothing under the bed or in the closet, while mothers tell the child to fear cucuy.
"One of my earliest recollections, being a little kid ... is hearing the ladies raising kids always say 'oo-ee,'" Zavaleta said. "That sound would alert the child of danger; it would alert them to the dark side. There was something out there that could get you."
Pre-industrial societies create a conceptual fear creature to keep children away from dangerous places, a theme seen in M. Night Shyamalan's 2004 blockbuster film "The Village." These legends often continue as civilization develops, and new names are assigned to it.
"The cucuy is ours," Zavaleta explained.
Social sciences professor Manuel Medrano said popular legend describes cucuy as a small humanoid with glowing red eyes that hides in closets or under the bed.
"Some lore has him as a kid who was the victim of violence ... and now he's alive, but he's not," Medrano said, citing Xavier Garza's 2004 book "Creepy Creatures and other Cucuys."
"He's childlike with red eyes, and somewhere between life and death."
The legend came from Latin America but has remained a strong part of border folklore.
"These creatures develop a permanence by word of mouth, from generation to generation, usually from the grandmother to the grandchild," Medrano said. "It's got an appeal not only because it is mysterious, but also because it is a good way of maintaining a child's discipline."
This bogeyman takes different forms depending on the family.
"You take a traditional (legend) like La Llorona, and you are going to get different versions," Medrano said, referring to the popular ghost story. "Some people say she has blond hair and a skeleton face. Other people say she has black hair and a horse face."
Zavaleta said descriptions change from family to family, but bogeyman legends are common worldwide.
"In every culture, there is that mythological monster," Zavaleta said. "In modern times, it could be the chupacabra. It's always a feeling that there is something just waiting to get you."
Mysterious Monster
As more myths fall to the clarity of science, many people are trying to find the truth to monsters that hide in the night.
"They told me not to go out at night because cucuy would get me," said Bob Melendez, paranormal investigator in Brownsville. "I was afraid to look under my bed."
Although he dismissed such stories as he grew older, Melendez has come to view the tales in new light after interviewing people who have seen things they could not explain.
"Now, I think, maybe the old folks knew something more."
The chupacabra is not a recent phenomenon according to Lynn David Livsey, president of the Brownsville Enlightenment Society, a group dedicated to understanding the unknown.
"Most civilizations have an oral history," Livsey said. "Since it was not written down, we can say they are fairy tales or they didn't really happen."
Stories of small bloodthirsty creatures with glowing red eyes, like cucuy or chupacabra, have been around for years under different names.
"Before the chupacabra incidents, there were stories of bat-like creatures living in the Sierra Madre," he said. "Are people crazy with nothing better to do, or is there something happening?"
In September 2004, a giant squid was captured on film for the first time, further cementing the existence of this once-mythical beast. Livsey hopes the same can be said for monsters along the border some day.
"With research, one day we will find answers to these mysteries," he said.
Medrano said people often try to explain the unknown using terms that are familiar to their culture, such as spirits, ghosts, aliens or monsters.
"When something unknown happens, oftentimes, you say 'The devil did it,'" he said. "The chupacabra is a little more contemporary and a little more rural, while the cucuy is more urban and indoors."
Independent filmmaker Henry Serrato premiered his mockumentary "Search for the Chupacabra" in the 2005 CineSol Film Festival. The film mixed real and rehearsed interviews with people discussing how the chupacabra has become a modern cucuy for some parents.
"Mexican's don't practice 'time out,' so they put the fear of the bogeyman, the chupacabra or La Llorona in their children," Serrato said. "Overtime the chupacabra just got tied in with Hispanic culture, even though it has not been around as long."
Although seen as modern "urban legends," monster stories are still used in indigenous parts of Latin America to keep children and adults inside at night.
"Once night falls, that's when the creatures come out," Zavaleta said. "Those fears are universal, it's not just children."
Different theories may be offered to explain away unknown monsters, but witnesses say nothing can challenge what they've seen.
In the early 1970s, Alex Resendez, along with his wife and son, saw what has been dubbed the "Big Bird." Like the chupacabra, the giant bird was linked to livestock deaths, and like the cucuy, children were told it could come for them.
"I saw the bird twice, one time here in Brownsville and one time by Mission," Resendez said.
The big bird menaced people in the 1970s, and the chupacabra was a blamed for animal deaths in the 1990s.
Serrato wonders if it isn't time for a new cucuy to take the spotlight.
"Maybe another creature to pop up again, maybe it's due for an appearance," he said.
Whatever name is called, and whether or not it is ever caught, the cucuy will continue to frighten little children, and keep wary adults watching the shadows at night.
Source: The Brownsville Herald
http://www.brownsvilleherald.com/ts_comments.php?id=P67839_0_10_0
---
- GOING, GOING, GONE DEPARTMENT -
Scientists Don't Know Why Things Just Disappear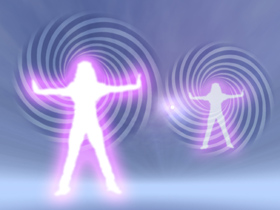 Yeah, yeah, this is the 100th anniversary of Einstein's ''Miracle Year'' - the year he figured out everything from relativity to atoms to e=mc2. So how come Mr. Genius never bothered to explain the deepest physics mystery of all:
Where does the pen by the phone go?
As an absent-minded-professor type, Albie could not have been unaware of this problem. If he didn't address it, it must be because he, too, could not figure it out. I mean, you take a message. You hang up the phone. You get a snack, the phone rings, you come back and...No pen!
Or, sometimes, no paper! Or if there is a pen, now it doesn't write. How can it possibly be the same pen?
In the interest of science - and matrimony, since it is hard to stay happily married when you suspect your spouse of constantly misplacing the pen and, ridiculously, your pen-pilfering klepto-spouse suspects you - I asked a consortium of physicists and one persnickety professional organizer to explain:
Why does stuff just disappear? And just as mysteriously: Why does some of the stuff, particularly the toothpaste, suddenly reappear, after you have either forgotten all about it or spent many, many, MANY hours hunting for it RIGHT WHERE IT SUDDENLY REAPPEARS!? Explain this!!
''Einstein proposed that mass distorts space-time like a bowling ball distorts the surface of a mattress,'' said Daniel Koon, a professor of physics at St. Lawrence University, thinking he was being helpful. (Think again!)
This bowling ball creates a black hole, ''like a newly formed blob in a lava lamp,'' said Koon. And this blob swallows pens.
Or something. On second thought, maybe I shouldn't have started with the physicists.
But anyway, I did, and another one - Lawrence Brehm at the State University of New York at Potsdam - said that, in fact, black holes are NOT to blame. It's the entropy, stupid!
''There is usually enough random energy around to create disorder'' - i.e., entropy. ''This random energy can be a breeze or a vibration, but often it takes the form of a child, spouse or pet.''
AHA! So then it is my husband (or child or pet) who is always walking off with the pen, right?
Well, not according to Donald Ware. Ware happens to be the director of the International UFO Congress but he does hold a graduate degree in physics, and he says that ''advanced aliens'' hang around, moving objects through ''what some call telekinesis.'' Moreover, they do this to ''expand the awareness of the individual involved.''
In other words, when I cannot find the pen, it is because aliens have moved it in order to make me more aware of the other inhabitants of the universe.
Other inhabitants who have picked up all my husband's bad habits.
Lisa Zaslow, the professional organizer, shakes her head. The problem is not space-time or aliens or entropy, she chides, but that we don't pay enough attention to where we put stuff.
Yeah. Like that really makes sense. Lisa, I pay constant attention to my stuff and, in fact, have just found my phone pen, so there! The only remaining physics mystery is this:
How'd it get into my underwear drawer?
Source: Tallahassee Democrat
http://www.tallahassee.com/mld/democrat/news/opinion/11526414.htm
---
- OUCH! WATCH WHERE YOU ARE WALKING DEPARTMENT -
UK Couple Spooked By House Built on Old Burial Ground
Danielle Evanson and her boyfriend Brandon Waterton should have been as happy as clams in their newly-rented home. However someone – or something – seemed determined to make their lives hell…
"My boyfriend and I were in love and we'd finally moved in together," says the 18-year-old from Crewe, Cheshire.
"Snuggling up on the sofa, I gave him a kiss. Our two-bed house was just perfect. What more could we want?"
But the nightmare was soon to begin for her and Brandon, 20.
Danielle continues: "A few weeks later a friend of mine came to stay. While she was in the bedroom upstairs one evening, I decided to make some tea.
"But I was shocked at what I saw. Last time I'd been in the kitchen, the cupboards were closed.
"As a naturally tidy person, I always washed up and put everything away, but a tin of beans lay on the floor and a cupboard was wide open. 'Strange,' I thought."
In bed that night, the couple's sleep was suddenly disturbed.
"I woke with a start," recalls Danielle. "A terrible banging was coming from downstairs. Brandon! Did you hear that?' I shook him.
"Wide awake, he nodded. 'It's probably just your friend.' He crept downstairs to see what it was. Furniture was moved about but the front door was firmly shut. No one was there."
They began to blame each other.
"We even asked my mate if she was making the noises but she thought it was us. She soon left."
Over the next few weeks it got worse.
Danielle says: "Taps turned on by themselves, and the bathroom flooded. Handprints appeared on windows and we found a knife embedded in a door.
"And when a bag of doughnuts left on the living room table went up in flames, Brandon had to rush downstairs to put out the fire. Another time I found the words 'get out' written on a mirror," shudders the teenager.
"Then Brandon started taking photos as evidence. In one I was shocked to see a white blur behind me. We didn't believe in ghosts, but then…
"I even saw a shadow in a mirror that looked like a man, a monk."
Eventually, action had to be taken.
"We asked the council if they knew anyone who could exorcise our house, but they told us not to be silly. So we found a local paranormal team on Facebook."
One of the team inspected the site and revealed some dark news to the couple.
"He said our house was built on a burial ground from centuries ago," says Danielle.
"The family died a terrible death and it seemed the father blamed his wife. She was a Wiccan witch. Now one of them – the father perhaps – wouldn't move on from the house.
"A few days later we began the DIY exorcism. Brandon walked round wafting sandalwood incense into every nook and cranny and I had to pray in the living room. But when my boyfriend went into our bedroom the door slammed shut.
"My heart raced. He was being dragged down the hallway. Using all his might, he got to me in the dining room.
"Then there was a huge gust and we saw the monk reflected in the mirror. An enormous tall dark shape.
The nightmare was almost over.
She continues: "The spirit will be trapped in the mirror, the team had told us.
"Brandon took the mirror outside and smashed it to pieces – before bringing in one of the shards of glass. The spirit was finally broken.
"Immediately the house felt calmer. We can only hope it stays that way."
Source: Daily Mirror
http://www.mirror.co.uk/news/weird-news/young-couple-call-ghostbusters-after-4195813#rlabs=8
---
Sign up today for Bizarre Bazaar and Conspiracy Journal Magazines