---
- CRYPTO CRAZINESS IN CHINA DEPARTMENT -
China Monster Round-Up
Two giant ape-like creatures were spotted in the afternoon of November 18, 2007, in Shennongjia, an area famous for the legendary "bigfoot" wild man located in central China's Hubei Province. Four independently traveling tourists claimed that they were almost face to face with two wild men while touring around the Licha River, at the northern foot of Laojun Mountain. If their words prove to be true, the tourists will be the first eyewitnesses of "bigfoot" in southeast Shennongjia Nature Reserve in recent years.
According to a Changjiang Times report on November 20, Zhang Jinxing, a scientist conducting investigations in the Shennongjia Nature Reserve, reported the thrilling event to relevant local authorities in the afternoon of November 19. When Zhang had finished his investigation that morning, he came across four independently traveling tourists, two men and two women, in a land-rover. These tourists told him that they had seen two wild men around the Licha River in the morning of November 18. They were near a sharp curve on the mountain road when three of the four, two men and one woman, spotted two giant, dark figures standing behind a tangled mass of shrubbery some 50 meters away from their car. It seemed that the two creatures didn't see the car at first, but they soon fled into the dense forest. Later that day, the tourists reported the event to the Lichahe Forest Maintenance Station and came back to the spot with two forest rangers. At this time, they only found a few footprints, branches they believed were broken by the wild men and wild fruits scattered on the ground.
Since the Lichahe Forest Maintenance Station is situated in a remote area in the Shennongjia Nature Reserve, local authorities didn't receive the report in a timely fashion. Currently, the proper authorities are busy contacting the four eyewitnesses and an investigation team has been sent out along the Licha River to conduct a thorough investigation. Local authorities have promised to announce investigation results as soon as possible.
Explanation of Mysterious Tianchi Monster
A senior researcher from the National Academy of Science of The Democratic People's Republic of Korea (DPRK) said the "Tianchi monster" a Chinese photographer caught on film last month is probably the mutated offspring of trout stocked by the North Korea 40 years ago.
77-year-old Kim Li-tae said during an interview with the Choson Shinbo, a newspaper published by the General Association of Korean Residents in Japan, that he was one of the North Korean researchers who released nine trout into Tianchi Lake, located on Changbai Mountain, on July 30, 1960. At a later date they released other species of fish such as carp and mosquito fish into the lake.
Generally fish cannot survive in a lake created by volcanic activity, but the Korean researchers have proven through experiments that fish can be transplanted live into the lake. Fish stocked by the researchers could survive by eating insects and other creatures blown to the lake by strong winds. The fish mutate during growth and form new varieties, so the trout they stocked might now be called "Tianchi trout," Kim said.
In 2000, the Korean researchers did experimental tests on "Tianchi trout" found in shoal waters that measured 85 centimeters in length and weighed 7.7 kilos, but they've never been able to test trout from the deeper waters of Tianchi Lake. The "Tianchi monster" that Chinese photographer Zhuo Yongsheng, who works for a local TV station run by the administration office of the nature reserve at Mount Changbaishan, Jilin Province captured on film last month, might be a "Tianchi trout" from the deep of the lake, Kim said.
Tianchi Lake is China's biggest and deepest volcanic lake, with an area of 9.8 square kilometers, and water surface 2,198 meters above sea level. The average water depth of the lake is 204 meters and the deepest spot is 373 meters.
Earliest record of "monsters" date back over 150 years, but in the past decade the "monster" only appears in the summer.
Source: China.org.cn
http://www.china.org.cn/english/China/232477.htm
---
- BUY TWO, GET ONE FREE WILL DEPARTMENT -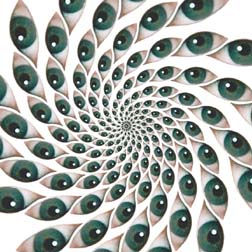 When the French chemist Michel-Eugene Chevreul, who discovered the margarine, received a pendulum as a gift in 1812, he was really surprised. As he was told, the pendulum worked as a detector of occult forces: it only oscillated when held in the air over water, metals or living things. When a different material was put between the pendulum and the metal, however, the oscillation ceased. He could verify it himself, holding the pendulum. It was not a fraud. It worked as magic.
But Chevreul was a scientist, and he knew that it is not enough to eliminate the possibility that other people may deceive him. We also deceive ourselves.
Chevreul then conducted a series of experiments, among them the simplest of all, but that nobody had done until then. He simply blindfolded himself and asked another person to place and remove objects under the pendulum without his knowledge. All of a sudden, the pendulum stopped working as a magic detector of materials.
Chevreul discovered the simple basic fact that he was indeed the one moving the pendulum and it only reflected his own knowledge. No magical forces included.
On the other hand, Chevreul knew that he was not consciouly making those movements, which were nevertheless intelligent and coherent. His expectations were being transmitted to the pendulum unconsciously. This unusual effect would be called the ideomotor effect, and further study of it would prove even complex movements may be accomplished unconsciously.
In a previous post we saw how our own conscience and free will are not what they seem to be. That intelligent unconscious movements can emerge should not be surprising: it is the same that happens with our own conscience. The only difference is that such movements are not felt as being ours, they are not tagged by our conscience.
Which brings us to the zombies.
PHILOSOPHICAL ZOMBIES
Libet's famous experiment on the free will evidenced that almost half a second before we feel we made a decision, our brain has already been taking steps in such direction, exhibiting the so-called "readiness potential". Our free will, at least as the freedom of making decisions the moment we feel we made them, is an illusion.
But if the readiness potential already indicates that we will make a decision, couldn't we create a machine to foresee our decisions before we feel we made them?
Surprise: this has been already done, even before Libet's famous experiment.
In 1963, William Grey Walter asked some subjects to control a slideshow with a button. What they didn't know was that the button was not connected. What was connected were the sensors on their heads, measuring the readiness potential in their brains. As soon as the potential to press the button was detected, the slideshow went forward.
The result was reportedly bizarre. The subjects said that the slideshow seemed to predict their decisions. Amazingly, Walter created a precognitive machine more than forty years ago.
Though it may seem the easiest explanation, the experiments by Libet and Walter are not evidence of time travel: they are evidence of the illusion of our free will. Chevreul's pendulum and all the other applications of the ideomotor effect are also evidence of the illusion of our consciouness: our unconscious may behave as a sentient being, fooling even ourselves. But it's all on our own mind. The alien hand syndrome is one extreme demonstration of it.
Walter was also a pioneer of robotics, and his most famous robots were the "electronic tortoises" Elsie and Elmer. They were the first autonomous robots in history, half a century before the Roomba. Elsie and Elmer moved freely, without programmed paths, in search of light sources that indicated where they could recharge their batteries.
Given his studies of free will, it's very relevant to note he described the electronic tortoises' movements as showing signs of… free will.
Which brings us finally to the point. If something acts exactly as if it has free will and consciousness, does it actually have free will and consciousness?
It is a philosophical question, and to some, the answer is no. Even if a robotic descendant of Walter's electronic tortoises behaves exactly as a human being would, showing all of the responses suggesting conscience and free will, that would not mean that it actually has any of it. It would still lack something, maybe a soul, a spirit. Without them, it would be a philosophical zombie.
But the experiments and cases that we saw demonstrate that consciousness and free will are much more complex and hard to define than they look.
We don't have to wait for a Terminator T-1000 model capable of befriending John Connor and saying "Hasta la vista, baby", to finally question the popular (and even religious) ideas about consciousness, free will or even soul.
We already live every day with clear demonstrations that unconscious phenomena can have all the appearance of consciousness.
The thing that moved Chevreul's pendulum was a philosophical zombie. And it lived inside his mind. What's the difference between it and Chevreul? Play with the pendulum, and ask if you're not a "zombie" yourself.
Source: Forgetomori
http://forgetomori.com/2007/11/
---
Sign up today for Bizarre Bazaar and Conspiracy Journal Magazines