---
- CREATURES OF MYTH AND LEGENDS DEPARTMENT -
Hoop-Snake Sightings Still Rolling In
One of the customers, Joyce Denham, has sent me a hoop-snake-sighting report, the first I've received in almost two years.
She was at Langtry, which is upstream from Del Rio on the Rio Grande, and she saw this hoop snake rolling across what she calls the desert.
Nothing especially exciting in the report. Just that snake, making a circle of itself and rolling along, not bothering anybody.
I've been getting hoop-snake stories for I guess 50 years. A reptile of this kind puts its tail in its mouth, arranges itself in a circle, and travels by rolling like a hoop at impressive speeds.
All the snake books I ever read, written by experts, say no such creature exists. Yet I keep getting these hoop-snake-sighting reports, from perfectly intelligent people.
I ought to tell you that Denham saw that snake a long time ago, and is just now telling me about it. Most of the sightings I hear about happened a long time ago that way. I would be really interested in receiving a hoop-snake sighting made in recent times, say within the last couple of years.
So if you see one, let me know. Don't hesitate to include lots of detail. Exactly when and where the sighting occurred. The estimated size of the snake. The direction of its travel, and its approximate speed. Did it seem to be chasing anything? Were there witnesses other than yourself?
Please don't try to fool me. You'll be wasting your effort. I know what a real hoop-snake sighting is like.
A few days after the last time I mentioned these interesting reptiles, I received a report about a hoop snake 12 feet long that had a luminous stinger on the end of its tail and it went around stinging cattle and trees and killing them.
Come on, if we're to unravel this mystery, we must deal with real hoop snakes, not imaginary ones. I am holding out for a photograph of a hoop snake.
Speaking of pictures, has anybody else received the photos of the lion-killing mule?
I've been sent a set of those mule photos by three different parties, so I suspect this is something that's going around on the Internet.
The most interesting of the shots shows this mule, wearing a saddle, and it seems to be picking up a dead mountain lion in its teeth. The picture is trying to say, I think, that this mule has killed the cougar.
The lion is not really very big, if you judge him by the size of the mule. The mule doesn't seem so big, either, according to the size of the saddle, and that assumes we're looking at a standard-sized saddle. The people who sent me the photos have almost no information about them.
I would be interested in meeting a mule that killed a mountain lion, and I'm not doubting this could happen because mules generally are smart, and quick, and can be very dangerous when they're inspired.
The Chinese tell us that a picture is worth a thousand words. Well, that may be true in China, where I have never been, but I've seen in my life mighty few pictures that didn't beg for at least a few words to explain them.
If you forced me to take a guess at the words that need to go along with these lion-killing mule pictures, I'd write that the cat was probably shot during a hunt, and the saddled mule was ridden by a hunter.
In one of the shots, we have a hound sitting in the background, and it's the kind of hound that might be used on a lion hunt.
I'm not sure why a mule would want to pick up a dead lion in its teeth. Probably just curious.
You wouldn't expect that the mule intended to make a meal out of that cat. However, my Uncle Billy Crockett used to say he once had a red mule that broke into the smokehouse and ate a side of bacon and half a ham. You can't ever tell what a mule will do.
Source: The Houston Chronicle
http://www.chron.com/cs/CDA/ssistory.mpl/features/3023337
---
- THINGS THAT GO BUMP IN THE NIGHT DEPARTMENT -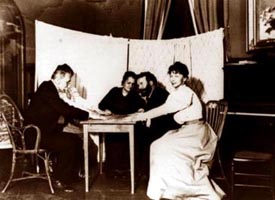 The world's most eminent scientists are not usually associated with the dim-lit surroundings of a clairvoyant's parlour.

But some of science's biggest names have not only dabbled in, but been entirely convinced by the world of the seance.

Guglielmo Marconi, Alexander Graham Bell and John Logie Baird are familiar to most for the household indispensables they invented. But the attraction to spiritualism they all shared is definitely not part of the GCSE science syllabus.

All three men, and many other Victorian scientific pioneers, became involved with the religion, which depended on strange forces being demonstrated through bizarre phenomena.

But how did the world of certainty and precision collide and, in some cases, fuse with that of levitating spiritualists and voices from the "other side"?

To some, it was simply down to chronology. When the Fox sisters of Hydesville, New York State - widely considered to be the founders of modern spiritualism - first claimed to have communicated with the dead, the world was awash with scientific endeavour.

Just four years earlier a communication of a very different sort - the first electric telegraph - was sent across the Atlantic.

Science was challenging the old certainties about life - making the impossible, possible.

According to the biographer of the Fox sisters, Barbara Weisberg: "There was so much that was exciting and so much that wouldn't have been thought possible two decades before.

"If people could communicate over the telegraph, why couldn't this world and the next world communicate?"

This gave the sisters' claims greater legitimacy, she says.

As the spiritualist craze grew people from every level of Victorian society crammed into dingy parlours, where knocks and raps indicated the presence of spirits.

Messages from the dead were spelt out using lettered cards while strange voices were mumbled in the dark.

But it was in the search for proof these phenomena were real and not cons, that the world of the spiritualist and the scientist came together.

Science historian at Cambridge University, Dr Richard Noakes, says scientists leapt to the task.
"If there was any truth in phenomena that appear to defy the known laws of nature, the known laws of gravity, then scientists believed that they had to be the ones to investigate."

When the bizarre phenomenon of table-turning hit the parlours of Victorian England, the leading experimental scientist of the day, Michael Faraday, was called in.

After attending two seances, the deeply Christian Faraday devised an experiment to see if there was a rational explanation. He decided there was and dismissed supernatural causes as nonsense.

Some 15 years later, the feats of medium Daniel Dunglass Home reached new heights as he was seen to levitate out of one window and back through another. Many believed he was simply a hypnotist.

This time the eminent chemist, William Crookes, who unlike Faraday was keen to discover a psychic force, subjected Home's activities to his own test.

He devised a machine he called a radiometer to measure the "invisible forces" the medium appeared to be tapping into.

Another gave a reading when the maestro appeared to move a lever without touching it.

"Here's an instrument Daniel Dunglass Home can't possibly mesmerise because it's not a living being. How can you hypnotise an instrument?" says Dr Noakes.

"So Crookes reckons he got the traces of a psychic force in operation."

Crookes went on to invent the cathode-ray tube, pioneer research into radiation effects, photography, wireless telegraphy, electricity and spectroscopy.

Logie Baird, who built on Crookes' work to create television, was also persuaded by his seance experiences.

Not only did he claim to have communicated with the spirit of US scientist Thomas Edison, but after visiting a seance in 1926 he wrote: "I am convinced that discoveries of far reaching importance remain waiting along these shadowy and discredited paths."

But Logie Baird was trying to do exactly what mediums of the day were doing - transmitting sounds and images through space. Only the source of these, if you believe the medium, were different.

At the end of the 19th Century when Guglielmo Marconi was experimenting with the first radio signals, he was shocked when he started to receive signals.

The author of Spirit Communication, Roy Stemman, says Marconi concluded these were from the spirit world.

"He spent his last years trying to perfect an electronic device that would establish a permanent contact between this world and the next."

This was never achieved, but his work pioneered the telecommunications that still link the globe today.

Dr Noakes says that whether or not the scientists declared the whole thing to be bogus, the example they set was "extremely powerful to the next generation of scientists".

Despite years of research, no scientist has proved seances were anything more than an elaborate con trick.

But the work they did trying often contributed to a greater understanding of the laws of physics.

Source: BBC News
http://news.bbc.co.uk/2/hi/uk_news/magazine/4185356.stm
---
Sign up today for Bizarre Bazaar and Conspiracy Journal Magazines